The former royal capital city of Hue is holding a vegetarian food festival to promote the finest cuisine in the area.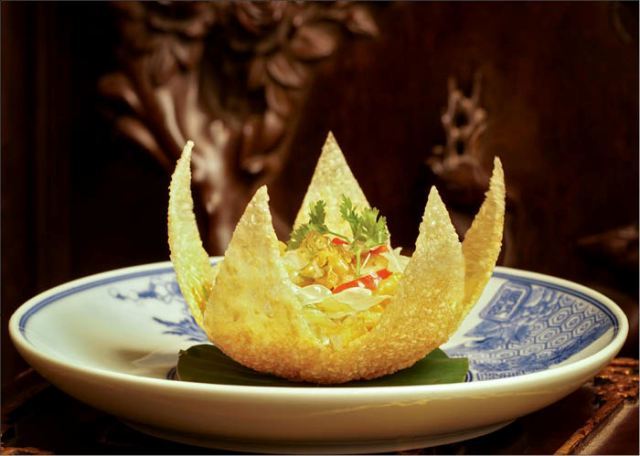 Pomelo salad covered in rice crackers, a dedicated vegetarian dish prepared by royal cuisine master Hồ Thị Hoàng Anh. — Photo baothuathienhue.vn
From May 17 to 19, locals and visitors to the city will have a chance to taste dishes prepared by local monks, nuns and chefs, as well as from chefs in southern Việt Nam and from Thailand, Laos and Taiwan.
The three-day festival is being co-hosted by Thừa Thiên-Huế Province's Tourism Association and the Buddhism Shangha. The event was being held to promote local cuisine and exchange food styles with other regions and territories, according to the organisers.
The festival coincides with the 14th and 15th of lunar April when most Huế residents eat vegetarian meals to celebrate the birth of Buddha.
The festival's main activities include a display of vegetarian dishes at the park in front of Hai Bà Trưng High School, a seminar on the preservation and promotion of local vegetarian dishes, and a lantern ceremony on the Hương (Perfume) River on Saturday night.
Food is on display at 40 stalls in the park, with some dishes cooked on site and others prepared in advance at pagodas and restaurants. The organisers will conduct a survey to find the top 10 favourite dishes of festival visitors.
According to the local Department of Tourism, the festival was part of the activities being undertaken to make Huế a capital of gastronomy in the country. Researchers reported the city had nearly 1,700 different dishes thanks to its royal history and cuisine.
The city is also home to nearly 300 Buddhist pagodas. Normally, locals eat vegetarian food four days a month, on the first, last, 14th and 15th days of the lunar month. Large meals for death anniversaries and funerals tend to be vegetarian as well. — VNS