Famous brands and fashion designers from China, Indonesia, the Republic of Korea and Vietnam, among others, will showcase their latest collections at the VN International Fashion & Beauty Festival (VIFBF).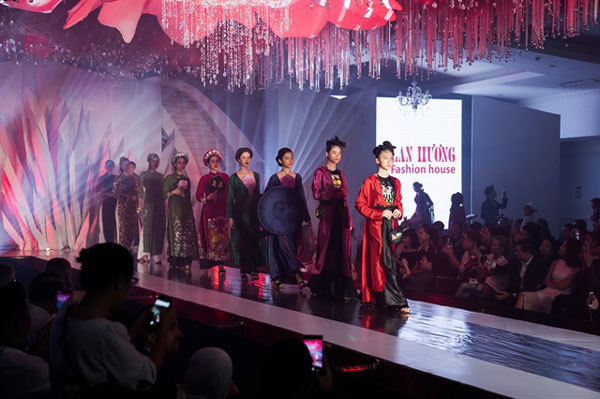 A collection inspired by traditional culture designed by Lan Huong is introduced during a press conference on September 22. The collection will be presented at the Việt Nam International Fashion & Beauty Festival (VIFBF). — VNS Photo Minh Thu
The biggest event of its kind is scheduled to be held on December 11-15 at the International Centre of Exhibition in Hanoi.
It's estimated that more than 200 booths featuring beauty and fashion products will be set up attracting about 20,000 visitors, according to designer Le Tran Dac Ngoc, member of the organising board.
With the theme "Inspiration of fashion and beauty of the times", the event will be showcasing famous fashion and beauty brands from Vietnam and other countries. Domestic designers include Le Tran Dac Ngoc, Lan Huong and Do Trinh Hoai Nam. Their professions will be in the spotlight. Ngoc will introduce the latest collections of evening gowns making children look like princes and princesses. Nam will present an áo dài (traditional long dress) collection. Huong will once again affirm her talent in designing traditional long dresses in silk with hand-embroidered patterns.
Especially, the collections will be shown off by top 30 contestants of the Superstar Kid Models 2019 contest and other leading models.
Talks on fashion, beauty and hair; the VIFBF fashion show 2019; a contest for child models, an award ceremony for the VN Hairstylist Awards 2019 and the Best Fashion Designer final round will be organised in the framework of the event.
The festival will be jointly held by the VN National Textile and Garment Group (Vinatex), the VN Exhibition Fair Centre and N Group Media. VNS