Children aged 5 to 13 are encouraged to participate in Model Kid Viet Nam 2019, which was launched in HCM City last weekend.
Vietnamese designers to attend Asian Kids Fashion Week 2018
450 child models to join Vietnam Int'l Junior Fashion Week 2019
Vietnamese child models hit the catwalk for Shanghai Fashion Week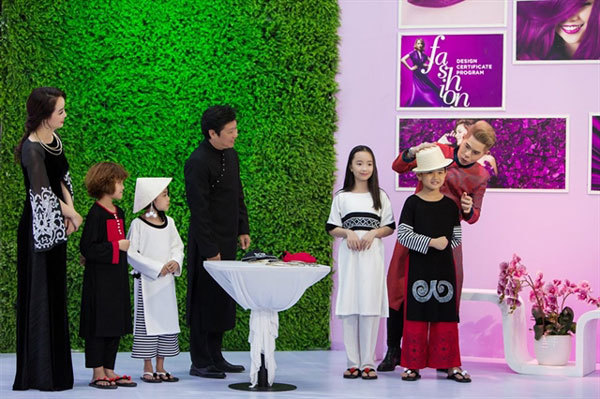 Girls and boys on the catwalk at the Asian Kids Fashion Week 2019 in HCM City last year. — Photo courtesy of the producer
Organised by the MultiMedia JSC and its partners, the competition aims to discover child models for careers at home and abroad.
It encourages children to demonstrate their modelling abilities and gives them an opportunity to work as professionals in the future.
Organisers hope that garment producers and designers will pay more attention to boosting the country's fashion industry.
Contestants will be judged on their appearance in both modern and traditional costumes. During the final, poise and style of presentation will be the decisive factors in determining the winners.
Organisers will select 10 finalists. The top girl, top boy and first runner-ups will receive free training at modelling agencies. They will be sent to perform and compete in international fashion shows and modelling contests for kids.
A staff of several talented designers, make-up artists and stage directors, including super model Tuyet Lan and Mau Thuy, will help contestants during the contest.
The contest's selective rounds began in HCM City and Hanoi last week.
The final is expected to open in Hanoi next month.
Vietnamese fashion houses, companies and designers have worked to develop children's clothing in recent years and hope to grab the attention of children and their parents.
This summer, local brand names are spending more to ensure that their services and promotions are the best for children and young customers.
Xuan Lan, a member of the Vietnam Junior Fashion Week 2017 (VJFW) organising board, said: "Several thousand parents and children across the country followed and shared their comments on our event's websites and online forums."
"Our two-day VJFW 2017 featured 90 amateur fashion models from four to 13 years old, who wore more than 100 designs offered by foreign and domestic brand names in HCM City."
"The children's clothing business is a promising market. Young talents in the catwalk should be encouraged to develop their professional careers," said Lan, owner of CA3, one of the city's leading institutes of modeling and acting, which offers training courses for fashion modeling, catwalk and photography.
Last year, the Asian Kids Fashion Week 2019 was organised in HCM City for the first time. The event featured 50 fashion models aged from four to 15 from Hong Kong, Thailand and Vietnam.
More than 200 items of clothing for boys and girls, created by dozens of domestic and foreign fashion houses and garment companies, including those from Indonesia, Malaysia, Thailand, India and Hong Kong, were displayed.
VNS