Nude paintings created by different generations of artists are on display at a unique exhibition that opened on Thursday in Hanoi.
Photo book of female beauties released
Nude exhibition held in Hanoi
The exhibition gives visitors a chance to view various nude works. VNS Photo Truong Vi
With the title Endless Inspiration, the exhibition showcases 64 works by 30 artists. The paintings feature different materials and colours, but share the same inspiration: naked women.
The event has been organised by a group of art lovers led by curator Pham Huyen Kieu.
"While other exhibitions are organised by the painters themselves or organisations, this one is in response to public demand," said Kieu.
"We are not artists, we are just people who enjoy art. We selected the subject and contacted collectors and artists. Some had passed away so we got in touch with their families to tell them about our idea to organise the exhibition."
"People may think that nude art is a sensitive subject, but most art students are familiar with the genre. They all take a module at university because the human body is the most wonderful thing on Earth. They learn nude art to understand graphic forms and shapes. The human body, especially the female form, provides inspiration for industries such as architecture and design."
Kieu added that the exhibition had been supported by the artists, the Viet Nam Fine Arts Association and the Việt Nam Fine Arts University where the exhibition is taking place.
"It's a rare chance to enjoy nude art, from prominent painters like Bui Xuan Phai (1920-1988), Le Nang Hien (1921-2014) and Phung Dzi Thuan (1936), to famous names in the contemporary art scene such as Luong Xuan Trinh, Le Tri Dung, To Lien and Trinh Minh Huong," said Tran Khanh Chuong, chairman of the Viet Nam Fine Arts Association.
Visitors will be able to enjoy artworks in lacquer, oil, gouch, silk and Chinese ink. The paintings express the beauty of women in various poses; some showcase their femininity and fertility, while others reflect the delicate and gentle beauty of women with flowers.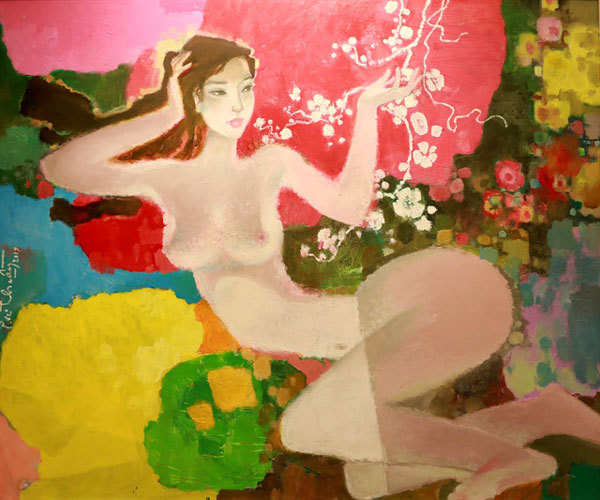 NATURAL: Highlights of the exhibition include the oil on canvas Spring by Phung Dzi Thuan.

Exhibitions of nude art were restricted in Vietnam until recently. The Ministry of Culture, Sports and Tourism hosted the first photo exhibition of nude art in July last year, drawing widespread public attention.
The exhibition will run until Sunday at the Viet Nam Fine Arts University, 42 Yet Kieu Street, Hoan Kiem District, Hanoi.
VNS