As smartphones have become indispensable for many Vietnamese people, online publishing has been growing as a trend.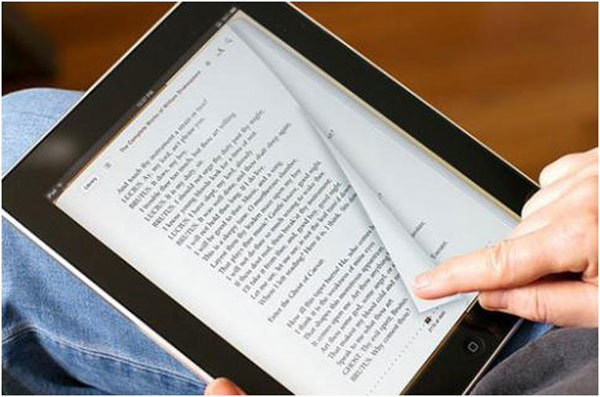 llustrative image. -- File photo
With the rapid development of science and technology, the digital era has created changes in many industries, including publishing. Just owning any smart device that can connect to the internet allows almost limitless possibilities. From paying bills, ordering transportation, ordering food to watching movies, listening to music, making friends, and reading books.
More and more people are trying online publishing to make their voices heard.
Binh Nguyen Trang, a renowned poet and writer, said publishing books online was an inevitable trend.
Nowadays, both old and young people are online every day.
The advantage of this kind of publishing is the speed with which a writer can connect with readers.
To publish a physical book, a writer has to apply for a licence. But in the internet age, you don't have to wait, meaning your writing will be more readily available to the public, she said.
Nguyen Thu Lan, a teacher from Hanoi's Thanh Xuan District, said she liked publishing books online because it was free.
"Different kinds of stories are offered on the internet so I can read my favourites anywhere with just a phone."
Le Thi Ha, a student from Hanoi University, often chooses trendy books thanks to recommendations on social networks.
"Whenever I attend a book fair, romantic books are always my first choice.
"Some of my friends laugh at me. They tell me that I should meet more people in society and hear stories reflecting daily life instead of reading books about unreal worlds with romantic love."
Most online books written by amateur writers are about love or marriage.
Some writers offer their work for free while others ask readers to pay a subscription fee, a divergence which has sparked public debate.
Many people support the idea, saying the payment is deserved thanks to the hard work of the authors, while writers also need money for their daily lives and to travel to get material to write.
"It is an encouragement for me to continue my work", said writer Nguyen Ha Vy.
Others are opposed to paying for the writing they consume.
One common argument against paying is that writing is a passion and authors share their sorrow, pleasure and experiences, so there is no need to pay any fee.
According to another writer, Pham Vu Anh Thu, payments can be made voluntarily, with fees for reading a book soon after publication and reading long after publication being free.
For Nguyen Thu Giang, a journalist from Hanoi, fee collection is the way to go.
A few publishing houses in Vietnam had planned to develop e-books, she said.
"Paying fees brings many benefits. It helps raise people's awareness of copyright issues and brings profits to publishing houses, while building a civilised Vietnamese reader community and improving the quality of online books."
Giang said she didn't agree with some people who said romantic books, especially online books, lacked literary value with the use of mediocre words and similar plots.
"Books are special products and not all of them are talking nonsense. There are several types of books. It might be about daily matters but it is relevant to a majority of people," she said.
"Writing is hard work," poet Trang said. "Real writing must come from the heart and soul, and takes skill, stamina and sweat."
I totally agree with her.
I still remember a book entitled Không ngủ ở Singapore (Sleepless in Singapore) which I read three years ago. The book has left a deep impression on my mind.
It attracted special attention from Vietnamese readers at that time. The book was an autobiography of a girl and her love story which was full of thrills, blood and tears. Falling in love with a married man, she tried to flee him to another country, but could never escape their sinful love.
Trang Nhung, a psychologist, said romantic books were favoured by young readers for a variety of reasons. First of all, characters in the books had any desirable elements like good appearance and gallantry. They were often born in rich families and dressed stylishly.
Secondly, dialogues and languages mentioned in the books met the physical and psychological needs of young people – a desire to have a wealthy and successful life. In short, they had happy endings.
"We can learn good things about how we behave with each other and have the right to dream of a life in a 'romantic book' - that is to set a goal of having a job with good income and live in a comfortable life," Nhung was quoted by Thanh Niên (Young People) newspaper as saying.
It can't be denied that social networks have contributed to spreading of chick lit and romances.
They help readers connect with each other in an open environment. Some fan pages of chick lit have thousands of members who actively comment and share their favourite titles. As such, the content of the books can be adjusted to be suitable to their wishes.
Everyone has a different style of reading. Our opinions on a book may not be the same, but if love stories can help us relax after facing the pressures of life and work, aren't they a good thing to be celebrated? VNS

When they debuted, electronic books (e-books) were expected to thrive, but the e-book market in Vietnam has not been successful for a number of reasons.
Mai Hien