Photographer Nguyen A's photo book on Ly Son Island, a famous tourist site in central Quang Ngai Province, has been released in HCM City.
Vietnam boasts Ly Son cultural and geographical heritage
Ly Son-Sa Huynh preserves unique value of geo-park site
Specialties of Ly Son island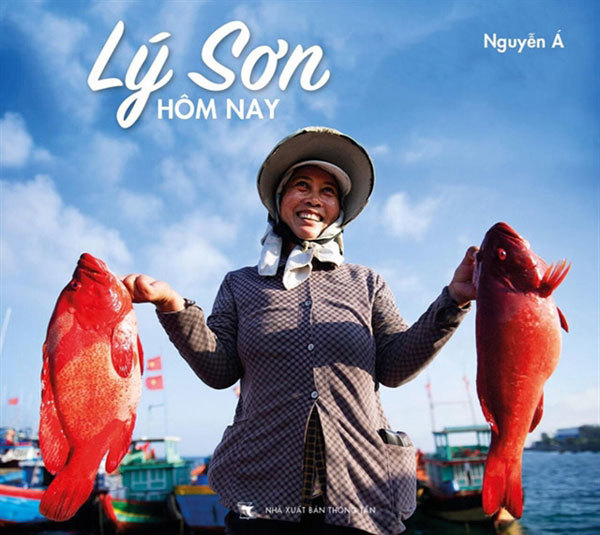 The beauty of Ly Son Island is captured in the 500-page book Lý Sơn Hôm Nay (Lý Sơn Island Today) by photographer Nguyen A of HCM City. The book, printed by the Việt Nam News Agency's Publishing House, features nearly 1,000 colour photos about the island's history, traditional culture and lifestyle.
The 500-page book, Lý Sơn Hôm Nay (Lý Sơn Island Today), includes nearly 1,000 colour photos featuring 150 stories about the island's history and traditional culture and lifestyle.

The photos were selected from a collection of several thousand works by the photographer who spent several months travelling around the island.
Photos of female farmers as well as blue seas and golden sands are highlighted in the book.
Traditional festivals and landscapes such as Cau Cave, Dun Isle and Hang Beach are also featured.
"All of my works are in praise of Ly Son Island and its people," said photographer A. "Each photo presents a story of life, love and dreams of farmers, who have worked to build their land."
Ly Son Island is famous for its garlic. Local farmers produce more than 2,500 tonnes per year.
The island has special fossilised rocks believed to date back 4,000 to 6,000 years, and tombs belonging to the Sa Huynh culture in the first and second century AD.
Eruptions from a now-dormant volcano 25 to 30 million years ago left a landscape with rocks, caves, cliffs and a lake.
Local authorities and residents are working to have the island recognised as a Global Geo-Park by UNESCO.
Visitors to the island can view centuries-old houses used to worship the souls of sailors who died during long voyages to the Hoang Sa (Paracel) and Truong Sa (Spratly) islands during the Nguyen Dynasty (17th century).
One of the island's most popular sites is a museum displaying more than 200 ancient documents and 100 exhibits that prove the Paracels and Spratlys belong to Viet Nam.
Printed by the Vietnam News Agency's Publishing House, Lý Sơn Hôm Nay is available in bookstores.
VNS