Four theatre productions based on Vietnamese literary masterpiece Truyện Kiều (The Tale of Kiều) will debut at the Vietnam Youth Theatre on October 12-13 under a project launched by the Goethe Institute in Hanoi.
In his work, director Bui Nhu Lai from the theatre has decided to give the classic tale an experimental twist by not telling the whole story, given how well known it is among audiences.
The Tale of Kiều by Nguyen Du (1765-1820) recounts the life and trials of a beautiful and talented young woman who sacrificed her happiness to save her family in distress.
The play will highlight the relationship between the main character Kieu and the men in her life with a view to generalise equality.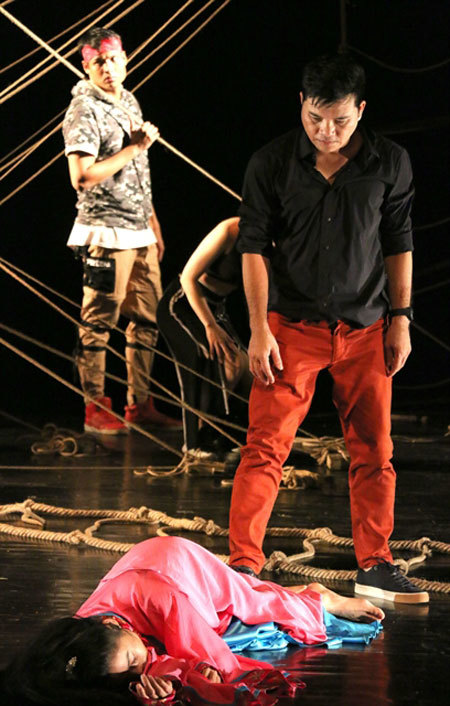 An experimental play by director Bui Nhu Lai will convey the message about equality. VNS Photos Doan Tung
 
"Many artists have creative ideas about Kieu," Lai said. "But this project needed us to brainstorm about women's rights and equality issues that remain unresolved not only in Vietnam but also many other countries."
The play will feature a modern stage with electronic props, such as an iphone and ipad.
"Many people now are affected by the electronic world. They do not consider how what they say and share can affect other people.
"This hits people deeply and the sufferers are usually women. They are fragile and sensitive, and sometimes it becomes too much."
There are two Kieus in the play, one is the traditional Kieu from the story and the other is a modern Kieu who is prone to gossip and hearsay.
They meet and protect each other from men who don't accept the reality that their women are free.
"All readers feel sorry for Kieu," Lai said. "But I think that she makes her own decisions. When her parents are groundlessly distrained so she decides to work in a brothel to pay the money.
"In any situation, Kieu always makes the decision. She is a very strong woman."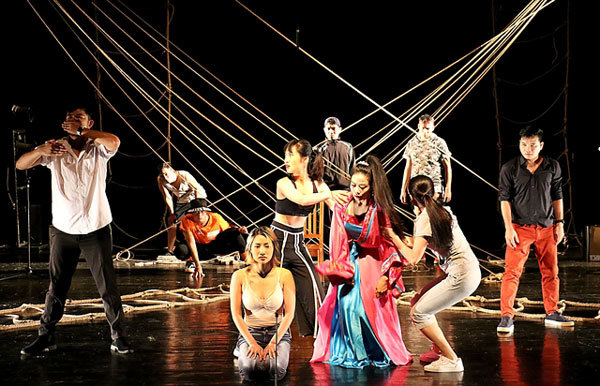 Hoang Thu Trang (first from left) and Dinh Huong Thuy (centre) feature modern Kieu and traditional Kieu.

Traditional Kieu is performed by Dinh Huong Thuy while Hoang Thu Trang plays modern Kieu. Both of them are excited about being involved in the project.
It is not the first time Thuy has taken the role of Kieu, but she's still thinking about how the same character can be different. Last year, she performed the role in a production staged by the Youth Theatre at the National Experimental Theatre Festival.
"We are rehearsing the play for another," Thuy said. "I understand my role and the director's intentions. It is very interesting to combine old traditions with modern in the play."
The role is a good chance for Trang to play a leading role in an experimental play. She started liking the genre as a first year student at the Hanoi Academy of Theatre and Cinema.
She thinks the role represents women. From past to present, women have always suffered in fear, according to Trang.
"I try my best to express those sufferings and fears," said Trang. "Many things frighten women such as their losing husbands, family or jobs. She has to suffer to keep the things that are important to her."
Trang also writes script and short stories and is currently working on a Kieu television series. The series is being directed by veteran Luu Trong Ninh.
Both Thuy and Trang take centre stage in the play after attending a workshop held at the Goethe Institute designed to help artists fully understand Kieu's story.
The project will see three other works by Vietnamese directors Tran Luc and Hong Van and Germany's Amélie Niermeyer.
"This is the first time a German director has created a Kiều play based on her personal interpretation. That is very modern," Van said.
"We are all fascinated with The Tale of Kiều, so we will bring different perspectives to the table," she added.
People's Artist Hong Van said the project had put "pressure" on all the directors, especially Niermeyer.
Each director has been given 20 minutes to bring a part of Kieu's life to the stage.
"The project's success depends on how each director perceives the story and how each theatre sets up their performance," she said, adding that presenting a fresh view of a more than 200-year-old classic is the real challenge.
Van said she was also concerned about the creation of an attractive format for the four performances, given that the German director has chosen to express Kieu in a modern way.
Niermeyer has prepared for the project by reading Kiều in German. She also attended the workshop in Hanoi in July.
She will work with artists from the Youth Theatre to stage a modern performance.
Director Luc is a veteran but has never had a chance to stage Kieu. He will focus on Kieu's strengths not her unfortunate fate.
The performances at the Vietnam Youth Theatre will not only honour The Tale of Kiều but also introduce new approaches by the artists to the public.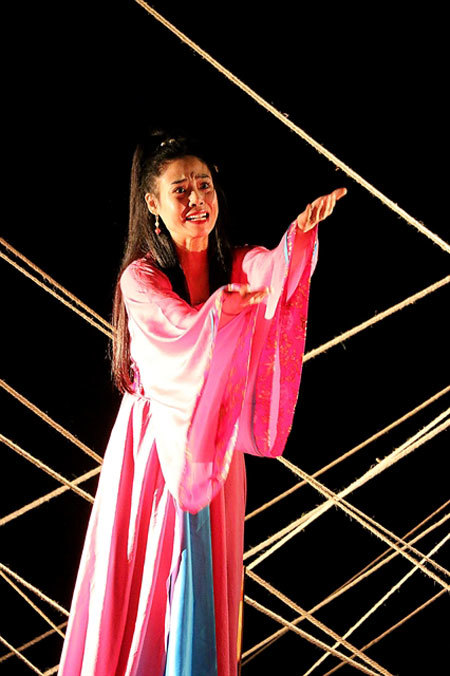 Dinh Huong Thuy performs Kieu.
 
"The project encourages the artists to explore Vietnamese literature and show their creativity so their work value can have a very large impact on our society," Lai said. VNS
Nguyen Binh