Local artisans from craft villages in Vietnam and members of the International Silk Union joined the Fifth International Silk and Brocade Festival in Hoi An's Silk Village on August 9 and 10, 
creating trade links between Vietnam and silk centres around the world.
Vietnam – Asia silk festival to take place in Hoi An
Vietnam-Asia Silk coming to Hoi An
Quang Nam Silk Village
Silk village – treasure of Hoi An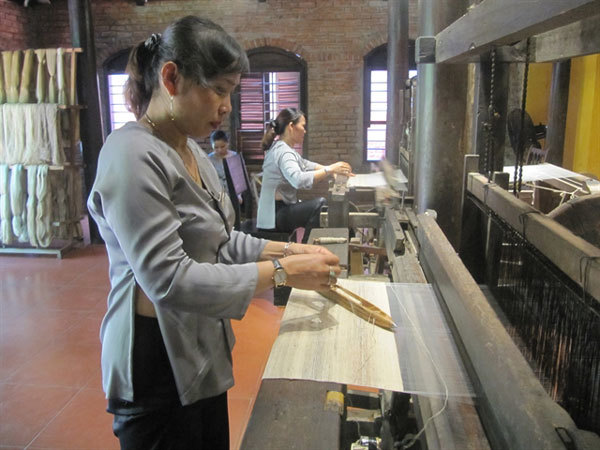 Artisans demonstrate silk weaving at Hoi An Silk Village. VNS Photos Cong Thanh
The two-day event also included a field trip to Ma Chau silk craft, mulberry farming and silkworm breeding in Duy Xuyen District – where the silk trade developed in the 15th century – and Giao Thuy silk reeling factory.
The central province of Quang Nam also introduced the River of Silk project to connect ancient Hoi An, the My Son Sanctuary and silk villages and mulberry farms along the Thu Bon River.
Chairman of Quang Nam Silk Group Le Thai Vu said this year's festival aimed to create links among craft villages in Vietnam and silk trading centres in Asia and Europe.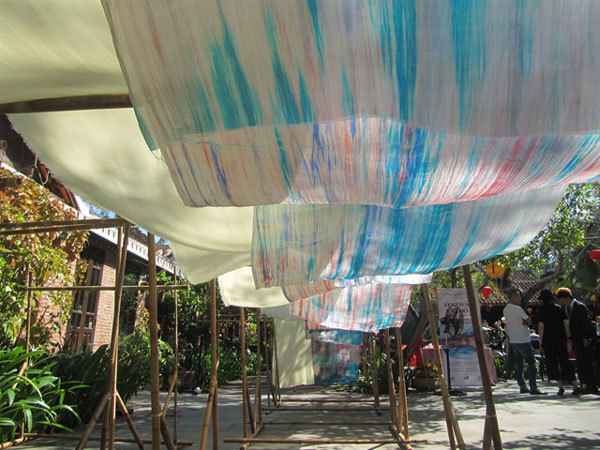 Silk on display at the International Silk and Brocade Festival in Hoi An. More than 80 craftspeople, traders and experts joined the event.
"The festival is an annual rendezvous for experts, craftsmen and traders to share experiences and solutions on how to restore the old trade in a sustainable way in combination with tourism," Vu said.
"We want to introduce the River of Silk project – a unique silk chain in Quang Nam and a centre of silk production, mulberry farming and silkworm breeding," he said. "We have called for investment from domestic and foreign investors in the traditional silk trade chain."
General Secretary of the International Silk Association Fei Jianming said the festival has lured members of the association and honoured craftspeople around the world.
He said the festival in Hoi An has boosted relationships among the world traders, craftspeople and silk villages.
Former chairman of the Nishijin Textile Industry Association Watanabe Takao said he hoped the silk trade would develop quickly in the coming years and that the festival would help promote co-operation between the Nishijin textile industry and Quang Nam silk producers in the near future.
The festival also included exhibitions of silk products from Sichuan, Hangzhou and Qianshanyang in China; Sentosa silk from Cambodia; Nishijin in Japan and the silk villages of Van Phuc, Nha Xa, Ma Chau, Tan Chau My Nghiep, Bảo Loc, Ha Giang and Thai Binh in Vietnam.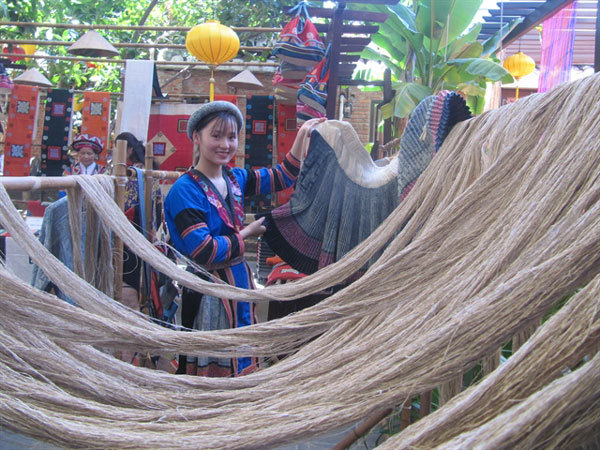 A Mong ethnic minority woman displays a brocade product at an exhibition during the International Silk and Brocade Festival in Hoi An.
Ho Viet Ly, director of the HCM City-based Toan Thinh Silk Company, said his company has been using silk fibres to create a special blend with more traditional linen made from flax plants.
"In the unique brocade weaving of the Mong people in Ha Giang District, flax is used to create special linens," Ly said. "Our initiative creates a smooth linen that blends the characteristics of silk and flax."
Hang Lu, a 29-year-old from brocade Lung Tam Village in Ha Giang, said the traditional trade has been restored by the Mong community over past two decades.
He said brocade work has created stable incomes for 130 households in the village, and tourists from France, Germany and Japan were now among the regular customers.
Silk was among the commodities exchanged via trading vessels from western countries at the bustling Hoi An Port as early as the 14th century, but the trade faded in the late 1990s.
Craftsmen from Ma Chau silk village have revived the traditional hand-made trade in recent years, and the village is now place to produce pure silk with natural dyes in Quang Nam Province.
Quang Nam used to have more than 2,000ha mulberry farms for silkworm breeding and silk production, but the area has been reduced to just 11ha, concentrated mainly in Duy Xuyen District with 30 households.
Hoi An Silk Village, located at 28 Nguyen Tat Thanh Street in Hoi An, is the only museum of the silk trade and silk products in central Vietnam.
The Intellectual Property Agency of Viet Nam, in co-operation with the Korean Intellectual property office (KIPO) and Korean Invention promotion association (KIPA), have been building the province's Ma Chau natural silk brand to promote the product and develop tourism in central Vietnam.
VNS