Once American novelist Suzanne Collins said, "Because I can count on my fingers the number of sunsets I have left, I don't want to miss any of them" in her 2009 sci-fi novel "Catching Fire."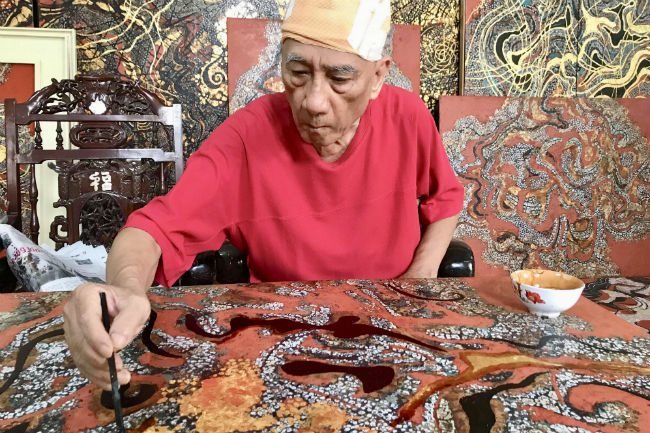 Artist Truong Be works on a lacquer painting - PHOTO: COURTESY OF THE ARTIST
That inspiration from this book is also true for renowned Vietnamese artist Truong Be, diligently at work on his art and fighting serious health problems at the age of 77.
Having given dozens of solo and group exhibitions in Vietnam, France, the U.S. and Thailand, Truong is widely considered one of the best local masters of abstract lacquer paintings.
His works depict adventures into the immense universe represented in strong lines and strokes, Yin and Yang circles, and other symbolic signs.
He believes that each human being is made up of tiny elements of the universe, endowed with its beauty and absorbing its energy.
"I see that the universe is in compliance with mysterious and immutable laws. On that basis, I reflect and create what I perceive by means of abstract art," he said.
During the summer, like many places in this tropical country, Hue City has experienced high temperatures which have made people frustrated, especially those in hospital.
Despite the tremendous agony after an eight-hour head operation, Truong still devoted himself to painting even while recovering at Hue Central Hospital.
Now, the rainy season has also affected his health, but Truong has shown little or no sign of giving up.
"Well, I am living on the edge, so I have to make the most of every second to continue my unfinished plans and fulfill my upcoming projects. Art helps me lessen the pain," Truong said.
Truong graduated from Hanoi Fine Art University in 1974, and did a post-graduate degree in Budapest, Hungary from 1983-1986.
Through the ups and downs in career and personal life, Truong has never stopped painting over the last 50 years.
He has employed modern concepts of Western contemporary arts and expressed these in traditional Vietnamese lacquer.
Like earlier Vietnamese lacquer virtuosos whose gorgeous works and impeccable sense of the Vietnamese lacquer art won worldwide acclaim from critics and crowds, one of Truong's paintings has been listed at Christie's Auction House in Hong Kong.
"I really look up to this great individual for his talent," says Tran Thi Thu Huong, his representative who is also one of his collectors. Because of the complex nature of resin in lacquer, each painting takes at least several months or years to complete, but Truong is always determined to create artworks.
Huong burst into tears in Hue early this month when she visited the artist who is now in critical condition.
"No one could hold off that emotion when you saw that the world in Truong's paintings has nothing to do with the reality. Psychologically many people give up when faced with death, but Truong is full of energy to live and work, optimistically talking about his upcoming exhibition at HCMC Fine Art Museum in September," she added.
"Regardless of the size, each of Truong Be's abstract paintings has been meticulously worked on, showing a constant degree of boldness and harmony between the depth of the colors and the flexible, delicate movements. His effort and passion for art absolutely defeat his health problems," she added.
Despite having undergone six serious operations at Hue Central Hospital recently, Truong has always been preoccupied with his paintings.
Therefore, whenever he gets better, he always asks doctors to allow him to go home to paint.
Truong Be, born in 1942 in Quang Tri, worked at Hue University of Fine Arts after his graduation from the University of Fine Arts in Hanoi in 1974.
He served as rector of the university from 1996 to 2000. He also held various senior positions, including Vice Chairman of the Visual Arts Council of the Vietnam Fine Arts Association. SGGP
My Tran