– something the Vietnamese government is already aware of and attempting to quash with new legislation.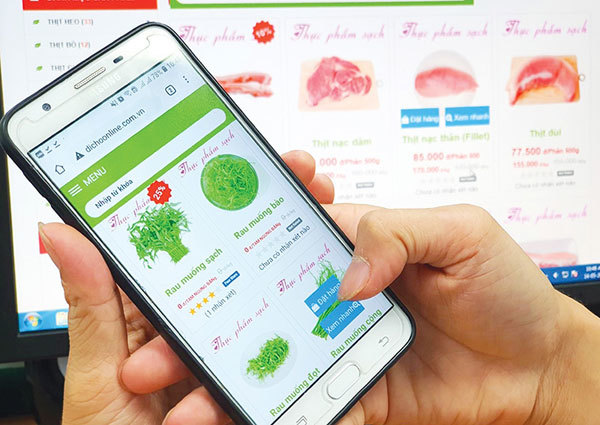 E-commerce apps are increasing in popularity, so naturally more people are at risk of being deceived. VIR Photo
Last week Dr. Leigh Jones, head of training at a research institute based in Ho Chi Minh City, took to Twitter to urge others to be careful when shopping online after a delivery driver took off with around $130 in cash for a GoPro camera - with no GoPro in sight. "Just had a box of sand delivered in place of a GoPro 5 in Vietnam. Driver took off with our money," she wrote in the tweet.
After the tweet was met with shock, Jones further explained how merchants seem to be exploiting loopholes in the process. "Seems like a scam on the sellers' part. The order on Lazada was mysteriously cancelled minutes after the order arrived, therefore the platform itself now takes no responsibility for it," she said. "To say I am furious is an understatement."
Talking to VIR, Jones said that the most common method by such con artists seems to be using the e-commerce platforms to provide legitimacy. "They falsely cancel orders from the website while arranging fake deliveries of their own through a third-party delivery service. I doubt the delivery drivers are in on this but I can't rule that out," she said.
Jones and other victims added that this would only work with cash on delivery, a common option taken by customers. "When this happens it leaves the consumer chasing their tail to find where to place blame. Meanwhile the large platforms deny responsibility, at best removing scam sellers but leaving individuals to lick their wounds," Jones added.
Lazada Vietnam contacted Jones and revealed it had de-platformed the seller in question, and offered compensation of VND500,000 ($21.50) as an apology. The customer refused and demanded a full refund.
A Shopee customer on one expatriate forum last week also explained how they were conned in a similar manner to the GoPro case. "The seller shipped the shoes with their own fake order number and not the original Shopee order number. We contacted the seller after paying cash and after explaining the shoe size was wrong, the seller went to the Shopee site and cancelled the original order meaning I could not initiate a return. Shopee just said it's not their order and so not their problem, and asked why I didn't check the order number on delivery."
Underlining just how difficult the problem will be for legislators or e-commerce groups to stamp out, the very next morning the removed fraudulent GoPro merchant had seemingly simply opened a new shop on the same platform. "The previous sellers' message handle was 'shopcam1' and now there is a 'shopcamno1', selling the same products from the same province. I'd be shocked if this was a coincidence," Jones said.
Ho Chi Minh City resident Kenny Gerchow said, "I've had several issues with these platforms lately. They're cutting corners as the competition is gaining more of the market, are selling mediocre gear, and the service is non-existent."
Anton Doman, who now lives in Bangkok, commented on the post about the missing GoPro, "Platforms should step up and take responsibility for this. They are facilitating scammers and customers' private information isn't safe."
Resolving matters promptly 
It is not only the likes of Shopee in the firing line, as similar loopholes in delivery can be found on other sites. Vietnam-based Mark Silkstone said, "I've bought stuff on Tiki before that arrived as fake. Tiki wouldn't do anything about it, not even let me return the item as it was from an overseas seller."
However, many other customers note that they have never had any problems, or have had help if an issue arose. A Tiki user called John Larry replied to Silkstone on Facebook, "I never had that problem – when something was not as described Tiki fully refunded me and when my Samsung Galaxy S10 broke after six months I got a full refund. It was from the United States and that didn't matter – they still paid."
Another Lazada user, Michela Joseph, noted that the company usually bends over backwards to help out in refund cases. "I buy a lot of stuff from them including electronics and only had a couple of fails in the past three years, but on both occasions they resolved the matter promptly," she said. "Especially when it's a pricey item, they tend to ensure I get it safely and that I'm fully satisfied before they release the money to the merchant."
Hanoi-based Sophia Yachmenyova explained that merchants have to get properly authorised before they can sell items on Lazada. "When you create a seller account and upload your product they demand all the legal documents to prove your right to sell this particular item, so they have enough information about the seller," she explained. "On Shopee there is a button to open a discussion even after you receive a product, which I used when I received a fake Chromecast, and the case was solved. But you have very limited time for opening such a discussion."
Customers have been advised online, as well as by consumer industry watchdogs, to carefully check any items before signing for them. Some advise paying cash on delivery each time, only handing over money when the package has been inspected, and taking photos or videos of the package and the contents. Although delivery drivers often try to refuse such checks, it is advised to insist on opening the external package to check the item/s, while avoiding opening up the product packaging itself.
However, sometimes even that is not enough. One shopper posted on Facebook an example of ordering a laptop which turned out to be second-hand instead of new, which was not immediately obvious. A second consumer received an incorrect electronic item which was placed instead the correct box for the item; a third explained how they received the shell of a camera with all the insides stripped out; and a fourth shopper purchased a coffee machine which came with a broken water jug – which was not apparent until the machine was actually used.
Taking responsibility 
A spokesman for Lazada said its consumer protection measures include a demerit point system for errant sellers that can result in suspension, while a Shopee representative added that its platform works closely with its sellers, brand partners, and users to ensure that items sold on Shopee adhere to its policies and guidelines.
Knowing who is actually carrying out the order and delivery of items, as well as deciphering how trustworthy they are in terms of customer information, often remains under a cloud that leaders are attempting to clear away.
Under a second draft of a new decree amending 2013's Decree No.52/2013/ND-CP, companies operating e-commerce platforms must promptly remove illegal goods or services from the website within 24 hours of receiving a request from the competent authorities.
According to Linh Bui, partner at Allens Law Firm, the draft also removes the provision that the operator of an e-commerce platform is not considered as the 'third party providing information' under the Law on Consumer Protection in respect of any information directly posted by sellers on the platform.
"Although neither the draft decree nor explanation from the Ministry of Industry and Trade provides any further guidance or rationale behind such removal, it seems to suggest that the operator of an e-commerce platform may be now required to be responsible for the accuracy and sufficiency of any information posted on its e-commerce platform, regardless of whether such information is posted by the operator itself or by third-party sellers," Bui explained.
The second version of the draft has been submitted to the government for review, with hopes to be enacted in the near future.
Southeast Asia's e-commerce market is expected to grow by 5.5 per cent by the end of 2021, according to a report released in December by research firm PPRO. Singapore, Malaysia, Indonesia, the Philippines, and Vietnam are the top five Southeast Asian markets at the head of the table when it comes to market growth this year.
"This past year accelerated the world's e-commerce growth by a decade," said Tristan Chiappini, vice president and head of partnerships for Asia-Pacific at PPRO. "However, for merchants to truly capture the benefits, they must have a sharp understanding of local payment methods, which are crucial to converting sales."
VIR

Counterfeit and poor-quality goods are the biggest obstacle that customers face on online shopping platforms.

Attending a workshop discussing the laws held by Vietnam Consumer Protection Association in Ha Noi last week, experts said more effective solutions are needed to protect consumers.