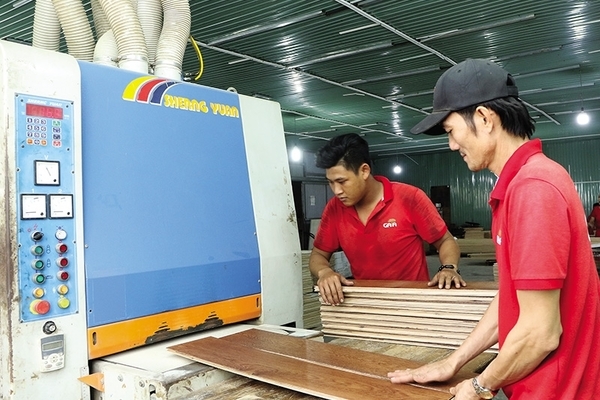 Improved quality of education and training courses can boost human resources and, ultimately, SME capability
Nguyen Minh Cuong, principal country economist from the Asian Development Bank, writes about how small and medium-sized enterprises can further join the regional and global value chains amid Industry 4.0 expansion far and wide.
According to the Vietnamese General Statistics Office, small- and medium-sized enterprises (SMEs), which form a large entity of the domestic private sector, play a vital role in the Vietnamese economy. Of the total 518,000 enterprises registered in 2017, around 500,000 were SMEs.
SMEs contribute around 47 per cent of the country's GDP and 40 per cent the state budget, and about nine million jobs have been generated by SMEs.
However, despite their economic and development significance, SMEs have also historically played a minimal role in the country's integration and industrialisation due to multiple binding constraints.
Prevailing factors
Firstly, SMEs have weak links with the domestic economy. Their minimal role in industrialisation driven by foreign direct investment was in part attributed to preferential treatment to state-owned enterprises (SOE) at the disadvantage of SMEs.
Their inefficiency called for a greater role of SMEs in developing mutually supportive and viable links with the domestic economy for more broad-based growth, and with the foreign-invested sector for stronger integration with global value chains (GVC).
Secondly, weak capability is perceived as an underlining factor determining the efficiency of Vietnamese SMEs.
This includes quality and reliability of products and services, standards and certification, innovation and technology, managerial competency, and skilled labour.
The bulk of the SMEs are not able to conform to foreign-invested enterprises' (FIE) quality, prices, and technical standards.
According to the Vietnam Institute for Economic and Policy Research, despite improvement in their capacity in past decades, nearly 56 per cent of SMEs do not have sufficient knowledge in business and corporate governance, financial management, and business law.
Meanwhile, according to the 2018 Global Competitiveness Report of the World Economic Forum, the lack of skilled workers is also caused by inadequacy of well-trained graduates, as the skillset of graduates was ranked at 128th out of 140 countries.
The wage growth is outpacing productivity growth, and this makes it even harder for SMEs to acquire skilled workers. Ease of finding skilled workers was therefore ranked at 104th out of 140 countries.
Third, access to finance is cited as the most significant factor affecting SME business operation and expansion. Under the report, only 55 per cent of SMEs in Vietnam have checking or saving accounts as compared with over 80 per cent of SMEs in East Asia.
In spite of constrained access to finance, Vietnam's SMEs are still more capital intensive than regional comparators. The government provides credit lines and guarantees to SMEs through the SME Development Fund, BIDV, Vietcombank, and VietinBank.
A network of credit guarantee funds was also established at the provincial level to provide financing for provincial SMEs.
Financial support is also provided through Vietnam Development Bank, which provides export finance and guaranteeing SME loans from commercial banks.
There is also a wide network of microfinance with non-governmental organisations and mass organisations such as the Women's Union and Farmers' Union.
According to the World Bank, more than 55 per cent of Vietnam's medium-sized enterprises have bank loan/line of credit as compared with 38 per cent of East Asian comparators.
But capital productivity of Vietnam's SMEs is the lowest in the region. Low capital productivity further constrains SMEs in accessing finance.
Thus, improving capital efficiency is critical to ensure access to finance as it would strengthen the creditworthiness of SMEs.
Fourth, there are some hurdles in institutional co-ordination and regulatory frameworks. In fact, significant improvements have been achieved over the past three years in improving the business environment.
These include amendments of the constitution in 2001 lifting regulatory constraints for ­setting up a business; Decree No.90/2001/ND-CP issued in 2001 which established an agency for SME development and SME promotion council; the Law on Enterprises in 2006; and most recently the law on support for SMEs which came into effect in January last year.
However, interagency co-ordination is still not effective which results in continued lack of transparency and insufficient information and data on SMEs and FIEs.
Vietnam was assessed below the average for the overall institutional framework at 94th out of 140 countries in 2018.
Despite recent improvement of the SME regulatory framework, the main problem is still policy enforcement, notably in taxes, market access, and access to land.
High corporate tax income discourages SMEs to scale up their production, and procedures to file tax remain burdensome.
While Vietnam is participating in a number of free trade agreements (FTA), notably the Comprehensive and Progressive Agreement for Trans-Pacific Partnership, tariff rates and non-tariff barriers remain major constraints for doing business and the country was ranked 93rd out of 140 countries for non-tariff barrier prevalence and tariff rates respectively.
Policies for land use are important to enable greater land accumulation and longer-tenure of land ownership to promote commercialisation of agribusiness value chain.
Connecting SMEs
It is necessary to strengthen SMEs' links with GVCs and the domestic economy. Their integration to GVCs cannot be realised without first establishing viable SME links within the domestic economy, especially between SMEs and large domestic private sector enterprises.
This could help to address the dual characteristics of the Vietnamese economy between the foreign-invested and non-foreign-invested sectors.
These stronger ties between SMEs and large domestic private firms through viable domestic value chains will gradually build up capacity, and naturally result in a greater value in the integration of SMEs into GVCs. It is also necessary to ensure SOEs are reformed to benefit from the development of SMEs.
Giving SOEs preferential access to credit, market, land, labour, and technology results in less factor inputs for SMEs to develop. This was among the factors which inhibited tie-ups within the domestic economy as well as with GVCs for SMEs.
In spite of slow progress, the SOE reform has gathered momentum and will continue under the strong political commitment of the government. This reform should bring more opportunities for SMEs to access to important factor inputs so that the most able SMEs could transform into large and competitive private sector corporations.
It is quite essential to develop the capability of SMEs. Measures to support their capacity should focus on developing human resources. In the long term, this depends on the quality of the education system which can provide quality graduates.
In the medium term, provision of vocational training and inclusion of entrepreneurship training in the education curriculum should be prioritised.
Besides that, a focus must also be placed on boosting innovation and technology application through fostering a sound business environment, helping SMEs to develop and use their internal strategic resources effectively, and building an innovation system that is effective in the commercialisation of research and inclusive of a large range of SMEs.
In addition, it is necessary to further strengthen productivity by applying internationally accepted standards, such as ISOs, and other mutual recognition arrangements.
In the current context, it is very important for Vietnam to improve SME access to finance and markets. The country provided a relatively broad range of policies and programmes in place to promote SME access to finance and the country has a high level of financial intermediation. The enforcement of existing policies is needed to ensure greater access to finance for SMEs.
As efficient use of capital is equally important as access to finance, it is crucial to develop SMEs' capacity and productivity which can help improve capital efficiency.
When tariff barriers are reduced as the result of Vietnam's commitments in various FTAs, trade facilitation measures to address technical standards and quarantine requirements are critical to expand market access for SMEs.
Logistics facilities and transportation services will reduce costs of doing business and ultimately strengthen SMEs' trade competitiveness. VIR
Nguyen Minh Cuong
Principal country economist from the Asian Development Bank

Vietnam is listed among the five countries with the highest amounts of plastic waste. The average plastics consumption level in Vietnam increased from 3.8 kilograms in 1990 to 41 kilograms in 2015, with a growth rate of 10 percent per annum.

Vietnamese enterprises are not doing enough to learn about the Comprehensive and Progressive Agreement for Trans-Pacific Partnership (CPTPP) which make them fail to grasp opportunities arising from the trade deal.