Fast-food chains kick off cyber-war
VietNamNet Bridge – The competition among fast-food brands in Vietnam has become fierce as they now have to struggle on the internet.
VietNamNet Bridge – The competition among fast-food brands in Vietnam has become fierce as they now have to struggle on the internet.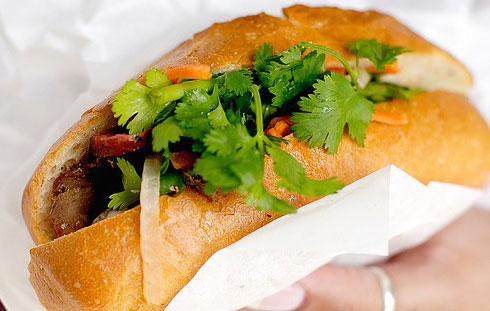 The total fast food revenue in the Vietnamese market in 2011 was VND870 billion, an increase of 30 percent over 2010, according to the Ministry of Industry and Trade (MOIT).
The 30 percent annual growth rate of the fast food sector proves to be attractive to any investor, which explains why more and more foreign fast food chains have been set up in Vietnam.
Five years ago, KFC, Jollibee and Lotteria were known to all Vietnamese, because they were the only foreign fast food brands in Vietnam. But today more than 10 well-known brands exist in the 90-million consumer market.
In the market competition, service providers have to apply new sale methods to attract more customers. Selling products online is one of the methods chosen by many brands.
The service allows fast food chains not only to approach customers far from the central districts at reasonable costs, but also to satisfy the demand of youth and busy people.
According to ASEANStartup, the profit margin of successful online ordering modes in developed countries is as high as 30-40 percent.
Most fast food chains, including Pizza Hut, Auntie Annes Pretzel, Subway and Baskin Robbins as well as smaller chains, have established partnerships with online ordering websites such as foodpanda.vn, eat.vn and chonmon.vn.
Nguyen Gia Thanh from Burger King Vietnam said that e-commerce is present in all business sectors.
The food chain in December 2014 signed a cooperation agreement with foodpanda to attract the website's customers.
"The initial satisfactory results show that the online market is a potential one for food chains," he said.
Tauriq Brown, co-founder and managing director of foodpanda Vietnam, said that teaming up with online ordering websites is necessary for fast food chains.
Tauriq Brown from Foodpanda said it has set up an intensive network across five cities and provinces, available on Android, iOS and Windows Phone app systems.
Online ordering websites
Analysts believe that the e-commerce market is being controlled by Rocket Internet and VC Corp, the "lords" of the field.
Rocket Internet, though listed as "a newcomer" in the market, is still "powerful" because it possesses well-known websites including Zalora (fashion distributor), Lazada (online retailer), Easytaxi (taxi ordering) and Carmudi (online car purchasing).
Most of the Rocket Internet's brands are believed to receive financial support from foreign investors.
Meanwhile, the Vietnamese VC Corp has been in the e-commerce market for a long time, with many well-known brands like muachung, rongbay, enbac and muare. Buying eat.vn was the first step taken by VC Corp in its plan to develop e-commerce services for foreigners.
DNSG