Meticulously wrapping a white linen scarf around her head, adjusting a silver necklace, Ly Thi Mai made the final touches before joining her friends.
Cao Bang establishes Phia Oac – Phia Den National Park
Top notch tea brews a highland recovery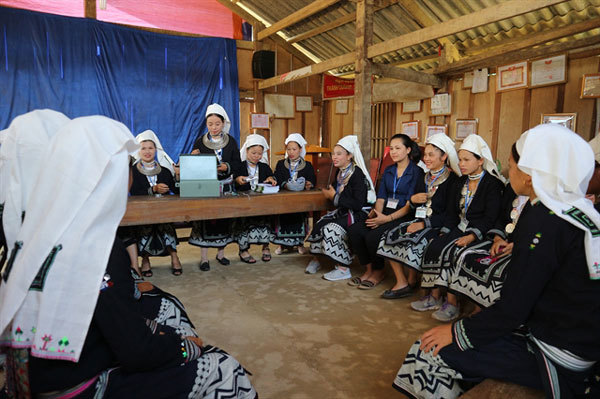 Ethnic minority women from Trang Village listen to the bulletin during their VSLA meeting. — VNS Photos Khoa Thu
To the Dao woman, there are few occasions worth dressing in her traditional attire – a black dress with colourful brocade patterns, white scarf and silver jewellery.
Summer is not a festive season in Thanh Cong Commune's Trang Village, Nguyen Binh District, the northern mountainous province of Cao Bang.
Mai and her friends were on the way to their frequent VSLA (village savings and loan association) meeting where they could listen to the latest bulletin on market prices and parenting.
The monthly gathering is a highly-anticipated event for some twenty ethnic minority women even if it means they have to wake up earlier in the morning and hustle on the field to finish cultivating before nine.
Although the savings group has been running for quite some time, the news programme is a new addition.
"It is helpful for us," Mai said. "Knowing about changes in the market gives us confidence in making decisions, especially for the local specialty – Phia Đén glass noodles."
Hiding behind six mountains, Trang Village seems to be isolated from the outside world.
The remoteness and lack of information hinders women like Mai from accessing bigger markets for their product.
"People say Phia Đén noodles are getting more well-known but packs keep piling up," she said. "We sell it by word of mouth so the business is limited within our connections."
By listening to the bulletin, which is carefully edited and translated into Dao language by Thanh Cong Commune Women's Union, women from Trang Village learn about the market's demands, prices, food safety and branding – all essential pieces of information when approaching customers.
They can also openly discuss with commune leaders on difficulties in farming, ask for solutions and request subjects that they want to be told about.
"That is why we get information on market prices and parenting, which seem irrelevant but they are actually what we care about the most," Mai said.
The initiative is a part of the Informed to Influence, or I2I, project implemented by CARE International in Vietnam and NorthNet, a network of over ten local civil society organisations in the country's northern mountainous area, from March, 2017.
Because better access to information means better governance, the project has empowered ethnic minority women in the provinces of Dien Bien, Cao Bang and Bac Kan to get to know what matters in daily life and raise their voices asking for accountability of local authorities.
Not only do their businesses benefit from informed decisions, law implementation and governmental transparency are also improved.
Before, information was delivered through an cumbersome system, where people could only be notified via official, red-stamped documents. Now, everything has changed.
"Since the project was integrated into the VSLA monthly meeting, the commune leaders are offered chances to sit with women, listen to their wishes and together come up with solutions," said Tran Van Mon, deputy head of Thanh Cong Commune.
"The two-way communication helps us promptly take action to address their needs."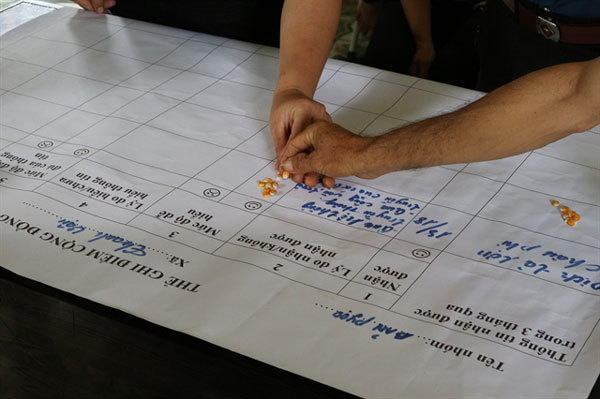 Tay ethnic minority people in Pjo Village use corn kernels to express their satisfaction towards information provided by local authorities.
Creative attempts
A common, clear vision on improving access to information has been set, yet the implementation is flexible, based on the circumstances of each locality.
The Tày ethnic minority of Pjo Village in Thanh Van Commune, Bac Kan Province, always long for Thursday – the day of happiness, as they call it.
Every Thursday afternoon, women and men from the village gather for a volleyball competition.
But first, they have to take a multiple-choice test about laws on cooperatives, marriage and family or children.
Questions are compiled by teams and with one chosen question, they will be granted VND2,000 (US$8 cents).
Every two months, villagers are invited to a self-coordinated meeting with the communal information team.
On a large sheet of paper, a chart is drawn with columns entitled "received information", "accuracy" and "speed" with smiley and sad face icons.
They will use yellow corn seeds, representing their votes, to express their satisfaction levels for information provided by local authorities.
The simple tool, called "the community scoring board", is changing the small village.
Ha Thi Nhiem pulled out all the stops to protect her family's pigs on hearing that African swine fever had swept through many provinces.
"Thanks to radio bulletins in Tay language composed by the communal information team, we learned about techniques to prevent the disease," she said.
"The information delivery has improved. However, we want it to be better since the first case of the epidemic was reported in a neighbouring village just a week after the bulletin was aired," Nhiem added.
The feedback was recognised by Nguyen Thi Thu Hien, a member of the communal information team.
"The event opens up space where people can freely voice their opinions. We also get to know to what extent they get information and what kinds of information they want to know to adjust our future bulletins," said Hien.
According to Bui Van Huong, head of Thanh Van Commune People's Committee, 35 radio bulletins and two videos have been made so far, covering several subjects including disease prevention, cultivation, forestry, children's rights and family planning.
The team has built a bridge connecting local villagers with authorities.
"When the new type of rice seed did not bring about the expected productivity, we can feed it back directly to the communal government for them to change for the next season," Nhiem said.
"This never happened before."
Advocacy
The law on access to information which was approved by the National Assembly in April 2016 and valid from July 2018 has a significant meaning in concretising fundamental rights of citizens in the 2013 Constitution.
Citizens have the right to access nearly all information created by State agencies, excluding a few cases when access to information is prohibited or restricted by certain conditions.
Information is required to be provided in an accurate, complete, timely, transparent and convenient manner while still following the law-established order and procedures, according to the law's article 4.
In reality, localities face several challenges in applying the law as there is no platform or tool for them to effectively communicate with people.
The Government has issued several decrees and laws with the expectation to create favourable conditions for people, especially farmers and ethnic minorities groups to earn sustainable livelihoods. How people can approach these policies is another question.
According to Hoang Thi Ngoc Anh, an officer of Cao Bang Community Development Centre, when local women want to establish a cooperative, they do not know how to start, who they will need to meet, how they will register and what they should prepare.
"Meanwhile, the law on cooperatives was approved seven years ago," she said.
Nguyen Duc Thanh, the project director, emphasised the collaboration of local authorities in answering people's questions and taking action to ensure citizens' right to know.
The projects in three mountainous provinces are just a part of advocacy to uphold the better application of the law on access to information nationwide, on which they are working with the Ministry of Justice.
"Information is vital. Poor access to information blocks people's opportunities to thrive," he said.
"Conversely, if people are well-informed, they can make better decisions which benefit their families and communities, while at the same time enhance government transparency and accountability," Thanh added.
VNS