A difficult question can often become easier if a new approach is used, Minister of Information and Communications Nguyen Manh Hung told representatives of Thai Nguyen agencies pursuing the path to digital transformation.
Staff preparation
Vu Duy Nghia, chair of Song Cong City, speaking at an online conference on digital transformation in Thai Nguyen, said he was concerned about the lack of IT (information technology) and digital technology skills of civil servants and local people.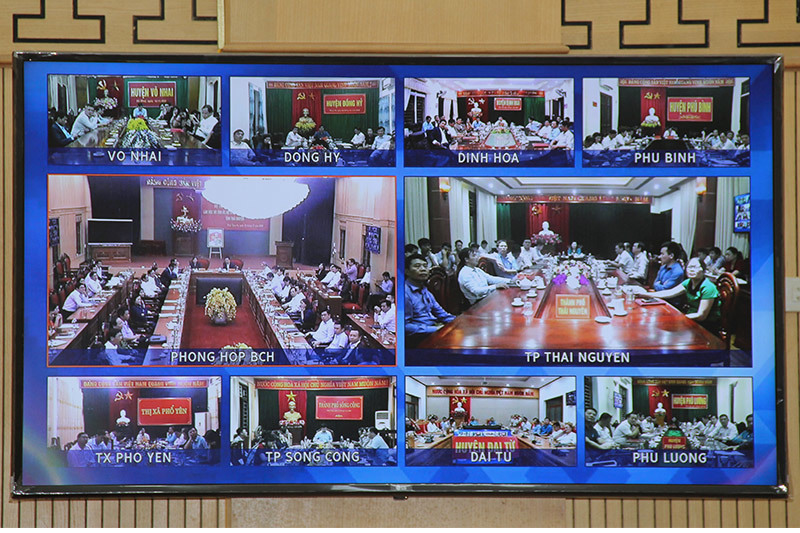 The conference
Minister Hung surprised the conference attendants when he said there was no need to pay too much attention to the teaching of digital skills.
The common way that many localities follow is organizing refresher classes for officers. However, this takes a lot of time.
Nowadays, digital technology has developed to a high level, which makes it fairly easy for most people to use. Zalo, a Vietnamese social network, for example, can be used by anyone and people can discover new things during use.
"Using platforms is the best way of learning," Hung said.
The way of using high-quality human resources is also changing because of digital transformation. Many localities are worried that they cannot employ good specialists because of limited budgets. The minimum pay for one specialist should be VND20 million, but localities can pay only VND4-6 million.
But things will be easier with a new approach. Instead of having specialists who create software, localities nowadays just need to be the users. Creating software is the job of businesses. Raising questions is the work of localities.
Turning difficult questions into easy ones
In general, when provincial authorities wanted to increase by twofold the ratio of physicians per 10,000 people, they would assign healthcare departments to implement this, which could last dozens of years.
But nowadays, provincial authorities can assign the task to the Department of Information and Communications.
The department will choose software that allows health examinations from a distance and will instruct people to install the app. If so, people will be able to access tens of thousands of doctors working online throughout the country, including the best doctors in Vietnam.

In the past, if localities had problems, they would feel miserable. But now, they should speak up about their problems and ask others for help. Others will be ready to help because when helping, they can find opportunities for themselves.
In the educational sector, it is not feasible to require all schools in Song Cong to hire the best teachers like the Hanoi-Amsterdam High School for the Gifted in Hanoi. However, if using online teaching, Song Cong students will be able to learn with the best teachers in Vietnam.
Encouraging online public services
Duru g the meeting, the leader of Pho Yen Town has complained that it is difficult to increase the number of people using online public services.
In reply, Hung said there are more than 600,000 smartphones in Thai Nguyen. Only 350,000 smartphones, or one smartphone for each family, is needed to deploy online public services.
So the number of smartphones in Thai Nguyen is more than enough. The problem lies in how the smartphones are used.
The answer to this problem, according to Hung, is teaching students and other young people.
Digital transformation depends on leaders
When the leader of Phu Binh district complained that it is difficult to familiarize officers with the habit of using IT in daily work, Hung said this depends on the heads of localities and agencies.
When they utilize IT, all officers will use IT in their daily work. For example, they will read documents online and attend online meetings.
"When the leaders change, the whole apparatus will change accordingly," he said.
Hung said the same to the chair of Dong Hy district, who raised a question about difficulties in the digital transformation process.
'Do the opposite'
Concluding the conference, the minister gave advice that one should sometimes do things opposite to what is ordinary.
In the past, if localities had problems, they would feel miserable. But now, they should speak up about their problems and ask others for help. Others will be ready to help because when helping, they can find opportunities for themselves.
In the past, localities had to train specialists to work for them. But nowadays, they should think of raising questions and assigning tasks to officers. By doing this, their officers will become better.
In the past, leaders thought that they could do things if they had a lot of money. But nowadays, they should become the first people to do new things.
Businesses are ready to provide new services for free to localities that first try their products and 'serve as a guinea pig', because this will allow them to sell products to others.
"Localities have a lot of problems. And the key to solving the problems is not money," he said.
Since there are many problems, there are many opportunities to use technology to solve them. Businesses will join forces with the localities that dare to pioneer, to develop solutions. If localities don't raise questions and don't dare to pioneer, businesses will not have opportunities to develop new products. 
Binh Minh

In 2021, Vietnam's education sector will accelerate the National Digital Transformation Program and implement digital transformation.

Deputy Minister of Education and Training Hoang Minh Son believes that the biggest difficulty in digital transformation is the lack of qualified human resources.