Farm produce should be sold in a competitive market, rather than through a "market of compassion" or rescue campaigns, experts have said.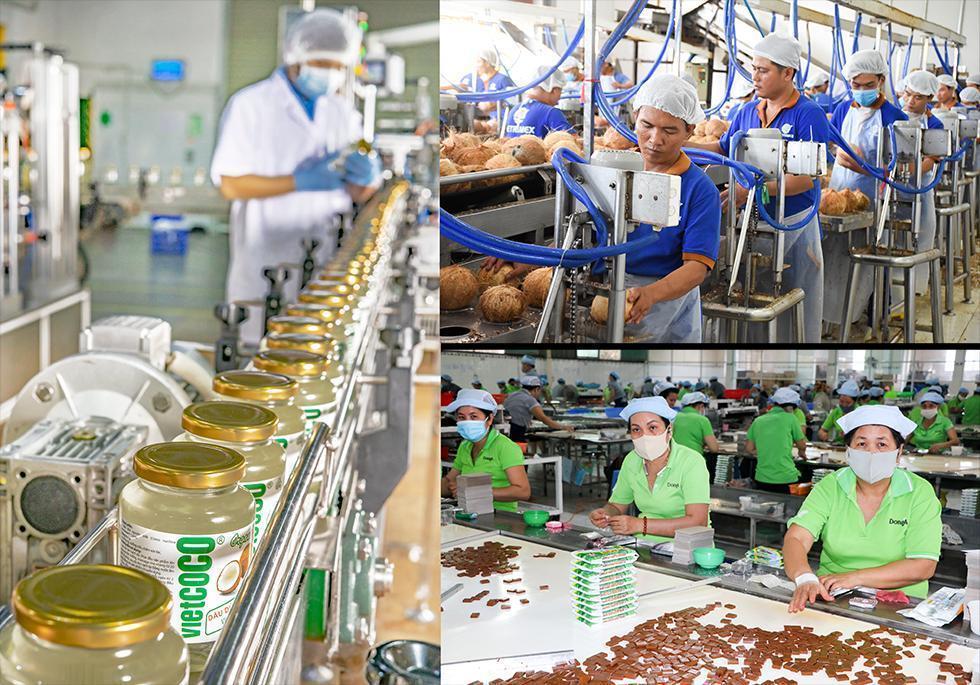 In April 2021, A Chau Food JSC opened its vegetable and fruit processing plant in Muong Khuong, the 'pineapple and banana metropolis' in Lao Cai province. The event helped 'change the fate' of the land, where there are 1,200 hectares of pineapples and 1,800 hectares of bananas.
About 4,600 tons of canned pineapple, 1,600 tons of pineapple juice concentrate, 800 tons of dried bananas, 1,000 tons of sweet corn and 250 tons of vegetables will be produced there every year.
Son La province now has eight high-capacity farm produce processing plants. Passion fruit, pineapple, mango, banana, avocado and longan are processed into canned goods, juice and dried products for domestic sale and export to the most demanding markets in the world.
There are also 200 farm production chains taking shape in the province, which provide materials to processing plants.
In Ben Tre, coconut is not only sold as fresh fruit and used to make candies or activated carbon, but also to make next-generation processed products.
Cuu Long Coconut Processing Co Ltd creates 20 cosmetic products from coconut, including makeup and functional food and environmentally friendly straw.
In the province with 73,000 hectares of coconut growing area, the coconut processing industry is taking shape. As many as 150 products are made of coconut and are exported to many markets, including choosy markets like US, Canada and Australia.
In 2020, coconut and coconut-made products brought turnover of VND5.88 trillion to the province, including export turnover of $346.91 million.
No more rescue campaigns

Farm produce should be sold in a competitive market, rather than through a "market of compassion" or rescue campaigns, experts have said.
Ben Tre has developed a modern processing industry which puts out competitive products from coconut. The enterprises in the province have large scale and use advanced technologies.
With its great advantages, Ben Tre is striving for $1 billion worth of turnover from coconut products. Ben Tre farmers never have to call on people to 'rescue' their coconuts because of oversupply, and even import materials from other countries for domestic processing.
As for Muong Khuong, thousands of households there will change their production mode because of the processing plant in the locality.
They will no longer grow bananas and pineapples in the old way, but will join production chains. The tragic images of farmers throwing pineapples away because of no buyers and bargaining bananas away will no longer occur.
Building processing plants in material growing areas to create farm production chains as in Muong Khuong has been seen in many provinces, but the number of such plants is still modest.
This explains why farmers are unhappy when they have bountiful crops, and why they still have to call for help to buy farm produce.
Son La, considered a poor province, has emerged as a 'phenomenon' in the last five years. From a province which only grew maize and cassava, Son La has become the second largest fruit production center of the country and the largest fruit processing center in the northeast.
In 2020, when the Covid-19 pandemic broke out and disrupted the distribution chain, Son La's products still sold well, which brought a stable income to farmers.
Purple passion fruit and avocado alone brought turnover of VND600 million per hectare, mango VND500 million, and custard apple nearly VND1 billion. There are more and more dong billionaire-farmers in the province.
Former Minister of Agriculture and Rural Development Nguyen Xuan Cuong predicted that by developing production chains and organizing deep processing of farm produce, Son La will be able to earn $1 billion a year from farm exports after a short time.
Developing production areas in association with deep processing will not only help stop the oversupply, but also create higher added value.
Nguyen Lam Vien, chair of Vinamit, a well known dried fruit producer, said the gap in profits can be seen in the material section phase. Processing plants don't need to choose expensive fruits with beautiful appearance, but just use fruits with low prices.
The products that don't have good appearance cannot be exported as fresh fruits, but can be used for processing if they have high quality. Therefore, processed products can bring higher profits.
One kilogram of onion, for example, is sold for VND5,000-6,000. But one kilogram of onion, after being processed into different products, has the value of VND350,000. As for fruit, the value of processed products may be 10-20 times higher than fresh fruit.
New value for farm produce
According to MARD, Vietnam's vegetable and fruit export turnover has increased from hundreds of millions of dollars to billions of dollars. In 2020, the country earned $3.26 billion despite Covid-19.
However, only 8-10 percent of vegetables and fruits are used for processing.
Meanwhile, experts believe that exporting processed products is the optimal solution, because processed exports can bring 3-4 times higher value than fresh exports.
Under the plan on developing farm produce processing in 2021-2030, Vietnam aims to export $8-10 billion worth of vegetables and fruits a year, 30 percent of which would be from processed exports. 
Tam An

Hai Duong's first farm produce, including cabbage and chicken eggs, are being sold on voso.vn, an e-commerce website, while an online stall distributing Hai Duong's produce has been set up.

People in the northern province of Hai Duong are calling for help as their farm produce distribution networks have been disrupted since social distancing was imposed in the locality.