As the sun sets, Le Son Hai carefully opens the petals of a fresh blooming lotus flower and stuffs dried green tea leaves inside. Then he covers the petals with a lotus leaf and ties it tightly shut.
Vietnam's tea industry needs to focus on quality
Vietnam's tea culture is steeped in history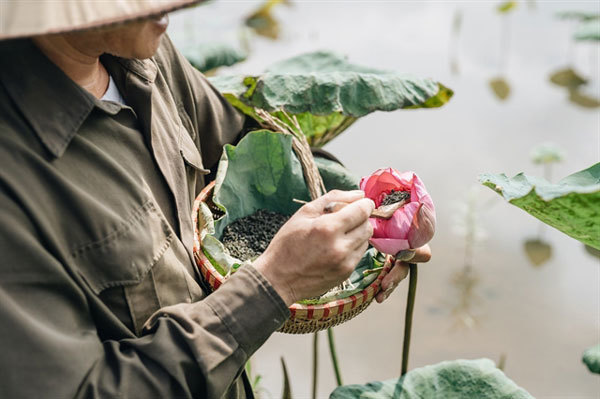 Hai puts dried tea leaves inside a lotus flower. His tea is famous for being scented at the lotus pond without picking the flowers. Photo kenh14.vn
Without picking the flowers, Hai leaves the bundles at the lotus pond and 12 to 14 hours later it's time to collect the tea, which has soaked up the early morning fog and the pure fragrance of the flower.
Hai may sound like an artisan, but he is also an astute businessman. The 28-year-old has preserved the traditional work of his family and developed the art in a more sustainable way in order to meet the demands of today's market.
From the humble lotus pond, Hai's dream of developing an organic lotus tea brand has started to flower.
After studying at the Academy of Journalism and Communication in Hanoi for four years, Hai decided to give up on his plan to become a journalist to return to his hometown in Tan Cuong Commune, the northern city of Thai Nguyen.
Upon returning home, Hai realised that his family's lotus pond had been long abandoned but the flowers were still growing. He thought it was a waste to watch the flowers wither away after blooming so he decided to use them as a natural way to flavour tea.
Making lotus tea was not a new idea, and even with its outstanding scent and taste it was difficult for Hai's product to compete with the dozens of local team brands, many of which were established years ago in Tan Cuong, the country's primary tea growing area.
Hai knew he had to do something to stand out, so he decided to go with an organic farming model.
Born into a family with three generations of tea makers, he had seen his relatives and neighbours grow their profits by using chemicals and fertilisers. But he had also seen the toll their use has on the environment and human health.
"The potential of Vietnamese tea has not been fully tapped because mass production focuses on quantity rather than quality," Hai told Việt Nam News.
When he started in 2015, guidelines for organic tea farming remained vague and could hardly be found on the internet. Hai learned from the experiences of other farmers and by reading books and newspapers. Most importantly, he learned by doing.
Hai started to plant tea on one hectare of his family's land and expanded the lotus pond to 3,600sq.m.
As the person who takes cares of both the tea plants and the lotus pond every day, Hai can ensure the whole process is chemical-free.
He fertilises his tea plants with soy beans, giving the leaves a special scent and taste. The plants even grow stronger with the organic fertiliser.
Hai has a trick that allows him to avoid pesticides: using an organic mixture of alcohol, garlic and chilli.
"Tea fertilised with chemicals and without chemicals taste different," he said. "The organic lotus-scent tea soaked in boiled water creates a yellowish liquid. It looks like someone has poured oil into the water.
"It does not taste sweet but is pleasantly bitter. When someone sips the tea and then drinks water, they will feel a light sweetness like sugar on their tongue."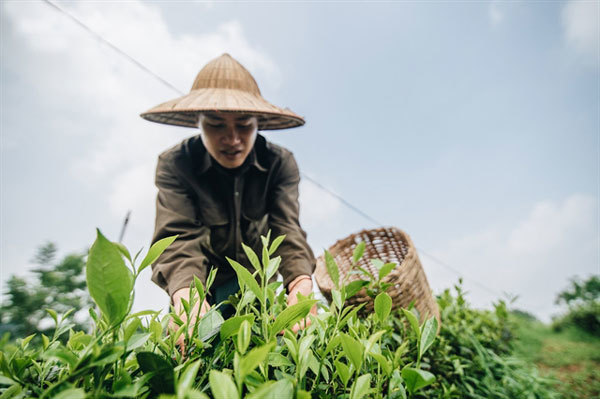 Hai tends to his tea plants grown in his small garden.
Soulful brand
Thanks to the delicate taste and organic methods, Hai has received orders from almost all provinces and cities nationwide, and gets many from big cities like Hanoi, HCM City and Da Nang.
Hai's personal Facebook is filled with photos and videos of lotus and tea plants. But unlike other start-ups, Hai does not advertise his products online. Instead, the photos are simply casual moments in the life of a dedicated tea grower.
"Most of my products are sold through introductions by customers," he said. "Customers buy my tea, love it and introduce it to others."
Because of the patience and sophisticated skills required, every lotus season – normally in June and July – Hai makes just 2kg of lotus tea to fill his customers' orders. Each kg of his lotus tea requires 1,200 to 1,500 flowers and is sold for VND8 million (US$347) on average.
His lotus tea, jasmine tea and other products bring him profits of around VND20 million ($870) per month.
He sells his precious organic lotus tea directly to customers rather than to distributors.
"I want to directly give my tea to customers so they know that they are drinking authentic tea made with the whole heart and soul of the artisans," he said.
Hai plans to register his brand and create customised packages.
"Tea is like a soul mate of mine," he said. "I want to give my friend a name, maybe it's simply like Hải Trà (Hai Tea)."
Hai does plan to expand his business, but first he wants to focus on tea quality.
"I want to connect tea growing households in the area together and instruct them on how to grow tea plants so that they will switch from traditional farming to the chemical-free method," he said. "Organic farming is a trend now and I think it will continue to be popular in the future. It may have lower productivity at first but for sure, the quality is better.
"Tea is a popular drink for Vietnamese people. It appears everywhere from the simple low plastic stools of the ice tea stalls on the pavement to luxurious restaurant tables.
"Marinating lotus tea for me is not simply a business. My great grandparents, grandparents and parents made tea. It is a traditional occupation which connects generations and carries cultural values that I want to preserve." VNS
Khanh Duong