There were many things the married couple planned to do when they were united, but these never happened because of an accident that killed the husband.
The accident occurred on August 22 to Vu Tri Suc, 44, when his wife, Nguyen Thi Nhu, 39, was in Taiwan as a guest worker.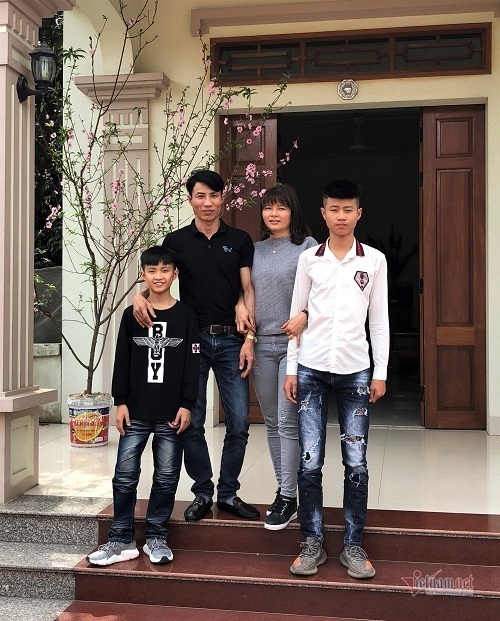 The happy family
Suc fell from a high scaffolding and his skull was fractured. Nhu, when receiving the news, dropped to her knees. She prayed for a miracle that would help save her husband.
But it did not come. Nhu and her family were informed by the doctors that Suc was brain dead and there was no possibility of recovery.
At that moment, Suc's family was told that Suc's organs could be donated to save other people. Suc's elder brother and uncle supported the donation. However, under law, only wives, children or mothers of patients can sign the commitments on organ donation.
Receiving a call from the Organ Transplant Center under the Vietnam-Germany Friendship Hospital, Nhu burst into tears.
"Is there any hope to rescue my husband? Please, save my husband," she said and received the answer that doctors could not help.
In the eyes of Nhu, her husband was a good man who was always ready to help other people.
"He never refused anyone who needed his help," she said. "Maybe, donating organs is the thing he wants?"
After some thoughts, Nhu agreed to sign the commitments.
Nhu said there was another reason that made her agree to donate Suc's organs. She wanted her husband to be present somehow in this life. Suc's death was too much of a shock to her and their children.
At first, her elder son, Vu Cong Manh, 18, rejected her decision. "You have to bring papa back, intact," he said.

His heart is beating in the chest of an 11-year-old boy in Thai Binh. The boy has become healthy again and has been discharged from the hospital, living with his family and returning to school.
Then Nhu had to persuade her son. "It is a misery for us to lose your dad. And many other families may also suffer from misery like ours. If we donate dad's organs, the misery won't occur. This will be good," she said.
Finally, Manh listened to his mother and signed the organ tissue donation application.
The 39-year-old woman admitted that she could not believe the truth even when her son signed the application form. Her younger brother told her that she was doing a significant thing, raising the question, "Will you be able to withstand people's criticism?"
Nhu nodded her head. If she had hesitated, the opportunities to save other patients would have been missed.
At noon on October 30, Suc died. He was carried into the operating room, where his organs were taken out to be transplanted into critically ill patients.
Six organs including his heart, liver, two kidneys, and two corneas have been transplanted into six people. Four blood vessel segments have been stored and preserved at the Tissue Bank of the hospital, waiting to be transplanted to other patients.
His heart is beating in the chest of an 11-year-old boy in Thai Binh. The boy has become healthy again and has been discharged from the hospital, living with his family and returning to school.
On September 9, Nhu took a flight, one of the very few ones during Covid-19, to go home. On September 24, she arrived home in Bac Giang province after a 14-day quarantine. She visited Suc's grave before returning home. The newly built house was large and neat, but Suc was not there. There was only a photo of Suc on the altar.
Nhu was married in 2000 when both of them were living in unfavorable conditions. They lived in a house with a leaky roof. Both Nhu and her husband worked as guest workers abroad in shifts over the last 20 years. When her husband was working overseas, Nhu stayed at home to take care of her children, and vice versa.
"We agreed that after I finished a labor contract and got enough money to pay debts, we would be together and none of us would leave," Nhu said.
However, the plan could not be implemented.
Nhu is proud of her children, Manh and Hoang. They are now her moral support. Hoang, a ninth grader, said he is proud of his father and that he needs to become stronger for his mother so that she can rely on him. 
Nguyen Lien
Thousands of local residents in Ho Chi Minh City are participating in the 8th national blood-donation campaign Hanh Trinh Do (Red Journey) that started in Ho Chi Minh City on July 21.  
The noble act of blood donation goes a long way to saving lives and one young man in the Central Highlands has played a significant role in delivering safe blood to the needy in hospitals.