The Covid-19 outbreaks have hit the tourism industry especially hard. Travel firms are looking forward to the new vaccine passport, which they believe could save the industry.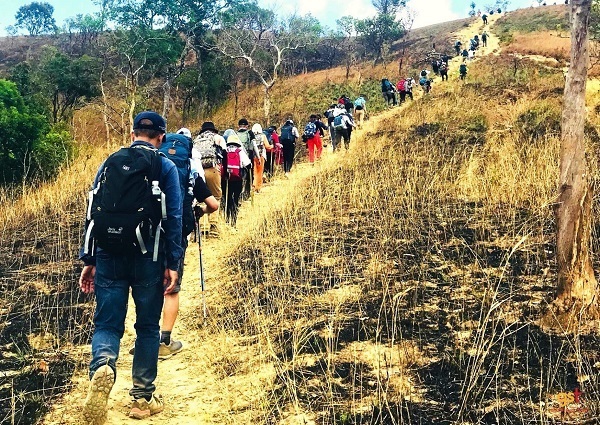 Nguyen Thao and her younger sister own a travel firm with head office located in Hanoi. During the golden days, the firm hired 100 collaborators who sold tourism products.
But those days are over. As the operation has become frozen, Thao has had to shift to sell insurance, while her sister is selling blankets, sheets, pillows and cushions to 'feed' the travel firm.
"Though we don't have revenue, we still have to pay rent and workers' salaries, while waiting for the day the tourism industry opens its doors again," Thao said.
Facing the same problem, Nguyen Tran Hoang Phuong, director of Golden Smile Travel, complained that travel firms are getting worn out because the business turns on and off unexpectedly because of Covid-19 outbreaks.
"Nothing can be controlled, and everyone has the fear that travel operation campaigns may be disrupted halfway through because of outbreaks," Phuong said.
After the first three outbreaks, Phuong and his co-workers geared up to prepare for business resumption, hoping that the market demand would recover in the high season – the April holiday.
Phuong then hired workers, but the preparation was in vain because of the fourth wave, which broke out in late April.

The Covid-19 outbreaks have hit the tourism industry especially hard. Travel firms are looking forward to the new vaccine passport, which they believe could save the industry.
As employees put faith on the company in difficult times, Golden Smile Travel decided to retain its workers, waiting for the tourism industry's reopening.
In general, travel firms are in a difficult situation: though they have no revenue, they still have to pay workers. Most of them have tried to retain workers, because it is difficult to find them.
However, despite great efforts, travel firms still have had to lay off workers. "This is a paintful time when tens of thousands of experienced workers are laid off," said Nguyen Quoc Ky, Chair of Viet ravel, at a meeting with the leaders of HCM City.
Also according to Ky, only 50 out of 1,750 employees are still working, while the remaining stay at home. Meanwhile, it is very difficult to access the Government's support packages.
Travel firms also find it difficult to access bank loans at this moment because they don't have assets to mortgage for loans. The inaccessibility to bank loans, including loans from the Bank for Social Policies, has forced most travel firms to shut down or suspend their operation.
Will the vaccine passport save the tourism industry?
Phuong said a vaccine passport is the final opportunity to save the tourism industry.
Travel firms hope that state management agencies will promulgate a set of regulations on what 'vaccine passport' means so that travel firms can refer to this.
"How can we be confident if we don't know who our clients are? And how can clients know for sure that our workers are safe? Travel firms just need documents certifying that tourism officers have been vaccinated. We hope the vaccine passport will be applied on a pilot scheme in the time to come, as soon as possible," Phuong said.
A vaccine passport is a certificate confirming that one person has had enough vaccine shots as recommended by manufacturers or state management agencies (2 shots in general). A lot of countries have applied the vaccine passport in order to quickly recover their tourism industry and international trade exchange.
Cao Thi Tuyet Lan, CEO of Viettours, said that vaccinations are the lifesaver of businesses. In some countries, 60-70 percent of population have got the first shot, and in others, 50 percent of population have had two shots.
The vaccine passport shows that the country or area is safe as the majority of its people have been vaccinated. "This is an important factor to stimulate economic development," Lan said. 
Quang Dinh

Vietnam has stunning landscapes, its architecture and cuisine are worth mentioning, too. Here are the top 10 famous places in Vietnam that foreign tourists should visit at least once in their lives.

To travel from Ninh Thuan to Binh Thuan, drivers usually choose to go on National Highway No 1. But travel enthusiasts choose another way - the coastal road connecting the city of Phan Rang and Ca Na Port.