Jackfruit 'smellers' help merchants find delicious jackfruit to collect, and salt cooks help turn raw unclean grains of salt into white clean salt. These are a few of the interesting jobs in Vietnam few people know about.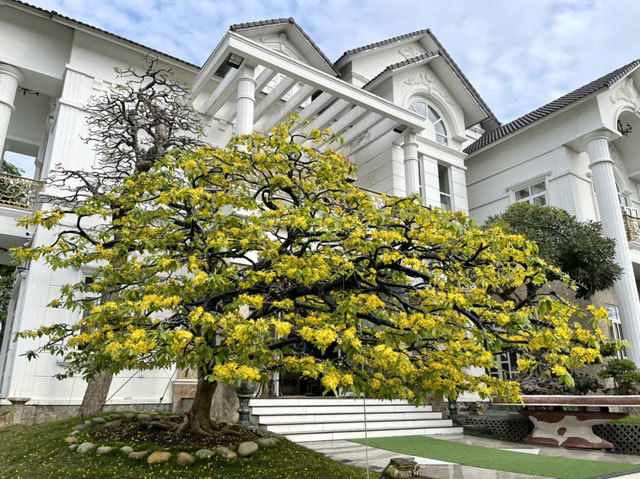 The apricot tree in Sa Dec
Thai jackfruit has been a major crop in some Mekong Delta provinces in the last four years. Merchants go straight to jackfruit gardens to buy the fruit for export to China at high prices. With such activity, a new career, jackfruit 'smeller', has appeared.
Unlike jackfruit brokers who connect sellers and buyers and lead collectors to jackfruit orchards, the people who smell the fruit are those who go to the orchard with merchants to determine the age of jackfruit and the best time to pick the fruit.
This helps merchants find old jackfruit that are delicious and have high quality, and minimizes the risk of getting young jackfruit or jackfruit with a lot of black fibers.
Reputable 'smellers' can earn up to VND1 million a day. However, according to Le Van Ngoc from Binh Phuoc province, the job cannot be done by anyone. They will likely be fired if merchants end up buying low-quality products.
Cooking salt in giant pans
In general, people dry sea water to get salt. But in Ben Tre province, people mix salt with water and then cook it in a giant pan until the mixture is fully condensed.
Nguyen Thi Ninh, the owner of a salt cooking workshop in Dai Hoa Loc commune of Binh Dai district in Ben Tre province, said as a child, she saw her grandparents and mother cooking salt. She was taught to cook salt and she still does this job.
"It is hard work. You can relax only when the stove is off. However, the advantage is that you can arrange your time and you always have jobs to do, no matter whether it is sunny or rainy," Ninh said.
Rare sen dat tree at 600-year-old pagoda is a nat'l relic

Jackfruit 'smellers' help merchants find delicious jackfruit to collect, and salt cooks help turn raw unclean grains of salt into white clean salt. These are a few of the interesting jobs in Vietnam few people know about.
At the 600-year-old Boi Khe Pagoda in Tam Hung commune of Thanh Oai district in Hanoi, three sen dat (Magnolia grandiflora) trees with white flowers have existed for hundreds of years. These have been officially declared national relics.
Pham Thi Quyet, a resident of Boi Khe Village, said that sen dat trees are grown in some localities in the north, but they rarely bloom. At Boi Khe Pagoda, sen dat blooms regularly and there are about 10 flowers on each tree. Travelers come to enjoy the landscape and admire the rare and precious flowers.
Odd jackfruit tree in Ben Tre
At Ben Tre province's "delicious fruit" contest in 2018, many visitors were surprised when seeing a cluster of 23 strange jackfruits, each of which weighed 2-2.2 kilograms and had a special fragrance.
The owner of the jackfruit tree was Nguyen Van Xoi in Phu Phung commune in Cho Lach district. Xoi said this is a native jackfruit variety named To Tan. A friend gave him the tree 25 years ago. The tree provides fruit all year round. The fruit is fleshy and has a yellow color.
"Since I began growing it, I have not had to fertilize it with any kind of organic or inorganic fertilizer. It gives 200-300 fruit each year," Xoi said.
100-year-old yellow apricot tree in Sa Dec
The tree in Sa Dec City in Dong Thap province has been recognized as an "original tree" in Vietnam by the Vietnam Records Organization.
The ancient apricot tree is owned by Vu Duc Dong in An Hoa ward of Sa Dec City. The tree is different, or original, from others in that it has a branch stretching by up to five meters.
The tree has been shaped to have a style with branches reaching out as if is is welcoming spring. It is named nghinh xuan khanh hoi, which means "welcoming spring" .
50-year bread and gruel shop in HCM City
Hoa Ma is one of the oldest bread shops in the city as it appeared in the 1960s. Thanks to special processing, the banh my chao (bread pan) products are very popular with customers. It not only attracts Vietnamese but foreigners as well. The price is VND2,000 each.
'Than tho' (complaining) hot pot in Mekong Delta
The hot pot has different names, including Lau cu Lao (hard labor hot pot), and lau tho and lau than (both mean complaining).
The dish with the strange name is a famous traditional food in Mekong Delta. It has a funny name because people use an aluminum pot with a special design, specifically used to make the hot pot, called 'noi cu lao' or 'hard labor pot'.
The ingredients for lau cu lao vary in different localities and families, depending on local conditions. However, there must be specific materials including pig liver or heart, chicken (or duck) gizzards, and grilled chopped that lat fish. The dish is different from others not only because of the recipe, but also because of the 'know-how', which creates the specific flavor.
Strange fowl species which likes massage, liquor
Ornamental bird collectors in Mekong Delta these days are rushing to breed 'ga luc si' or "athlete" chicken.
The chickens are small with adult male chickens weighing 400 grams only. However, they have very beautiful feathers. They have an imposing posture and like massage and garlic liquor. They are very expensive, up to VND10 million for each fowl.
The yellow Serama chicken species originate from Malaysia. In Vietnam, Serama chickens are crossed with a Vietnamese chicken species, so they have many other colors. 
Hanh Nguyen

A farmer in Long Kien commune in the Cho Moi district of the southern province of An Giang is feeding and caring for thousands of natural fish as pets.

Buffaloes in Hoi An do not work on farms, but are made-up and perfumed to bring good fortune for their owners. They are just one example of a number of strange possessions of local Vietnamese.