Nguyen Bao Ngoc from Hanoi has won a scholarship to enter a doctoral program in environmental science at the University of California, Berkeley, and is now pursuing internships in the US in her field of research.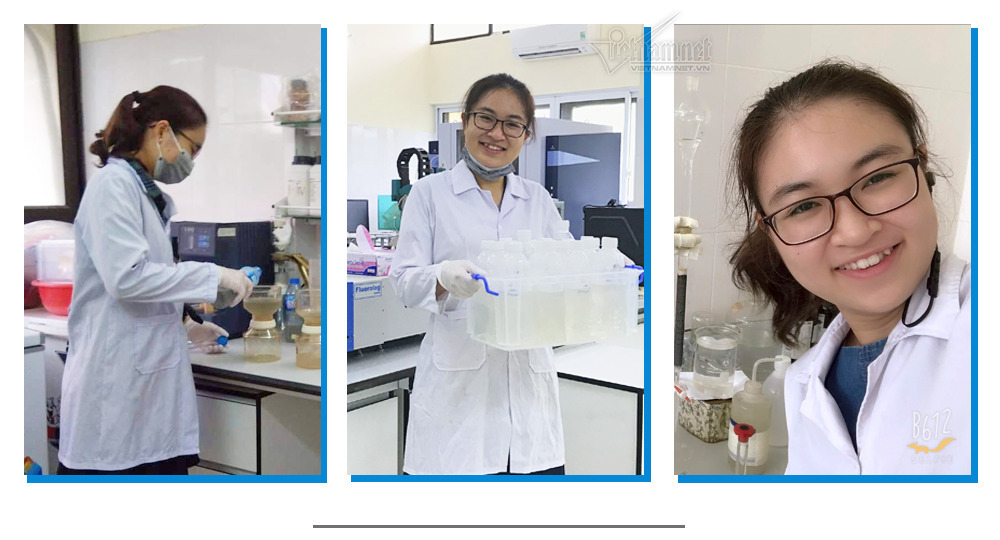 Nguyen Bao Ngoc
The UC Berkeley program ranks second in the world.
"My 'luggage' is lacking many things, but Berkeley chose me maybe because they saw my passion and patience as I dared to do what I wanted," she said.
Her mother is an associate professor, head of the surgery department at the Military Medical Academy, and her sister is a PhD student in the US.
Ngoc said she had great advantages from the start.
Everything would have gone smoothly if Ngoc had followed the way designed for her. However, fearing that she would "become lazy in seeking her passions", Ngoc decided to try new fields.
When she was a 12th grader at a high school for the gifted majoring in mathematics, she entered a national science and technology competition for high school students.
Ngoc and her friend at the school used phytolith in straw to fix some heavy metals and reduce CO2 emissions from the soil. They won first prize at the competition and then entered an international competition where they won third prize for environmental science projects.
"I stood in a large room where there were more than 500 posters on research projects, not by famous scientists, but by students at my age from all over the world," she recalled.
Ngoc realized then that in the US, any idea, no matter how "crazy", has opportunities for development. So Ngoc decided to study in the US.
Ngoc applied at some universities in the US and chose the University of Denver, which she believed would promote her abilities. In her first year there, she began figuring out plans, writing research outlines and seeking funding for projects.
She joined the Young Leadership program at the university and together with five classmates, designed a project on teaching science and technology to secondary school students.
During the three months, Ngoc and her co-workers helped students understand that technology can be a springboard for them to open the door to their future.
When she was a second-year student, she began a project on assessing the pollution level of heavy metals in To Lich River in Vietnam after hearing about $3,500 funding available for student research.
To Lich river in Hanoi suffers from heavy pollution and massive accumulation of mud in the river bed. The local authorities once considered cleaning up To Lich with water from Red River.
This was a big challenge, because very few international research works in recent years had mentioned this issue.
Ngoc realized that the researchers in the past only got eight water samples. She believed that the figure was too small for a river dozens of kilometers in length.
Ngoc decided to measure the heavy metal pollution concentration at 19 points on the river. She also calculated 165 pollution points at wastewater sewers along To Lich River.
Her study found that the river had heavy metal pollution exceeding the permitted level for over 20 years. Zinc and cadmium were the most serious. The pollution at some points was worse than at others. The pollution was mostly caused by nearby factories.

Nguyen Bao Ngoc has won a scholarship to enter a doctoral program in environmental science at the University of California, Berkeley, and is now pursuing internships in the US in her field of research.
Ngoc's scientific articles are going to be sent to some international journals. She also has a website where she answers questions about To Lich river and shows her research results.
PhD is just 'the beginning'
After challenging herself with a series of personal projects, in early September 2020, Ngoc applied for the doctoral program at UC Berkeley.
When applying to top-tier schools, international publications and master's degrees are helpful. But Ngoc had not finished her tertiary education program and could only show her efforts to seek funds and her ability to research independently.
In her essay, instead of listing prizes and her research experience, Ngoc focused on what she had learned after every project, especially the one assessing heavy metal pollution levels in To Lich River.
Ngoc said the period gave her wonderful experiences and made her realize that she wanted to pursue further scientific research.
"I want to become an expert in the field. So, studying for a doctorate is just the beginning of my career," she said.
As soon as she received the letter of approval from UC Berkeley, Ngoc contacted the professor who would guide her in the next five years to discuss documents and projects.
She has recently completed interviews for an internship at the Denver Water Bureau and a NASA (the National Aeronautics and Space Administration) internship program on using satellite imagery to detect algae pollution in lakes in Texas. 
Thuy Nga - Phuong Thu - Huu Chanh

The illegal excavation of sand has been found at a section of Da River which runs through Hanoi, and local authorities have apparently done little to curb the problem.

The plan is to supply water from the Red river to improve quality of water in To Lich river which is severely contaminated for years.