Thanh Hoa to celebrate 990th naming anniversary
Water puppetry to highlight Vietnamese art at int'l festival
An opportunity to promote Vietnamese stage arts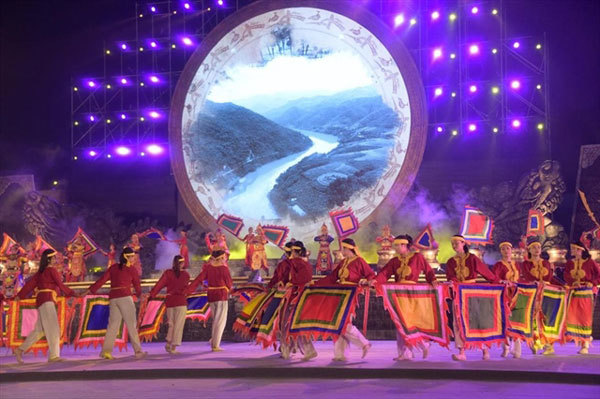 The programme commemorating the 990th anniversary of Thanh Hoa Province, directed by Le Quy Duong. The event received widespread acclaim from the audience and the public. Photos courtesy of Le Quy Duong
For director Le Quy Duong, the audience's attention despite the bad the weather was the biggest reward.
Duong was the writer and director of many remarkable events such as the Da Nang Fireworks Festival, the Hue Festival, the Nha Trang Sea Festival, the Ben Tre Coconut Festival, the Soc Trang Rice Festival, the Buon Ma Thuot Coffee Festival and the Viet Nam Film Festival.
He has clear criteria for all the programmes he agrees to work on. They must respect traditional values while honouring the culture, history and art of the nation. In his work, he promotes Vietnamese values to the world and applies creative techniques from around the world.
Duong was born in 1968 to a well-off family in Hanoi. He graduated at the top of his class from the University of Theatre and Cinema in 1990. Thanks to his good marks, he was accepted to work at the Department of Performing Arts under the Ministry of Culture, Sports and Tourism.
At the age of 22, Duong became the youngest member of the Viet Nam Association of Stage Artists. His scripts and stage work were highly appreciated by professional experts.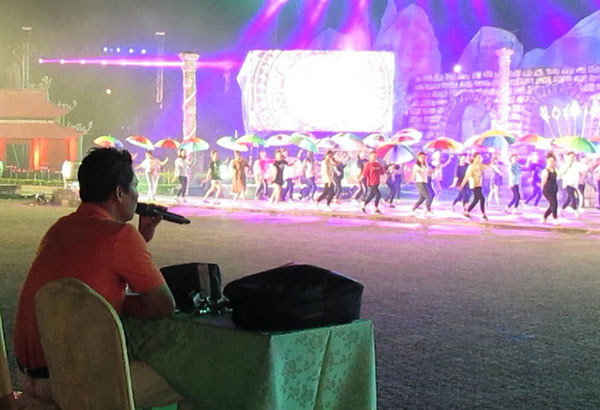 Director Le Quy Duong in action. He has said directing is a difficult work because it requires collaborating with a team and inspiring other people. Photo courtesy of Le Quy Duong


He seemed to be enjoying the perfect start to a career many can only dream of. But to the surprise of his family and colleagues, he quit his job to do further study abroad.
"With my own money, I went to Australia to study stage directing," said Duong. "At that time I thought that I needed to study more, so I went."
"It was an adventurous decision," he said. "I had to do different jobs to earn a living and pay for my studies, from washing at restaurants to picking apples at farms and assisting at theatres in Sydney."
"The youthful energy urged me to go," he said. "It told me that I lack many things and there are many interesting things in the world."
"Beside the professional knowledge and experience, I also adopted an attitude towards art: stay passionate and creative and never be satisfied with myself," said Duong.
After earning a master's degree at the National Institute of Dramatic Art at the University of New South Wales, Duong received a scholarship to study at the Los Angeles Film School.
He has spent 15 years studying and working in Australia, the US, France and the UK to pursue his directing career.
"I never feel it's enough to study, directing is a difficult work," he said.
"While a painter or writer can work alone, a director has to work with a team, he has to inspire other people and connect people at different positions to make a perfect programme."
Director Le Quy Duong (right) and Professor Tran Van Khe.


The future

One of the people who had a great influence on Dương was Professor Tran Van Khe (1921-2015), who was the first Vietnamese person to gain a doctorate in musicology in France and become a lecturer at the Sorbonne University in Paris.
In 2001, Duong took part in the Melbourne International Arts Festival. He spent six months in Paris seeking the advice of Prof Khe, but he never got a chance to meet with the prominent expert.
But somehow, Khe had heard about Duong and attended a programme directed by him. Khe said he was impressed by the young director and they became friends.
"I always considered Khe my teacher," Duong said. "He once told me: 'no matter where you go and what you do, you will return to the homeland like me'."
"It's true. Though I have had many chances abroad, I still follow Khe to come back to Vietnam and devote myself to the national art."
Khe wrote a letter to Duong and remarked that he was impressed with how Duong enriched traditional art with modern features learnt abroad while preserving the classic factors.
Khe praised Duong's talent and love for traditional culture.
"Duong makes modern creations based on old art of the nation; not many directors can do that," Khe wrote on his website. "I always try to update traditional art but preserve the old features. Duong is one of the young artists who can help me continue this work."
Duong is committed to steering the future of Vietnamese in a direction Khe would approve of.
"When I direct programmes for entertainment or political and socio-cultural purposes, I always focus on the culture and history of the locality," he said. "That can make the programme touch people's hearts and be remembered. I want to create cultural brands, not only cultural events.
"The Nha Trang Sea Festival, Hue Festival and Da Nang Fireworks Festival have become brands for local tourism. These festivals are cultural products that make people know about the localities."
Apart from directing programmes that contain aspects traditional culture, Duong also focuses on training the next generation of young directors.
In 2009, he set up a training centre for directing, called Le Quy Duong – Creative House. As a member of the Executive Council of the International Theatre Institute, Duong has connections with many experts. He wants to invite them to Vietnam to share their experiences and knowledge with Vietnamese directors.
He told Việt Nam News that he would organise a festival of performing arts schools in the Asia-Pacific region in September. Delegations from 17 countries have already registered to join.
"It will be a good chance for Vietnamese directors and artists to exchange with foreign experts," he said.
By Minh Thu
VNS