Flower farmers do not dare grow large quantities for Tet amid Covid uncertainty
Many flower and bonsai farmers in HCM City and the Cuu Long (Mekong) Delta have reduced production for Tet (Lunar New Year) which falls early next year since they are worried the COVID-19 pandemic will affect demand.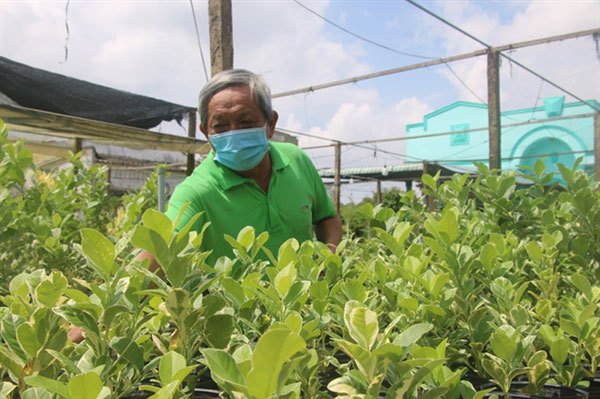 Many flower and bonsai farmers in HCM City and the Cuu Long (Mekong) Delta are worried the COVID-19 pandemic will affect demand during Tet, so they have cut their output. — Photo nld.com.vn
Tran Thi Nam, owner of a flower farm in HCM City's District 12, said she has reduced cultivation from the usual 10,000sq.m to 4,000sq.m, and only plans to supply to the market 3,000-4.000 pots of cockscomb, marigold and sunflower for Tet.
"Farmers are worried that demand will fall due to the pandemic, and grow a little to sell to old customers."
Many farmers growing high-value ornamental plants such as orchids and apricots in the city have also cut their output.
Nguyen Thi Be, owner of Minh Dung orchid garden in Cu Chi District, said the prolonged pandemic would cause demand during Tet for flowers to decrease sharply, and so farmers have cut output by 50 per cent.
At this time in previous years farmers in Districts 12, Cu Chi and Hoc Mon and Thu Duc City were busy planting flowers, but not now.
Pham Lam Chinh Van, director of the city Agricultural Extension Centre, said flower demand during Tet is expected to be down. 
Focus on quality
Bonsai and flower farmers in flower villages in the Mekong Delta have also cut output and instead focused on quality to avoid oversupply.
Tran Thanh Toan in Dong Thap Province's Sa Dec city said he planted 5,000 flower pots this year and, like other local farmers, is paying more attention to quality.
"Farmers no longer focus on quantity … but on efficiency and keeping abreast of market information to … meet market demand," he told Người Lao Động (Labourers) newspaper.
Not far away is the farm of Nguyen Hoang Vo Mong Kha with 7,000 pots of pico, apricot and gerbera daisies, black raspberries, woody grapes, marbled lemons, jery, and other flowers.
Kha said he would be careful in each stage to ensure good quality and that the flowers blossom during Tet.
"I also use social applications such as Zalo and Facebook to [sell to] to traders near and far."
According to the Sa Dec City economic department, farmers have planted 52 hectares of flowers and ornamental plants for the 2022 Lunar New Year, mainly popular varieties like chrysanthemum morifolium, Taiwanese chrysanthemum, gerbera daisy, and rose.
Bui Thanh Liem, head of the Department of Agriculture and Rural Development of Cho Lach District in Ben Tre Province also said many farmers have significantly reduced their flowers and bonsai cultivation areas this year.
Cho Lach is the second biggest bonsai and flower growing area in the delta after Sa Dec.
Liem said: "In the case of trees such as yellow apricot and kumquat, if farmers cannot sell them this year, they will sell it next year. They have cut output of flowers like marigold and chrysanthemum."
Duong Van Huyen, director of the Cai Mon Seedlings and Ornamental Flower Cooperative in Cho Lach District, said members have reduced output by 40-50 per cent, except of yellow apricot.
Usually customers place orders in advance, but this year no one has made deposits, and so farmers do not dare grow in large numbers, he said.
Normally, bonsai and flower farmers in the Mekong Delta bring their produce to many provinces and cities for sale, but they do not know if they can do so this year because of the unpredictable pandemic situation, he added.
To help farmers sell their produce, localities in the Mekong Delta have co-ordinated with relevant agencies and other localities to help traders and businesses buy and transport bonsai and flowers while also ensuring they meet the Ministry of Health's 5K conditions.
They have also encouraged farmers to sell on e-commerce channels to limit direct contact.
Source: Vietnam News

Two weeks before the Lunar New Year (Tet holiday), Sa Dec flower village in Dong Thap Province has become a tourist hotspot.

Sa Dec flower village in Dong Thap and ornamental flower village in Cho Lach District of Ben Tre are bustling not because of flood of visitors but flower growers are busy preparing for the upcoming Lunar New Year, which will begin on January 25.