VietNamNet Bridge - Many international fast food chains are finding that the Vietnamese fast food market is not so easy to conquer.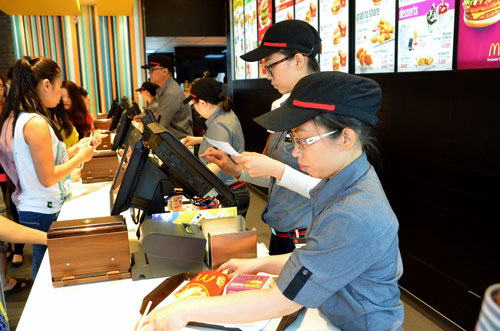 Starbucks and McDonald's debuted nearly at the same time, about one year ago. Both of them set up a plan to open 100 shops in Vietnam within several years. And both are meeting "hard rocks" in the market.
Starbucks made an impressive debut in Vietnam. On the first shop's opening day in HCM City, hundreds of people had to queue up under the sun to buy a Starbucks cup of coffee, priced at VND85,000-150,000.
However, the opening of the second, third and subsequent shops took place quietly. No long queues in front of Starbucks shops in HCM City are seen these days.
The three Starbucks shops in Hanoi are also quiet. The expensive drinks, insufficient space for young people to sit and chat and the US-style coffee which does not fit the taste of the majority of Vietnamese, who favor strong flavor, have all kept Vietnamese away.
The same things have happened with McDonald's. Customers also had to stand in long queue for several hours to be able to buy McDonald's food. Analysts commented that McDonald's tries to conquer Vietnam with skimming strategy. Five McDonald's shops opened within one year in HCM City. McDonald's Da Kao reportedly served 400,000 customers in the first month of operations.
Especially, with drive-thru, clients still can buy products while sitting in cars.
However, analysts noted, a breakfast with bread, minced beef and french fried with too many calories, which is three to four times more expensive than one bowl of pho (noodle served with chicken of beef) is not the choice of the majority of Vietnamese.
A marketing expert noted that foreign fast food chains now have to slow down. Vietnamese consumers, after eating McDonald's and drinking Starbucks' to satisfy their curiosity, have come back to the things they have are used to.
Fast food prices and taste are the two most important factors consumers consider to decide to use the services.
"A breakfast and a cup of coffee priced at VND100,000 clearly do not fit the Vietnamese pockets," he said.
Meanwhile, Hoang Tung, a marketing expert, there are some problems McDonald's needs to fix to conquer Vietnamese hearts. McDonald's major product is a burger which is not the favorite food for Vietnamese.
However, Tung noted foreign investors, who can easily adapt to new circumstances, will not "sit still", but will change their menus to satisfy Vietnamese.
NLD