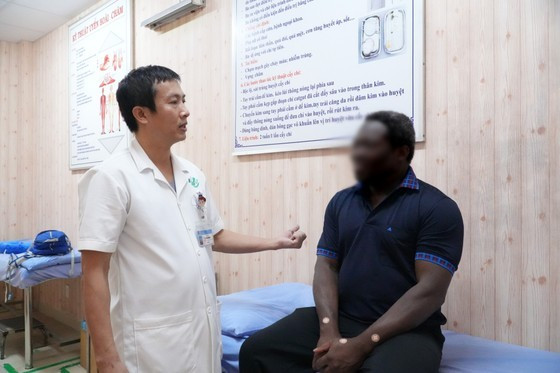 Military Hospital 175 successfully treated a 45-year-old Canadian citizen who had been experiencing paralysis in both legs for eight years.
On June 10, Military Hospital 175 under the Ministry of Defense revealed that they had successfully treated a patient, named CD. Washington, a 45-year-old Canadian citizen who had been experiencing paralysis in both legs for eight years. After researching on the Internet, the patient opted for treatment using traditional medicine and specifically chose Vietnam as the destination for treatment.
The patient made an appointment for an on-demand examination at the Traditional Medicine Clinic, Military Hospital 175, on February 13. He was then admitted for an extended period of treatment at the International Department.
Upon admission, the patient was diagnosed with the following conditions: Paraplegia resulting from a spinal cord injury, multiple traumas caused by a traffic accident, high blood pressure, paralysis in both lower limbs, autonomic dysfunction of the legs due to spinal cord injury, sensory disorders, and loss of physiological reflexes below the level of the spinal cord injury.
Senior Colonel - MSc - Dr. Le Anh Dung, Head of the Traditional Medicine Department at Military Hospital 175, stated that this is a complex syndrome to cure. The patient is undergoing treatment using acupuncture and acupressure. After each treatment course lasting 10-15 days, the doctors in the department will convene a consultation to evaluate the progress of the treatment and make necessary adjustments based on the appropriate treatment protocol.
In addition, the patient was also recommended to undergo daily physical therapy at the Rehabilitation Department. After two months of treatment and dedicated exercises, the patient successfully took his first steps with the assistance of mobility aids. After three months, he was able to walk independently in the room.
Currently, the patient has been discharged from the hospital but continues to receive outpatient treatment using catgut embedding therapy at the Traditional Medicine Department every two weeks. His condition is showing increasingly clear improvement, and he is now able to walk normally.
According to Senior Colonel - MSc - Dr. Le Anh Dung, the case of patient CD. Washington was a remarkable success that exceeded the expectations of the medical team at Military Hospital 175. Firstly, it was the patient's determination and active engagement in rehabilitation exercises prior to seeking treatment in Vietnam. This proactive approach has played a significant role in preventing complications such as muscle atrophy, joint stiffness, hyporeflexia, and drop foot syndrome. It also facilitated a smoother recovery process and ultimately improved the effectiveness of the treatment.
Major - Dr. Ngo Quoc Hoan from the International Department said this is also a case in which the patient utilized foreign health insurance with substantial treatment costs. Consequently, Dr. Hoan provided continuous support to the patient, facilitating communication with the Canadian medical team regarding the treatment progress and payment procedures for hospital fees.
"After years of seeking treatment at various hospitals in Canada without any improvement, my family and I had almost lost hope. Thankfully, I had the fortune of meeting the doctors at Military Hospital 175, who showed exceptional dedication to their patients. They have made my dream of walking normally come true. I truly consider this a miracle. When my mother witnessed her son standing up and walking unaided for the first time in eight years, she could not help but cry tears of joy," Mr. CD. Washington expressed.
Source: SGGP