Gen Z defines new music trends
Later than the general trend, in 2018, the Vietnamese music market saw the first seeds of the Gen Z that sprouted and quickly exploded.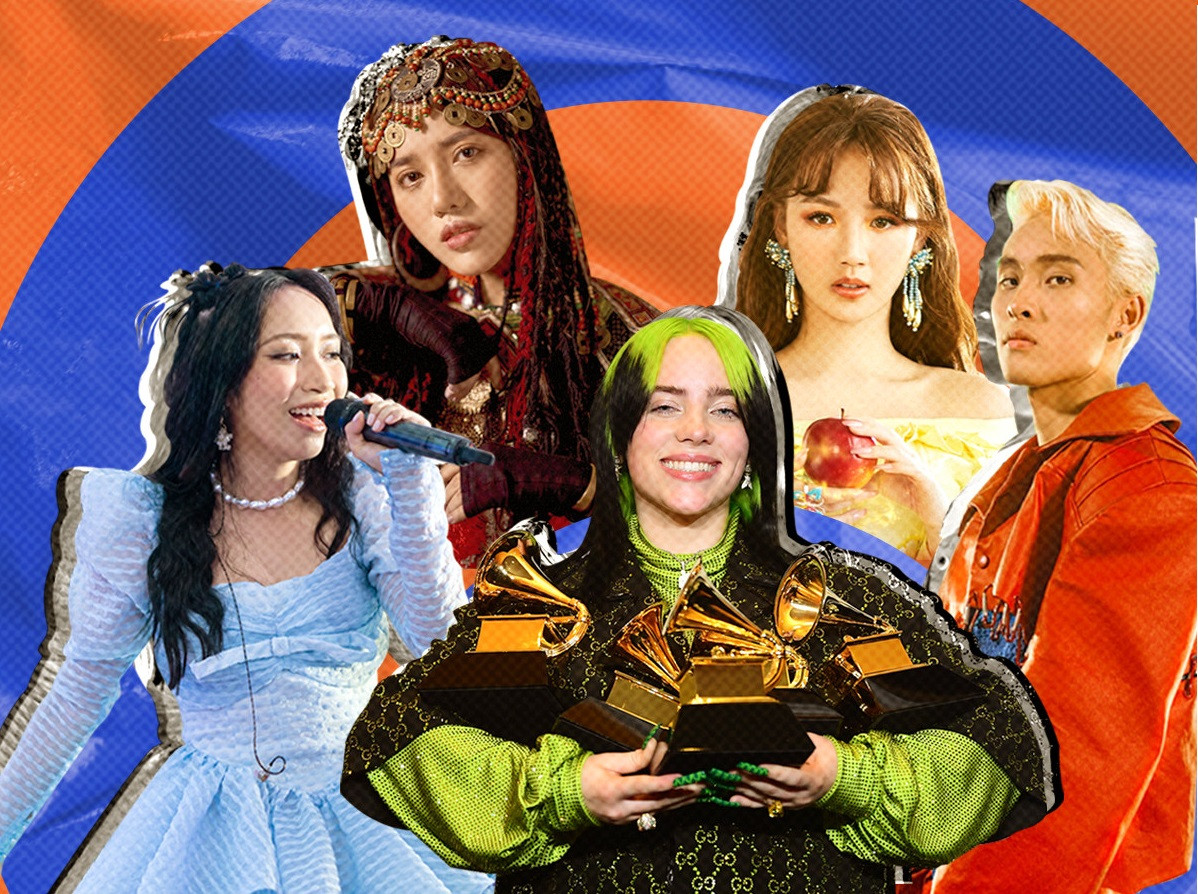 In 2016, only a few people knew Billie Eilish, 21, but she only took four years to become the youngest artist to win 4 Big Four awards in Grammy history - the most prestigious music award on the planet.
At that time, many fans of famous artists who failed to win the Grammys did not recognize Eilish. They asked each other: What's going on with contemporary music?
The global gen Z wave
Gen Z concept appeared in September 2000 in the specialized advertising magazine Adage. From in-depth research articles on marketing, the concept of Generation Z was born as a group of customers in this field.
Gen Z refers to the people born "from the late 1990s to 2012", according to the Oxford dictionary. No studies have shown the exact age of the Z gen. Therefore, the identification of gene Z is often based on characteristics instead of defaulting to the year of birth.
The European - American music market changed drastically because of the explosion of the new generation. Gen Z artists such as Billie Eilish, H.E.R, Olivia Rodrigo, Lil Nas X, The Kid LAROI, Arlo Parks... have fully exploited the advantages of the times to break through and set many records in the music industry.
Billie Eilish was born in 2001, setting a record of winning all 4 Big Four awards of Grammy at the age of 18. H.E.R was born in 1997, started his career at the age of 14, and so far, he has 2 albums and 14 awards including the Grammy. Olivia Rodrigo was born in 2003, stepping up the ranks of "Main pop girl" the earliest in the history of this title.
According to a survey by Ypulse, in 2018, Pop used to be the number one music genre loved by global teenagers with a rate of 62%, then after 3 years, this figure decreased to 39%. The tastes of Gen Z listeners have led to Pop being usurped by hip hop/rap and r&b, while emo and punk has revived and flourished.
According to Bloomberg, Gen Z impacts digital platforms, advertising agencies and music marketers worldwide. Spotify currently faces a serious problem with updating the interests, listening and viewing trends of users under the age of 25, similar to Facebook, Instagram and YouTube.
Generation Z: the new definition of Vietnamese music
Later than the general trend, in 2018, the Vietnamese music market saw the first seeds of the Gen Z that sprouted and quickly exploded. AMEE, Phung Khanh Linh, My Anh, Wren Evans, Hoang Duyen, VP Ba Vuong, Juky San, tlinh, are prominent Gen Z artists of the contemporary Vietnamese music market.
First, Gen Z artists are exceptionally multi-talented. In addition to performing, they can make almost all stages of a production process themselves, such as composing, playing instruments, mixing/mastering, directing, art director, distribution and product promotion. That's what My Anh, An Tran, VP Ba Vuong, Kunni Kim do. My Anh even drew her own cover of the "Real Love" CD.
Gen Z defines new music
Gen Z's music is highly individualistic. Gen Y vocalists are similar in color and style, typically lyrical tenor/soprano voices that are famous for singing only ballads, but for the next generation, individuality is mandatory.
Every Gen Z artist positions their personal brand with the individuality of their voice, style or music.
Composer Hua Kim Tuyen said: "If I close my eyes, I still know what the music of My Anh, Wren Evans, Tlinh or AMEE is. The music, vocals, and singing style of each person fit the style, personality and their character and appearance."
Gen Z's compositions often use simple words, are less flowery, and show everyday life. According to My Anh, the majority of Gen Z artists write music as daily speech. Themes and ideas come from everything revolving around daily life.
The music of Gen Z breaks most of the frameworks, formulas, and motifs. This feature is reflected in the song structure.
Wren Evans' compositions such as Like You Too Much, Lucky, and Pain are typical. Instead of hundreds of ballads and harmonies with similar melodies, or EDM songs that abuse old, boring drop or rap, the structure and composition style of Wren Evans and Gen Z artists are rich and unpredictable.
Wren Evans explained, for example, if Gen Y artists exploit R&B, Gen Z artists will exploit smaller branches such as Soul R&B, Trap R&B, etc.
"Gen Z artists tend to exploit, dig very deeply in the genre they pursue," he said.
Meanwhile, host Minh Duc and singer My Anh both said that Gen Z rarely creates products that are purely of one genre. The upcoming album of My Anh, for example, combines many genres from Jazz, Funk, Hip-hop to Pop, R&B. "A modern product is very difficult to determine which line they belong to, what specific genre, just call it music together," said Minh Duc.
Gen Z happiness
"A lot of people really think Gen Z is very happy, even without problems. This is the reality of all fields, not just music," Wren Evans said.
According to the singer born in 2001, Gen Z artists are often judged as extravagant, impulsive, individual, ... at work. He explained: "Gen Z's way of working is different from Gen Y, just like Gen Y used to be different from Gen X. I think this is purely a generation gap issue."
According to My Anh, from both sides, gen Z and previous generations have moved to "zone", separating gen Z from the remaining generations.
"The way gen Z talk about themselves, and how previous generations think about Gen Z invisibly creates a clear separation between Gen Z and the rest of the generations, although the truth is not quite so," she said.
My Anh believes that Gen Z or any generation has its own pressures. For Gen Z artists, social network platforms are the biggest advantage, but they also bring equally great pressure.
"Gen Z artists grew up with social networks, so from a very early age, they have to get used to and learn to fight cyberbullying, protect themselves on the internet, etc. At a micro level, we often face psychological problems such as low self-esteem, pressure of being compared, obsession with FOMO (fear of missing out). I can't even turn off social networks for a few days to rest. The artists of this era can't stop updating social networks," My Anh said.
According to musician Hua Kim Tuyen, digital transformation and the process of global data digitization open countless doors for those who want to develop. In turn, with such favorable and fair conditions, anyone can seize the opportunity, leading to more intense competitive pressure in this era.
He said: "In the current era, you have to use all you have: knowledge, skills, talents, concentration, ... to the highest degree to compete with the rest of the people. If you don't, you can easily get fired."
Sharing the same opinion, senior singer Lam Truong said that today's young people must work in an artistic environment with a very high competition rate. "In short, when we were 1 to 10 in competition, the young people are now 1 against 100, even 1000. It is really not easy for you guys," he said.
Ngoc Mai (born in 1998, Hanoi), a Gen Z audience and also a supervisor of some products of singer Bui Lan Huong, thinks that Gen Z artists have slowed down in recent years due to aesthetics. The Vietnamese audience's taste can't keep up with their creativity.
"Gen Z audiences are not stable while previous generation audiences are not interested in what Gen Z artists are doing, and that's why hits still fall into Gen Y's products with familiar stereotypes. I am waiting for you to make more breakthroughs to change listeners' tastes in the near future," she said.
Wren Evans said: "An intrinsic feature of Gen Z is a big ego. Gen Z artists often believe in themselves."
Gia Bao