The government last week reported that in the first four months, the economy recorded a $6.25 billion surplus in the state budget. Total state expenditure is estimated to reach $21.75 billion, over 24 per cent of the year's estimates and up 6.1 per cent on-year. All types of spending have increased.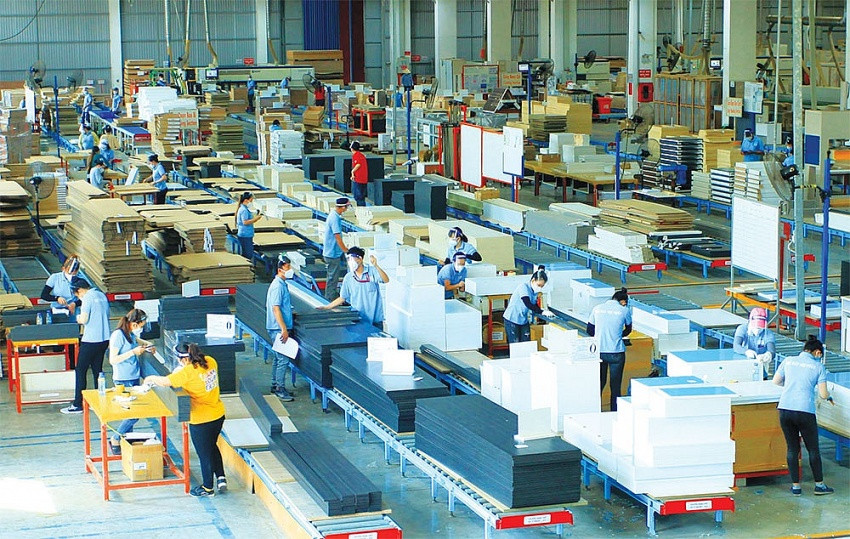 Domestic production and trade issues may cause a reduction in state budget revenues, photo Le Toan
Meanwhile, total state budget revenues are estimated to hit more than $28 billion, equal to 39.8 per cent of the year's estimates and down 5 per cent on-year.
Domestic revenues are estimated to sit at $23.42 billion, down 2 per cent as compared to the same period last year. In addition, revenues from crude oil exports stood at $952.17 million, down 9.6 per cent on-year. Also, revenues from export-import activities are estimated at $3.68 billion – down 19.9 per cent on-year.
In a specific case, PetroVietnam Power Corporation (PV Power) was reported that humble performance has led to its low contributions to the state coffers since early this year.
At the company's AGM in late April, PV Power set a post-tax profit target of about $48.6 million for the fiscal year 2023, down more than half from $111 million in 2022. This year, many PV Power factories will have to halt operations for repairs, causing a rise in production costs.
Total revenues at the corporation are estimated to be over $1.13 billion – up by $67 million from last year, with $38.2 million expected to be paid to the state budget in taxes.
"Business, production, and investment activities are facing massive difficulties coupled with a reduction in trade will likely hurt the state budget revenue in Q2 and the entire year, pressuring the fiscal policy monitoring," stated Minister of Planning and Investment Nguyen Chi Dung.
According to the World Bank, difficulties in domestic production and trade are expected to cause a reduction in state budget revenues in the coming months.
"In the near term, Vietnam faces heightened risks associated with external headwinds and domestic vulnerabilities. Persistent inflationary pressures and the prospects of more aggressive monetary tightening could induce volatility in global markets and hamper growth even further at a time when a slowdown is already underway," the World Bank said.
"Uneven or incomplete recovery in China could further affect its growth and trade dynamics with Vietnam. Additionally, the risk of de-globalisation looms, with heightened geopolitical tensions and conflicts raising uncertainty about the path of global trade and growth and would substantially affect small open economies such as Vietnam."
Vietnam's key export markets include the US, China, and the Eurozone, which the Economist Intelligence Unit has forecast that growth rates in these regions this year will stand at 0.7, 5.7, and 0.7 per cent, respectively.
Last year, Vietnam's export turnover from these markets reached $109.1 billion, $58.4 billion, and $47.1 billion – up 13.3, 4.5, and 17.4 per cent, respectively.
In the first four months of this year, the figures hit $28.4 billion, $16.4 billion, and $13.7 billion, down 22.1, 7.9, and 14.1 per cent respectively compared to last year. Vietnam's four-month export turnover is estimated to touch $108.57 billion, down 11.8 per cent on-year.
The Ministry of Finance (MoF) revealed that based on forecasts that there will be massive difficulties both at home and abroad, and state overspending in 2023 will likely sit at $19.8 billion, equivalent to 4.42 per cent of GDP.
The central budget deficit will reach more than $18.7 billion or 4.18 per cent of GDP; and local budget overspending will touch over $1.08 billion or 0.24 per cent of GDP.
The budget revenues this year are expected to be $70.46 billion, far lower than the realised figure of $77.6 billion last year, which was 126.4 per cent of 2022's estimates and up 13.8 per cent on-year.
"With the world economy's growth forecast to slow down while a number of major economies are facing danger of depression, and a huge hike in prices of oil and input materials, there is a pressure with global inflation," the MoF said.
An MoF report on Vietnam's budget situation estimates for 2023, the state budget revenue structure will embrace $58 billion from domestic revenues – far lower than $61.8 billion recorded last year; $1.83 billion from crude oil exports if about eight million tonnes are exploited domestically and the average price stays at around $70 per barrel; $239.1 million from foreign assistance; and $10.39 billion from export and import activities – much lower than $12.17 billion last year.
Meanwhile, it is estimated that Vietnam's total state budget expenditure this year will be about $90.26 billion – up 16.3 per cent compared to 2022 estimates.
Source: VIR