Goddess worship carries spirit of mercy and tolerance

People in many Asian countries worship Guanyin as a goddess of mercifulness and protection. However, the symbol of Guanyin in each country has some differences.
She's often described as a goddess in a white dress standing on a lotus in blossom holding a willow branch and a water jar. Sometimes Guanyin appears with a thousand eyes and thousand hands. Vietnamese people also worship Quan Âm Thị Kính, a tolerant goddess holding a child.
US general visits Hai Ba Trung temple, praising the Vietnamese People's Army
The Le Chan festival – a bridge to the past
Foreigner photographs Hau Dong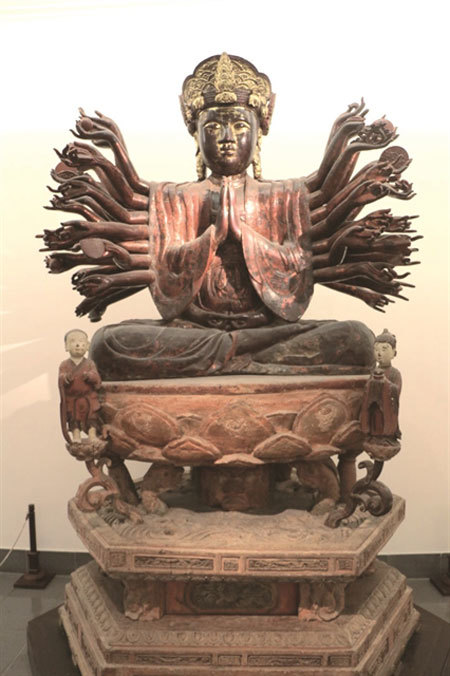 PROTECTOR: A statue of Quan Âm (Bodhisattva Avalokiteshvara) with a thousand eyes and hands originating from the Hoi Ha Pagoda in Vinh Phuc Province from the 16th century. It's currently displayed at the Viet Nam Fine Arts Museum. VNS Photo Doan Tung

No matter how she's described, Guanyin and the belief of worshipping her have spread widely through Asia, carrying the ideas of mercy and tolerance, according to Prof Chung I Lin, vice principal of the National Cheng Kung University (Chinese Taipei).
"Some important expressions of mercy are winning the dark side of oneself and sharing with sympathy," he said.
Chung is among international scholars who participated in a conference held in Hanoi on September 5-6 about the worship of Guanyin and other goddesses in Asia. The conference gathered many experts from eight countries.
They discussed the establishment of the belief; how it has changed throughout history; the similarities and differences of the belief in different countries; its ideology, philosophy and expressions; and the influence of the belief on people's lives and culture, according to Prof Nguyen Van Kim, vice principal of the Ha Noi National University of Social Sciences and Humanities, host of the conference.
The essays and discussions helped clarify values of the belief, shared knowledge and achievements in researching the academic issue that is very close to the spiritual life and culture of the Asian communities.
After the conference, the scholars visited some places near Hanoi to learn more about local beliefs and religious practices. The valuable research from the conference will be printed in Vietnam and China next year.
Belief of femininity
Prof Yu Chun Fang from the Department of Religion (Columbia University in the US) said the belief originates from Sanskrit Avalokitesvara. It's called Guanyin worship in Chinese. In Vietnam, it's called Quan Âm. And the name of the goddess is Kannon or Kanzeon in Japanese and Kawanseum in Korean.
"I was born in China and knew about Buddhism and Guanyin belief since when I was young," he said.
"Every day my grandmother, a Buddhist, wakes up early, burns incense and prays in front of the statue of Guanyin. She expresses all sorrows and troubles then prays for peace, forgiveness and protection."
Actually, while Guanyin in China and Southeast Asia is described as a goddess, the Avalokitesvara in Chinese Tibet, India and Sri Lanka is male.
"The transformation of Guanyin in different countries may be caused by the differences in ideology, politics, society and culture," he said.
"For Buddhists like my grandmother, Guanyin is a symbol of great compassion and tolerance. So it makes sense when she appears in the form of a woman."
Prof Yu still remembers many legends told by his grandmother in which Guanyin is always merciful and protects people, much like a mother.
"Once when I was a child, we spent a night by the Yangtze River to catch a morning ship to go home. At midnight, my grandmother suddenly insisted that we could not board the ship. She told us that she saw Guanyin standing on a wave, waving her right hand with a sign that my grandmother shouldn't go."
"My grandmother was very determined that the ship was not safe. We decided to skip the morning trip. Then the ship encountered difficulties and sank. We were saved. The story is still hard to explain."
Prof Yu knows many miraculous stories about Guanyin like this told orally by followers and through books and sutras.
"The worship of Guanyin and other goddesses expresses the honour to femininity, reflecting the desire for peace, humanity, love, happiness and prosperity," he said.
Prof Jun Young-suk from Yonsei University, South Korea, agreed.
"When people experience trouble or distress, they pray and read the Great Compassion Mantra, then Guanyin Bodhisattva becomes a spiritual faith for them," he said.
"I have heard many stories in which the Guanyin Bodhisattva punishes bad people, saves the good ones, helps people escape from epidemics and through her words, she convinces people to do good things."
"Sutras and stories in this belief are valuable documents of literature."
Religious influence on society, culture
The experts pointed out that the influences are expressed clearly and particularly on architecture and fine arts of the worshipping places.
Prof Ling Tek Soon from Malaya University in Malaysia said Guanyin Pavilions are influenced by Chinese and local architecture.
"It's interesting to see the cultural exchange expressed in this belief," he said.
"Guanyin Pavilion has a long history and has become a meeting place to discuss subjects such as education, politics and culture, not only religion. Nowadays, the Guanyin Pavilion in Kuala Lumpur has become a national tourist attraction, attracting a large number of domestic and foreign visitors."
Guanyin Bodhisattva has long been a familiar image in Vietnamese people's minds. Buddhism was adopted in Vietnam from India and China in two periods. Vietnamese Buddhism then developed with adopted features and special local characteristics, said Pham Van Dung, PhD, from the Ha Noi National University of Social Sciences and Humanities.
"Quan Âm has appeared in many cultural works, including architecture, literature and fine arts. Only in Vietnam, we find a symbol of Quan Âm Thị Kính, she has been reflected in poetry, verse and sutra written in Han Chinese and Nôm (ancient Vietnamese ideogram script)."
"When I worked on a survey at the Han-Nom Research Institute, I found 43 documents about Quan Âm Thị Kính. Among them there are two poetic books written in 1894 and 1919."
"Of course the number of documents about Quan Âm Thị Kính will increase when we expand the scope of the survey to libraries, temples, pagodas and houses where the goddess is worshipped throughout the country," Dung said.
A MOTHER'S LOVE: The statue of Quan Âm Thị Kính at Mia Pagoda, Hanoi. Photo courtesy of Vo Van Tuong, a lecturer from Viet Nam Buddhism University in HCM City
 
According to the legend, Thị Kính was a beautiful young lady living in the 10th century. One night, while her husband slept, she decided to cut a single long hair from his cheek because it is an unbecoming characteristic for a righteous man. Suddenly the husband wakes up and mistakenly thinks she is trying to kill him. After being abandoned, she disguises herself as a man and decides to take the vow to the Buddha under the name Kính Tâm. Ironically, a young woman named Thị Mầu falls in love with the young "monk" Kính Tâm but fails to win him over.
Depressed, Thị Mầu turns to her family's servant and becomes pregnant. To defend herself, Thị Mầu accuses Kính Tâm of being responsible for her pregnancy. She also leaves the baby at the pagoda. Kính Tâm thus accepts the accusation and punishment in order to grant Thị Mầu a new life. Kính Tâm leaves the pagoda and decides to raise the little boy. The hard life then makes her exhausted. Touched by her kindness, the Buddha declares her "Quan Âm Thị Kính".
"She received the respect from many generations of Vietnamese people, she is worshipped at many pagodas," Dung said.
"The goddess holding a child in her hands is a symbol of humanity, kindness and tolerance."
According to the researcher the worship of goddesses in Vietnam is based on the tradition of promoting the role of women in the family.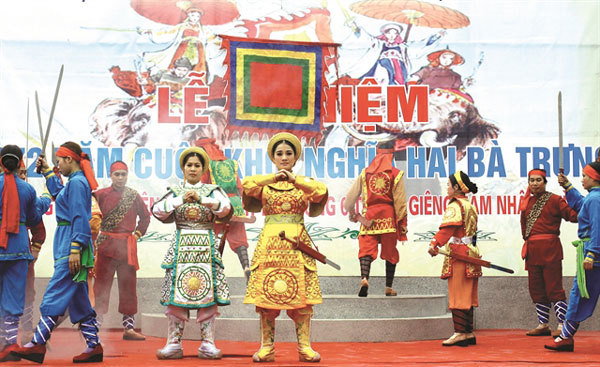 STRONG WOMEN: An art performance telling the tale of Hai Ba Trung resisting invaders. The festival is organised annually in Me Linh District, the homeland of the heroines. VNA/VNS Photo Quy Trung
Actually, national heroines throughout history also received the respect of people and were worshipped as protective goddesses at temples such as Ba Trieu (225–248), Hai Ba Trung (two sisters Trung Trac and Trung Nhi, 2,000 years ago) and their female general Le Chan. They are all martyrs who fought against foreign invaders to protect the country.
Trung Sisters are worshipped at more than 100 temples throughout the country. Annually, festivals are organised to commemorate their merits.
Among various temples worshipping Le Chan, Nghe Temple in An Bien, Hai Phong is the most popular. The local people honour her as a Mother Goddess and the Protector of An Bien Town, her homeland. According to history, Chan didn't just fight against invaders, she also established An Bien Town (now Hai Phong City).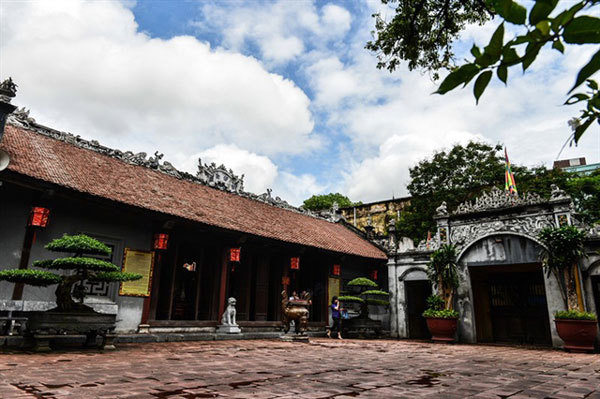 HOLY SITE: Nghe Temple in Hai Phong City is a place where female general Le Chan, who helped Hai Ba Trung fight against the invaders in the first century, is worshipped as the Mother Goddess. VNS Photo Doan Tung

Another highlight of ancient Vietnamese tradition and religion is the worshipping of Mother Goddesses. Recognised as an Intangible Cultural Heritage of Humanity by UNESCO, the belief has been passed down the generations and followed by people nationwide, especially in the northern region. The Three Realms in this tradition are heaven, water, and mountains and forests. People worship Mother Goddesses who control these realms, as well as other gods and historical heroes who did great services to the nation.
Worship of the Mother Goddesses contributes to the appreciation of women and their role in society. The belief is an important part of Vietnamese culture. Practitioners include temple guardians, ritual monks, spirit mediums, mediums' assistants and musicians who perform at hầu đồng, a ritual of this belief which reflects people's desire for health, wealth and fortune. VNS