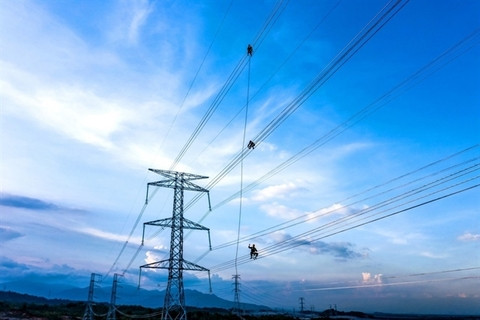 Transmission lines are installed to connect renewable energy plants in Thuan Nam District, Binh Thuan Province. — VNA/VNS Photo Cong Thu
The Government Office has just announced the conclusion of the Deputy Prime Minister at a meeting to prepare for the conference of the Appraisal Council of the National Electricity Development Planning for the 2021-30 period, with a vision to 2050 (Power Development Plan VIII).
Accordingly, the Deputy Prime Minister requested the Ministry of Industry and Trade to complete the power planning to ensure energy security, provide enough electricity for socio-economic development and people's lives; and take management measures in the context of many fluctuations in the energy industry.
Therefore, "this plan must soon be completed and approved for implementation to firmly ensure energy security, national defence and security of the country," the announcement stated.
The Deputy Prime Minister requested the Ministry of Industry and Trade to complete the Power Development Plan VIII so that the management and implementation of the plan is both proactive and flexible.
The master plan must also distribute resources to transmission infrastructure; and it is necessary to have detailed energy plans and projects after planning.
At the same time, the Ministry of Industry and Trade also needs to ensure the structure of power sources, fulfill international commitments on climate change; balance regional supply and demand optimally and reasonably to reduce the volume of electricity transmission grid investment, reduce power loss and have the most reasonable electricity prices; study and apply smart grid; calculate and complete more contents related to self-consumed electricity, selling electricity on the spot, and direct electricity buying and selling.
Deputy Prime Minister Tran Hong Ha also directed to clarify the basis for bringing renewable power sources from the revised Power Plan VII to the Power Plan VIII; ensure synchronous investment in transmission infrastructure, balance sources, assess socio-economic impacts, and supplement the explanation of solar power data in the planning.
Currently, the Ministry of Industry and Trade has submitted the sixth time to the Prime Minister for consideration and approval.
The report in November last year states that the total capacity of power plants will be about 121,757-145,989MW, excluding rooftop solar power, separate load power supply and cogeneration, by 2030.
Oriented to 2050, the total capacity of power plants is about 368,461-501,608MW. — VNS