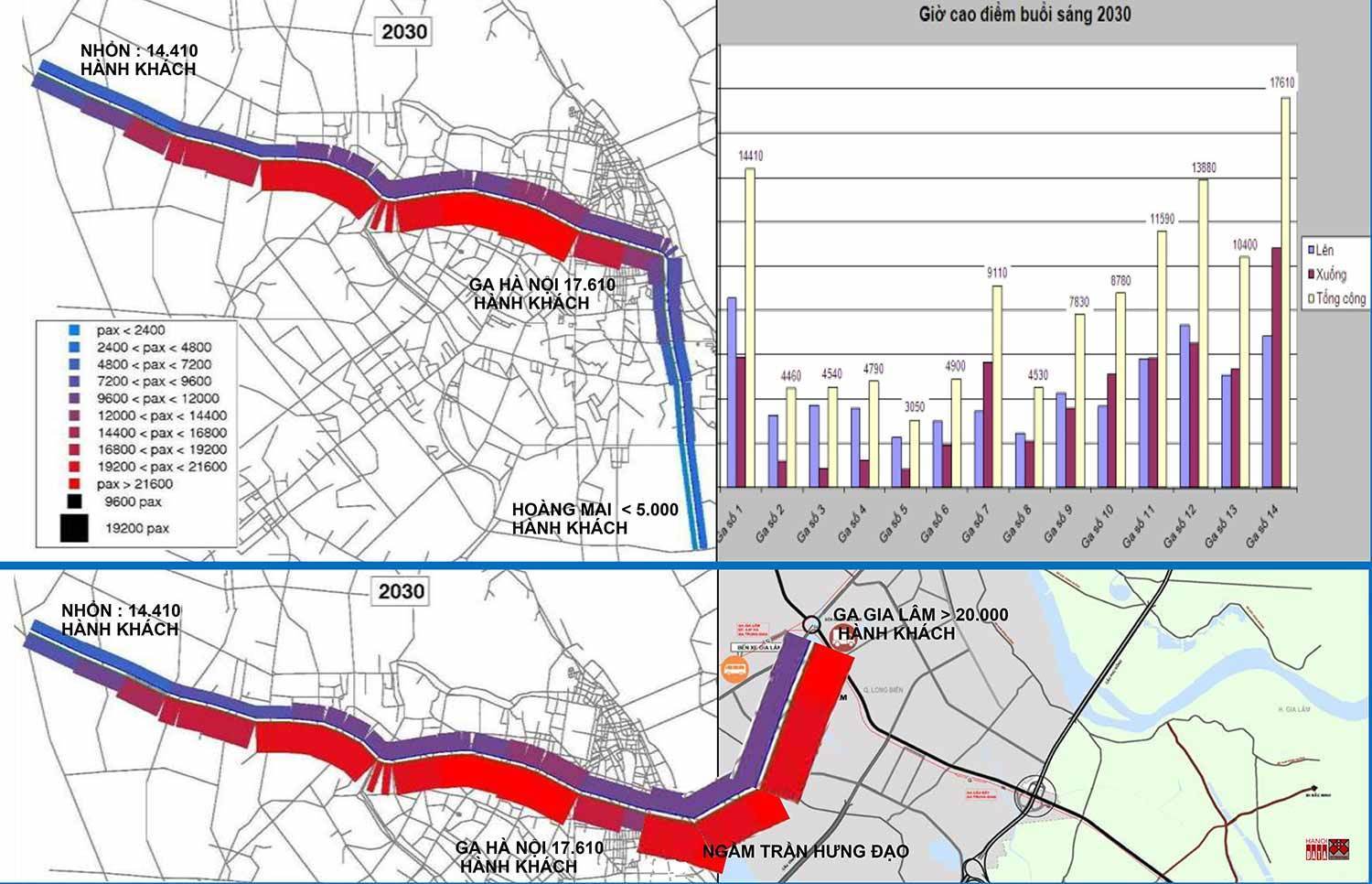 The number of passengers in rush hours by 2030 on Nhon - Hanoi Station - Hoang Mai Line as predicted by Systra in 2008 and proposal by City Solution
In 1890, Société foncière de l'Indochine set up a tramcar company in Vietnam. In 1900, the tramcar ran the first four kilometers from Bo Ho to Thuy Khue. By 1930, the company had six tramcar lines with a total length of 26 kilometers.
From 1954 to 1990, there were no spare parts, which threatened safety, so the tram was removed. The company incurred losses because of large initial investments and low ticket prices. It had bought land at low prices from the city, and had made a profit by selling the land later, when the prices soared after the tram opened. Houses and roads on the two sides of the routes took shape step by step.
Thanks to the implementation of the TDR (transfer of development rights) model, tram cars are a part of the history of modern Hanoi.
In 2006, specialists from Japan suggested setting up five urban railway lines with a total length of 193 kilometers. While the No1 line coincided with the Yen Vien – Ngoc Hoi railway (34.5 kilometer) and the No 4 line in the outer area (52.5 kilometer), the other 100 kilometers would coincide with the six old tramcar lines.
The problem was that in the central area of the city, there was no room for TDR. Land outside the city was allocated to investors for real estate development, so there was no more land for conversion.
Ten years later, the Ministry of Transport (MOT) submitted a transport development plan for Hanoi with 8 urban railway lines at a total length of 460 kilometers. Hanoi managed to build 20 kilometers of railway, but it has not been put into operation.

Hanoi can lease or apply TDR to collect tens of billions of dollars, more than enough to build hundreds of kilometers of railway and roads, preserve the urban space, and modernize urban infrastructure.
Hanoi needs to find an appropriate way to build new railways.
Land price differences
In 2019, Prof Dr Naohisa Okamoto from Tsukuba University gave a presentation on developing urban railway at a workshop in Hanoi.
He talked about the Tokyo – Tshukoba railway, 58.3 kilometers long, with 20 stations and investment capital of $8.2 billion. The capital for the railway network was expected to come from 18 projects along the lines, with the total area of 3,246 hectares. The land price is expected to rise from $1 per square meter to $5,000 after the railway opens.
The 'land conversion' in Japan was just like Hanoi's 'TDR' in 1890. The private companies that build expensive subways receive 50 percent support from the Government and local authorities, but they cannot get support for operation costs.
Only if they can make a profit will they be able to re-invest in research and development, and renovate and expand the system, thus creating motivation for competition among enterprises to improve service quality.
In Hanoi, the 4 kilometer line of the underground railway that links Nhon Urban Railway and Hanoi Station is under execution, while investors are about to submit another project that extends the route to Hoang Mai, 8.8 kilometer long (including depo), worth $1.7 billion.
The feasibility study for the project made by SYSTRA in 2008 predicted that the number of passengers getting on and off trains in rush hours would be 14,410 at Nhon Station and 17,610 at Hanoi Station. The number of passengers would decrease gradually at the next stations to under 5,000 at Hoang Mai Station.
In 2018, the World Bank (WB) released a manual on railway planning, which recommended that cities build railways only when they are sure of the number of passengers of 20,000 per hour per direction.
As the number of passengers at Hoang Mai Station was lower than 25 percent of the required level, it was not high enough to develop urban railways. In order to satisfy the travel needs and optimize the investments, the line from Hanoi Station to Gia Lam Station, with underground crossing at Tran Hung Dao, should have 4-5 times (more than 20,000) the number of passengers, raising the transportation capacity from 124,000 to 1 million passengers a day.
Cheap tickets still bring profits
The World Bank's manual introduced the model applied in Quito, Ecuador. The city developed urban railways under the integrated multi-modal, multi-functional and multi-benefit transport mode.
A single fare is applied for the entire system, thus reducing travel cost, raising the opportunities for job access, and reducing poverty for the poor, women and disabled.
Jakarta in Indonesia also provides combined transport, integrated with the Jak Lingko system, on which people can travel for three hours at a price of less than VND10,000.
Hanoi is to release the Red River bank development planning in June. If Tran Hung Dao bridge and a safe embankment system are completed, there will be more than 200 hectares of land on the Northern bank of the Red River, from Chuong Duong bridge to Vinh Tuy for conditional exploitation.
Hanoi can lease or apply TDR to collect tens of billions of dollars, more than enough to build hundreds of kilometers of railway and roads, preserve the urban space, and modernize urban infrastructure.
Tran Huy Anh

The capital city has potential to develop tours on the Red River. However, it has not been fully tapped.

In 1921, architect Ernest Hébrard visited Vietnam to plan the development of Da Lat and started field research in Hanoi.