HCM City troupe to perform at int'l experimental theatre festival

Young actors of the private Thế Giới Trẻ Drama Troupe in HCM City are preparing for participation in the 4th International Experimental Theatre Festival, which will be launched by the Việt Nam Theatre Artists' Association next month.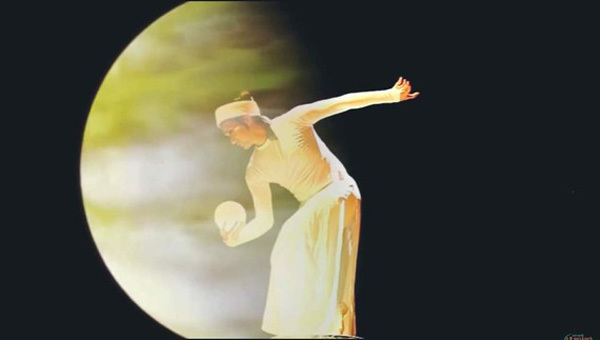 Meritorious actor Le Trung Thao performs in Nhật Thực (Eclipse), a cai luong (reformed opera) play by director Lê Nguyen Dat of HCM City's Thế Giới Trẻ Drama Troupe. (Photo courtesy of Thế Giới Trẻ Drama Troupe)
They will stage Nhật Thực (Eclipse), a cai luong (reformed opera) play about the life and career of traditional performers in the Mekong River Delta region.
The 60-minute work features three artists played by Le Trung Thao, Quoc Thanh and Thanh Tay, who make sacrifices to preserve their art.
The 100-year history and development of cai luong is also highlighted.
"My play tells true stories about artists of cai luong, who were farmers when they began," said the play's director Le Nguyen Dat.
Dat, who has more than 20 years of experience in the industry, has asked his actors to sing, dance and play musical instruments during the play.
He has also used the arts of the circus, puppetry and pantomime to highlight the play's theme.
He asked musician Vo Thanh Liem to compose and mix a series of folk and vong co (nostalgia) songs, a genre of traditional music of the South, for the play.
Dat spent several million dong on costumes, sound and light effects.
"I spent a year to complete Nhật Thực. I wanted my production to include stylised gestures but still to be lively and help young audiences learn as much about the art."
"I hope young audiences will learn about new concepts of theatre," said the 50-year-old.
In the play, Meritorious Artist Thao, plays a child, woman and man.
"I faced challenges to complete my role," said Thao, winner of Golden Medal for Best Actor at the National Professional Theatre Festival 2002.

Thao plays with the support of young talents Thanh and Tay of Tran Huu Trang Cai Luong Theatre, one of the region's leading traditional theatres.
"During the play, I use make-up while Thanh and Tay hide their face behind paper masks," Thao said.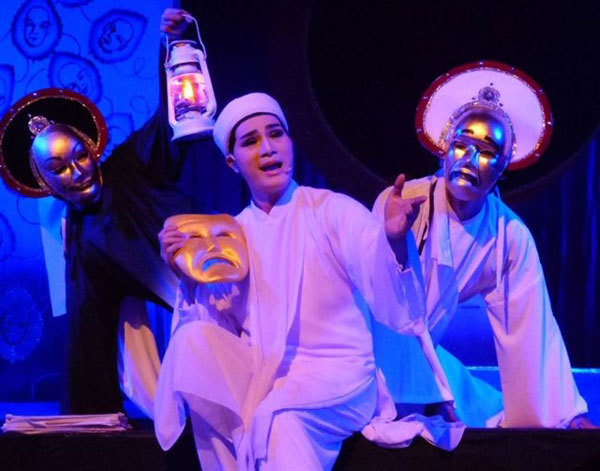 Meritorious actor Le Trung Thao. (Photo courtesy of Thế Giới Trẻ Drama Troupe)
 According to Dat, theatre artists should be more involved in contemporary art.
"To meet the demands of young people, new concepts in structure, conversation and directing style should be used."
Dat, a theatre writer, director and teacher, has written and directed more than 20 plays on different topics. Most of his works are stories about social issues.
One of his well-known plays, Tổ Quốc Nơi Cuối Con Đường (The Country), has been performed many times since its initial show last year.
The 90-minute work features the revolutionary career of Nguyen Ai Quoc, a former name of President Ho Chi Minh.
It highlights the time of Quoc, under the Chinese name Sung Man Cho, in 1931 when he was arrested and imprisoned by British authorities in Hong Kong.
Dat used cai luong and musical to feature the play's theme.
Tổ Quốc Nơi Cuối Con Đường bought home the Golden Prize for Best Play at the National Cải Lương Festival 2018 in Long An Province.
Thanks to Dat's contribution, the Thế Giới Trẻ Drama Troupe has offered quality plays and is also a place for young actors to improve their skills.
"Many theatre-goers are eagerly awaiting Dat and his actors at the festival," said theatre critic Thanh Hiep of Người Lao Động (Labourer) newspaper.
The 4th International Experimental Theatre Festival will begin on October 4 in Hanoi.
The nine-day event will attract 53 theatres and art troupes from 40 countries, including South Korea and China.
Fourteen plays by Vietnamese troupes, including private theatres such as Thế Giới Trẻ Drama Troupe of HCM City, Luc Team and Le Ngoc of Hanoi, will be staged.
Thế Giới Trẻ Drama Troupe is the only theatre of HCM City to participate the festival.
People's Artist Le Tien Tho, chairman of Viet Nam Theatre Artists' Association, said: "The festival is held every three years, allowing Vietnamese and international artists to exchange and share experiences."
"We hope that Vietnamese troupes will have good scripts to perform at the festival. We expect the festival will have experimental works that will contribute to new trends in modern theatre," he said.
By Thu Anh
VNS