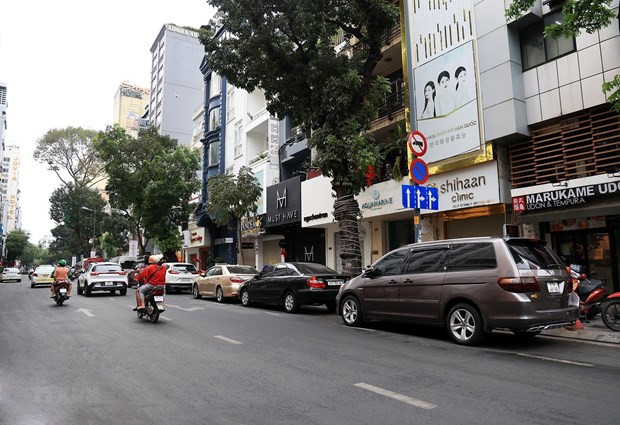 Cars are parked along Ly Tu Trong street, District 1, HCM City. (Photo: VNA)
At a September 21 meeting providing information on the city's socio-economic situation and disease prevention and control, specific details regarding the implementation of a resolution on temporary road and pavement usage fees was a highlight.
Ngo Hai Duong, head of the department's road traffic infrastructure management unit, said the fee collection will be implemented in accordance with the law.
Its purpose is to complete state management regulations, contribute to the restoration of urban order and aesthetics, build a civilised and modern city, enhance the responsibility of organisations and individuals when temporarily using a portion of the roads and payments, ensure traffic safety, and maintain urban environmental hygiene. Additionally, it aims to ensure fairness and equality among organisations and individuals with a temporary need for the use of the infrastructure.
Accordingly, organisations and individuals are required to pay fees for organising cultural activities (sports, parades, festivals) and parking serving cultural activities, setting up parking lots that generate income, and conducting business services, buying and selling goods, among others.
The proposed rates are based on the average land price in five zones, with the amount for central routes being higher than for those in suburban areas. Specifically, monthly fees for various activities (except for parking and guarding vehicles) will range from 20,000 to 100,000 VND per square metre for central routes and from 20,000 to 50,000 VND per square metre for other routes.
To ensure management principles, the transport department will be responsible for developing management tools and software, and publicising permits for the temporary usage across the city so that citizens can monitor, track, and report to the relevant authorities if necessary./.VNA