Health Ministry urges speeding up of locally made Covid-19 vaccines
After an emergency meeting, the National Ethics Council agreed to test the locally-made Covid-19 vaccine Nanocovax on 13,000 volunteers. This third phase trial will be completed in mid-August.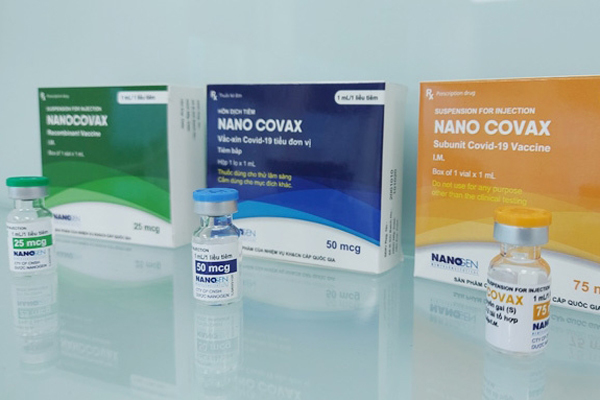 The Ministry of Health held an urgent meeting with relevant agencies on June 25 to evaluate the trial progress and discuss the expansion of test of Nanocovax vaccine of Nanogen JSC.
At the meeting, the National Ethics Council said that Nanocovax vaccine is safe and effective, but it needs more time to evaluate the protective effects and the number of samples, especially the evaluation results in the laboratory.
The Ministry of Health asked the HCM City Pasteur Institute and the Military Medical Academy to speed up the testing of the vaccine on 13,000 volunteers, with the first dose to be injected before July 15 and the second dose before August 15. Data of the test must be submitted to the Ministry of Health in August.
The 13,000 volunteers are now ready for the test, including 4,000 people in the northern province of Hung Yen, 2,000 people in the southern province of Long An and 6,000 people in the southern province of Tien Giang. The Military Medical Academy will be in charge of the test in the northern area, and the HCM City Pasteur Institute will cover the southern area.
According to the original plan, the third phase of trial of Nanocovax vaccine would be carried out in two sub-phases, with 1,000 volunteers participating in the 3a phase and 12,000 people in the 3b phase, which is scheduled to be completed in September. After that, the National Ethics Committee will assess and consider granting an emergency licence for Nanocovax vaccine.
However, on June 15, the vaccine developer - Nanogen – asked the Prime Minister's permission to grant an urgent conditional license for the Nanocovax vaccine similar to the vaccines of Russia, China and India.
Nanogen said that based on clinical trial results, the immunogenicity of Nanocovax vaccine reached 99.4%, equivalent to other vaccines in the world and somewhat higher. The estimated selling price of Nanocovax is only about 120,000 VND/dose.
Thuy Hanh

A representative of the Nanogen Pharmaceutical Biotechnology today said that the company has proposed emergency licensing for its NanoCovax amid an escalation of the Covid-19 situation.