Hospitalisations on the rise among young people due to increasing popularity of vaping
The smoking rate among male students increased from 3.6 per cent to 4.3 per cent and from 1.5 per cent to 2.8 per cent in female students.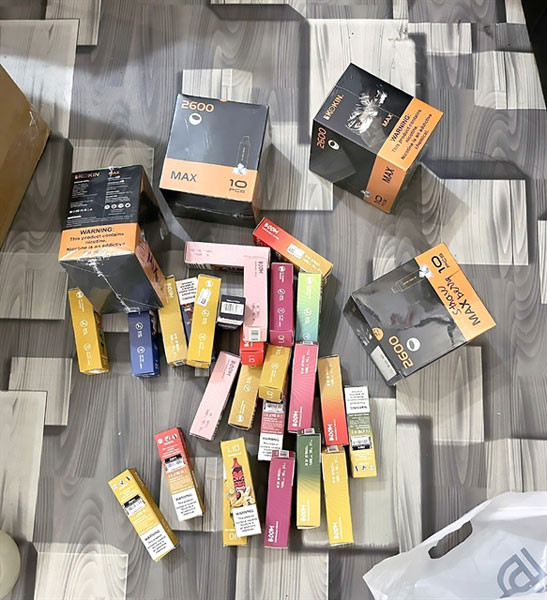 The use of e-cigarettes, or vaping, has been increasing among young people, leading to students experiencing psychosis, hallucinations or respiratory failure due to substances in e-cigarettes, resulting in hospitalisation.
The latest case was seven third-graders of Hanoi's Hoang Liet Primary School, Hoang Mai District, who were hospitalised for experiencing nausea, and headaches after smoking or inhaling e-cigarettes.
On November 18, three male students in grade 12 of Thanh Da High School, HCM City's Binh Thanh District, also showed unusual physical symptoms such as discomfort, shortness of breath, and fainting after using the e-cigarettes.
In early November, a secondary school male student was taken to the National Children's Hospital in a state of panic with difficulty breathing and convulsions after using the product.
Nguyen Thi Thu Huong, an official from the Vietnam Tobacco Control Fund, Ministry of Health, said a recent study showed that the e-cigarette smoking rate among students in Vietnam increased from 2.6 per cent in 2019 to 3.5 per cent in 2021.
The smoking rate among male students increased from 3.6 per cent to 4.3 per cent and from 1.5 per cent to 2.8 per cent in female students.
The percentage of students who had ever tried an e-cigarette was 7.8 per cent.
This increase in numbers is a cause for concern, especially given how easily accessible e-cigarettes are for young people.
The smoking rate among teenagers is increasing due to the emergence of new-generation cigarettes, which is changing nicotine addiction, said Nguyen Huu Hoang, a lecturer from the Medical Education Centre at HCM City's University of Medicine and Pharmacy.
"E-cigarette devices that look like USB drives, pen or pen boxes are making it tough for parents to detect and keep their kids from vaping. They also make young people curious and excited by their eye-catching, fashionable and modern designs," Hoang told the Lao động (Labour) newspaper.
As well as easy access, different levels of nicotine and diverse flavours have made e-cigarettes attractive, increasing the risk of addiction.
Studies show that new-generation e-cigarettes change smoking rates among youth under 18, making it necessary to implement more measures to prevent and reduce the usage of e-cigarettes.
At a recent workshop to share research results on tobacco use among students aged 13-15 in Vietnam, Deputy Minister of Health Tran Van Thuan said the increase of new tobacco products such as e-cigarettes also hindered prevention. It remained easy for people to get access to cigarette products which were sold widely across the country.
Tran Thi Trang, Deputy Director of the Legal Affairs Department at the Ministry of Health, said the ministry has proposed banning all new tobacco products, in line with the trend in regional countries and the world.
Deputy Director of the HCM City's Market Management Department, Nguyen Tien Dat, affirmed that at present, there are no regulations regarding licensing cigarette sales at stores.
In 2020-2021, as the COVID-19 pandemic is still raging, the unit discovered many violations related to new-generation tobacco products.
In 2022 alone, 940 new-generation tobacco-related products were discovered.
In early November, police in Tam Nong District, Phu Tho Province, apprehended a man in possession of synthetic drugs in the form of e-cigarettes.
He confessed to purchasing e-cigarettes and e-liquids via social networks for local consumption.
All seized e-liquids contained the ADB-Butinaca, an ingredient in some synthetic cannabis products.
In September, police in Hanoi's Nam Tu Liem District also discovered a group of illegal drug dealers. They bought e-cigarettes, and dried herbs, adding e-liquids containing ADB-Butinaca.
The Hanoi Police recommends that parents take time to care for, listen to their children, and observe their children's activities as co-ordinate with schools to learn more about activities and relationships of children to early found abnormal signs.
It is necessary to contact a doctor or psychologist for support if needed.
Schools should coordinate with competent agencies to organise drug testing to detect students using illegal drugs.
Source: Vietnam News