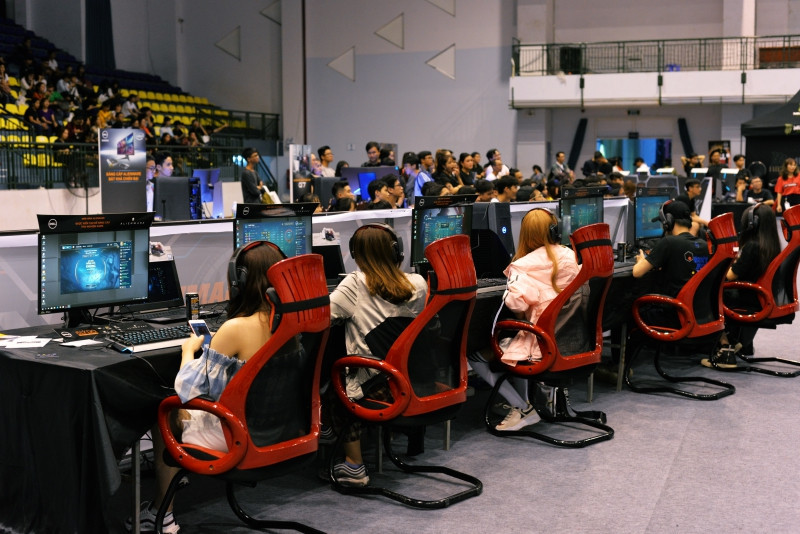 The Ministry of Finance (MOF), which is drafting a luxury tax law, is planning to add electronic games to the list of services subject to luxury tax.
The ministry believes that the industry gets big revenue and makes high profits compared with other business fields, and attracts clients of all ages, especially youth. It finds it necessary to impose a luxury tax on online games to orient consumption in society.
Game firms say that if they have to bear a luxury tax, they won't be able to exist.
MOF misunderstanding?
Nguyen Ngoc Bao, CEO of VTC, told VietNamNet that MOF may misunderstand MIC's (Ministry of Information and Communications) report about online games.
The Authority of Broadcasting and Electronic Information (ABEI) has released a report mentioning the existence of pirated games and games distributed directly by foreign enterprises in Vietnam. With the support of app stores and payment intermediaries, the games are distributed widely and have high annual revenue of VND5 trillion, amounting to 30 percent of revenue of the game industry.
As the games are distributed illegally, agencies cannot collect tax in Vietnam as the distributors are located overseas.
"It may happen that MOF, after hearing the report from MIC about illegal distribution across border gates that don't have to pay tax in Vietnam, came to the conclusion that games are a business field with high profits, tax evasion and uncontrollability. Therefore, it thinks that it would be better to levy a luxury tax on the field," Bao said.
But the enterprises distributing games across border gates are evading tax when doing business, not domestic enterprises.
Domestic games have to respect current laws and follow a lot of administrative procedures, from applying for licenses, having scenarios approved, applying technical solutions to restrict time of gaming and requesting gamers to register information.
Also, domestic enterprises have to fulfill tax obligations, from value added tax (VAT) and contractor tax to corporate income tax.
What if a luxury tax was imposed?
According to Bao, in the first phase, domestic firms mostly import games for domestic distribution, trying to learn about games and get familiar with the industry before switching to production.
Vietnam has begun the production phase and MIC released a strategy on developing the game industry. It would be better to encourage and protect the industry to develop, or even consider exempting tax to make enterprises feel secure to make investments.
However, instead of doing this, MOF is attempting to levy a luxury tax, a move that is described as "nipping it in the bud".
"If we impose a luxury tax, game firms will 'die' and IT resources of the game industry will flow out of the country. At this moment, the state can collect tax from some domestic enterprises, but if enterprises all leave, the state will collect no dong," Bao warned.
Sharing the same view, a representative of VNG said revenue and profits of the game industry are not as high as once predicted.
To launch a game product in the market, enterprises have to cover many expense items, including software production/development or licensing cost; distribution (app store/distribution platform); advertisement, marketing, sale promotion; payment method; and personnel and operation.
He said the input cost of the game industry is considered high compared with other business fields, because this is a technology field which operates in an internet environment and uses high-quality workers.
In general, production costs (based on high operation costs and taxes) will be higher than other fields, while the profitability rate is just at a medium level (3 percent per annum).
According to another distributor, to distribute a game, royalties cost 23 percent, tax and payment intermediaries 24 percent, marketing 20-30 percent, and app stores 15-30 percent, and the expected profit is 3-8 percent.
However, not all games launched in the market will succeed. In general, only 4-5 games out of every 10 products can succeed.
Therefore, VNG said that if they impose a luxury tax, the game industry revenue would drop by 30-50 percent. Many game firms would 'die' or scale down operation, downsize their staff, while the state would have to deal with many consequences, including social evils. This will also affect relevant industries such as software development, advertisement and telecommunications.
Analysts also warned that gamers may shift to play foreign games. This is because once bearing luxury tax, domestic distributors would have to increase service fees. As Vietnamese distributors cannot compete in the home market, they would think of the solution of establishing businesses in other regional countries where the tax policies are better.
Le My