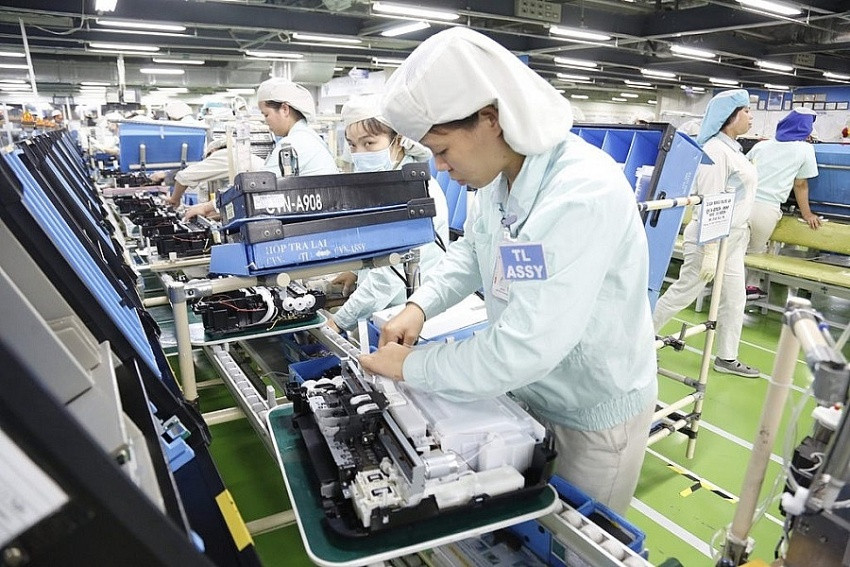 The import-export turnover of foreign-invested enterprises declined by $9 billion
The General Customs of Vietnam statistics show that in the first two months of 2023, the total import-export turnover of Vietnam reached $95.83 billion, down 13.4 per cent.
Between January and February, the import-export value of foreign-invested enterprises (FIEs) alone was $68.2 billion, a decrease of 11.8 per cent or ($9.15 billion) on-year. The export turnover was $37.34 billion, down 7.3 per cent on year, simultaneously accounting for 75 per cent of the total import-export value of the whole country.
In addition, in the second half of February, the export turnover of FIEs declined to $9.23 billion, equalling a decrease by $914 million compared to the figure of January 2023.
The export value of the key sectors saw a drop. Notably, the computers, electronic products and components took $6.87 billion in export turnover, the machinery, and equipment sector $6.4 billion, garments and textiles $4.55 billion, footwear $2.76 billion, signifying decreases of 13.9 per cent, 1.6 per cent, 19.6 per cent and 15.8 per cent, respectively.
The difficulties in export impact on the contribution of FIEs to the state budget. For example, in the southern province of Dong Nai, in the first two months of 2023, FIEs in the province contributed $147 million to the provincial budget, a decrease of 10 per cent on-year.
According to the forecast of the Ministry of Industry and Trade (MoIT), the drop in orders will continue until the first half of this year. The ministry is supporting the business community to diversify the export markets and projects, avoiding dependence on traditional markets such as the United States, China, Japan, and Korea.
"Businesses should pay attention to markets in Northern Europe, Eastern Europe, and Latin America. Besides this, they should take advantage of the speedy recovery of markets in ASEAN to foster export activity," the MoIT noted.
Source: VIR