VietNamNet Bridge - Imported meat available at nearly all large supermarkets in Hanoi is surprisingly cheap, posing a threat to the domestic livestock industry.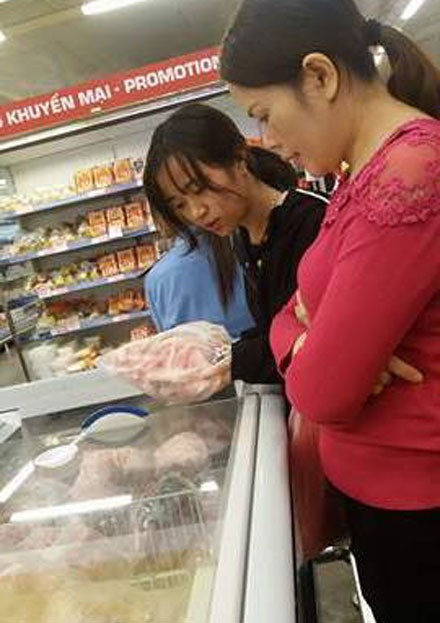 Brazilian frozen chicken wings were sold at VND74,900 per kilo at Metro Thang Long on March 27. Two months ago, in January 2017, the supermarket sold frozen chicken imports from Brazil at VND51,000 per kilo only.
A supermarket on Trang Dang Ninh street once quoted the price of VND86,900 per kilo for Brazilian chicken wings.
Analysts, after comparing retail prices quoted by supermarkets and import prices provided by customs agencies, came to the conclusion that the price difference is not too big, between VND30,000 and VND50,000 per kilo.
Meanwhile, on online markets, Brazilian meat is offered at the price just equal to one-third of the prices of imports from the US and Australia.
An officer at a clean food distribution company in Dong An district said the selling price is VND145,000 per kilo of beef shank for a 20-kilo box from Brazil, while brisket beef is VND130,000 per kilo.
Meanwhile, a shop in Dong Da district quotes the price of VND170,000 per kilo for Brazilian beef.
The meat imports from other countries are also surprisingly cheap at Metro.
Australian frozen chicken legs are priced at VND56,900 per kilo and chicken legs from the US VND39,900 per kilo.
Imported meat available at nearly all large supermarkets in Hanoi is surprisingly cheap, posing a threat to the domestic livestock industry.
Vietnam's products are VND78,900 per kilo for chicken wings and VND69,700 per kilo for chicken legs.
"I cannot understand why meat imports can be so cheap though they have import tax," said a housewife from Bac Tu Liem district in Hanoi, adding that she is not sure about the quality of the imports.
Tong Xuan Chinh, director of the Ministry of Agriculture and Rural Development's Livestock Department, said it is a difficult task for Vietnamese farmers to compete with foreign products once the domestic production cost is high.
It is estimated that the production cost of pig farming is about VND40,000 per kilo of live meat, while it is only 80-90 cent, or VND18,000-20,000 per kilo in other countries. He said Vietnamese farmers need to develop large-scale farms and apply modern technologies in farming to cut the production cost.
However, he emphasized that it is necessary for Vietnam's state management agencies to control the quality of meat imports to Vietnam. "In foreign countries, the products near expiration are always very cheap."
Nguyen Kim Doan, deputy chair of the Dong Nai provincial Livestock Association, commented that Vietnamese consumers can only access information about imports' origin from importers and distributors.
"I know that the production cost is low in other countries. But how can their products still be so cheap if they bear tax and many kinds of expenses, from transport cost, import tax and VAT?" he asked.
RELATED NEWS
Ministry raises warnings over Brazilian rotten meat scandal
Study finds bacteria in Vietnamese pork
Dat Viet