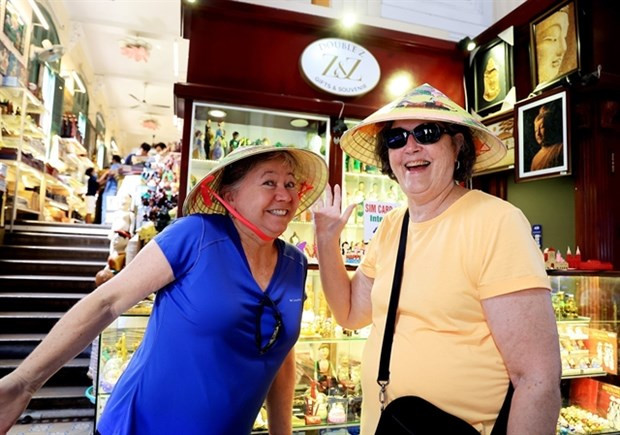 International tourists wear Vietnam's signature conical hats. (Photo: VNA)
Travel companies are anticipating that if the decision is finalised in the ongoing National Assembly's meeting, which started on May 22, the sector could take advantage of the change right from the travelling season starting in September and achieve the goal of eight million foreign tourists for this year.
As of the end of April, Vietnam has welcomed nearly 3.7 million international arrivals, reaching nearly half of the goal it has set for 2023.
However, these figures hint that Vietnam's tourism rebound is still underway - the 2023 goal is modest compared to the country's record 18 million international arrivals in 2019.
Pham Ha, CEO of travel business Lux Group told Vietnam News: "Open policies like this will be a driving force for tourism.
"I believe that with other comprehensive policies, Vietnam can receive eight million foreign visitors within the year 2023."
The visa validity extension has been a long-awaited decision for many travel agencies, as it allows easier, longer stay in Vietnam and, therefore, more economic revenue, Ha added.
Le Hong Thai, Hanoitourist's CEO, said: "Statistics revealed that international tourists' spending is around 11 times more than that of domestic.
"It means that even if we have 100 million local tourists, it still will not bring in as much as the goal we have set out for this year, which is eight million."
While these numbers are only comparative, the difference is evident, he said.
"This is why more favourable conditions are needed and why we have to attract international tourists to Vietnam now," said Thai.
According to Lux Group CEO Pham Ha, a competition has been going on between popular tourist destinations, especially for retirees and digital nomads who will readily stay in a country for a longer time for a better experience.
The 90-day visa, however, is expected to go beyond catering to foreigners looking for an extended tropical getaway.
Le Hong Thai believed that Vietnam can position itself as a main transit point to its advantage, especially when tourists plan to visit multiple countries in the region.
This is where the extended visa - single or multiple-entry - plays an important role.
He said: "Korean tourists, for example, will arrive here [in Hanoi] for a few days, then they go to Da Nang, and then they fly to Siem Reap (Cambodia). After two or three days in Siem Reap, they will return to Vietnam to fly back to the Republic of Korea."
"In this case, if their visa is single-entry then it is not possible. But if we issue multiple-entry visas, they can arrive and return to Vietnam multiple times within 90 days, which is a major advantage."
The same could also be said for European tourists, Thai added.
"For instance, French or UK tourists come here and also want to visit Laos and Cambodia, but there's no direct flight back home from those locations, so they will return to Vietnam," he said.
However, many concerns have been raised about whether people will take advantage of this visa policy for purposes other than travelling.
Thai said: "Many experts have posed this question, and I believe that the answer lies in the registration form that international arrivals have to fill in when they want to apply for a visa to Vietnam."
The document requires stating the purpose of the visit, whether it's tourism, business, visiting relatives or other.
This is what state management agencies and officers can base on for review and monitoring.
"I think that when state management agencies strengthen their inspection and supervision, this [visa] policy is definitely possible," said Thai.
"The result we want to achieve is to promote the development of our tourism sector compared with other countries in the Southeast Asian region."
In a report addressing these concerns on May 16, on behalf of the Prime Minister, Minister of Public Security To Lam said that e-visa issuance is conducted through pre-approval of personnel.
Therefore, the policy responds to management demands by helping immigration offices screen people who do not meet the requirements for entry.
While the 90-day visa proposal is collectively viewed as a boost for the sector, industry experts believe that the policy alone will not be able to transform the entire tourism landscape.
According to Lux Group CEO Pham Ha, in addition to the comprehensive policies to address the bottlenecks in Vietnam's tourism, the sector's human resources also needs to be improved, while new, better experiences must be designed, especially with the post-pandemic demands.
Phung Quang Thang, Vice Chairman of the Vietnam Society of Travel Agents (VISTA), said: "Perhaps the number of international visitors to Vietnam last year fell short of the goal we have set out, as well as in comparison with other competitive destinations.
"However, how each country's destination recovers [post-COVID] depends on its existing conditions."
According to Thang, in both groups of international and domestic visitors, a majority travel in small groups or even solo.
"During their trip, they will need a lot of public services," he said. "But obviously, the infrastructure is in different levels of development in each country, and therefore has a certain impact on the number of tourists in that destination."
The VISTA vice chairman said that this is a comprehensive problem that is not easy to solve, and many of the factors involved belong to the subjective and objective context of each destination.
He added: "It could be said that the number of arrivals will clearly increase with favourable visa policies for tourism and business to Vietnam. However, it does not mean that the growth will be as we expected.
"Achieving the set goal concerns many other factors, such as new and unique tourism products and easier access to locations. But that is only the first impression, and it's not enough.
"Tourists must have a great experience during their extended stay in Vietnam, and the goal we aim at is that when they return home, they will introduce Vietnam to their families and friends and especially feel the need to travel to Vietnam again."/. VNA