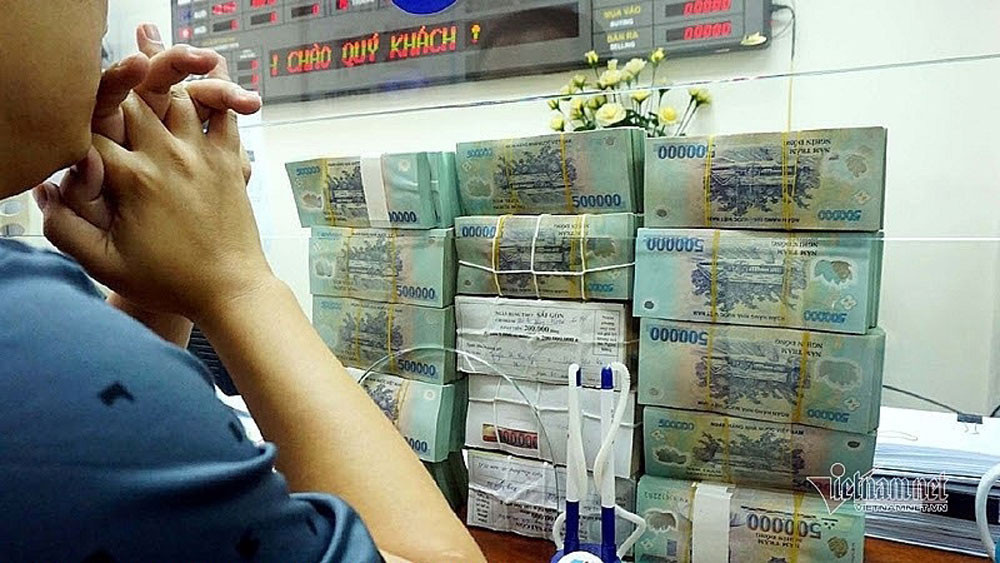 The business community has been waiting for interest rates a long time.
The operating interest rate has been reduced by another 0.5 percent per annum, but the banking system doesn't have abundant capital.
An SBV report released recently showed that the gap between outstanding loans and deposits in VND was just VND167 trillion, and the ratio of credit to capital mobilized from the public was 101.45 percent.
This means that the lent capital was still higher than the mobilized capital.
The capital mobilized by the banking system had increased only by 1.78 percent as of April 27, 2023, while outstanding loans went up by 3.04 percent.
The core inflation was 4.9 percent compared with the same period last year and people still expected real positive interest rates, which means that in order to attract deposits, credit institutions will have to offer attractive deposit interest rates, but lowering deposit interest rates is a difficult task.
Meanwhile, SBV still has not intervened in the ceiling interest rates for 6-month and longer-term deposits, which businesses hope will have a strong impact on lending interest rates in the market.
Some small banks with weak liquidity still have high deposit interest rates, which makes it difficult for other banks to slash their deposit interest rates, and thereby, lower lending interest rates.
There are many other factors that affect interest rate performance. The economy is in a difficult period, while businesses are facing high risks, which forces banks to be more cautious with lending activities. They tend to set high interest rates to cover risks.
In March 2023, SBV cut operating interest rates twice and a number of banks lowered their interest rates. However, despite the moves, the average market interest rates still stand high.
SBV reported that the average lending interest rate for new loans is 9.3 percent per annum, a 0.65 percent decrease compared with late 2022.
However, the National Financial Supervisory Committee reported that the average lending interest rate at 35 commercial banks in late March 2023 was 10.23 percent per annum, or 0.56 percent higher than that in late 2022.
Many enterprises said banks offer 6-month loans at 10-11 percent per annum, and most of them cannot afford such interest rates, though they need capital to resume production and business. The lending interest rates in Vietnam are high compared with the interest rates in the rest of the world, which affects the competitiveness of Vietnam's products.
Money needs to be pumped into circulation
Many businesses complain that they were shocked in the late second quarter last year when SBV raised operating interest rates, thus lifting market commercial interest rates.
As a result, businesses could not access bank loans. Banks still have to pay high interest rates for the deposits they mobilized in the fourth quarter last year, and therefore, do not want to lower lending interest rates.
Minister of Planning and Investment Nguyen Chi Dung on May 9 said before the National Assembly that one of the biggest difficulties of enterprises is cash flow, caused by the credit policy which tightened and loosened credit all of a sudden.
Economists believe that cutting operating interest rates is not enough to ease lending interest rates in current conditions. It is necessary to increase the money supply and give more credit growth room. The money supply growth rate has been low since the beginning of the year.
Credit growth limits need to be lifted and limits should be allocated to every bank immediately, so that banks can take the initiative in planning their credit activities for the whole year. The allocation of credit growth limits in dribs and drabs puts banks in a passive position.
SBV has eased interest rates several times so far this year, but it has not lifted the credit room, which explains enterprises' inaccessibility to bank loans and the insignificant interest rate decrease.
Tuan Nguyen