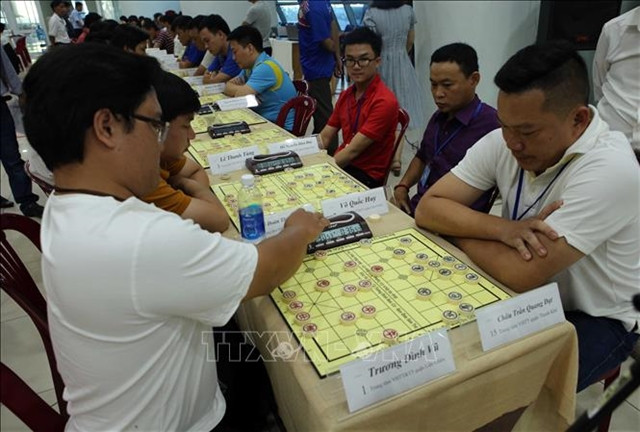 Competitors play in a Chinese Chess (Xiangqui) tournament in Đà Nẵng. The city will host an international Chinese Chess tour on July 15-25. VNA/VNS Photo
Top 18 Vietnamese chess players and six masters from Chinese Taipei, Hong Kong, Malaysia, Singapore and China will compete in the 6th International Chinese Chess (Xingqui) Masters Tournament - Phương Trang Cup in the central city on July 15-25.
The city's culture and sports authority said the tournament will see chess masters playing in a round-robin in four groups, with two top each qualifying in the quarter-finals.
Each game will have 60 minutes to complete, and each move will help players save 30 seconds on their total time.
The organisers said the tournament will offer a total cash prize of US$47,800 and a prize of $25,000 will be awarded to the winner at the tournament.
All games will be played at the city's Grandvrio Hotel, 1 Đống Đa Street.
Chinese chess is one of the most favourite daily entertainment games among residents in central Việt Nam.
The annual Chinese Chess Championship often draws the participation of 530 players from 31 clubs.
Last month, 40 players from 16 clubs also joined a Chinese Chess event on the Bàn Cờ (Chess Board) Mount in Sơn Trà Peninsula to promote summer tourism holidays.
In celebration of the 50th anniversary of Japan-Việt Nam diplomatic ties, two Japanese chess masters – Sota Fujii and Daichi Sasaki – will play in the first Japanese Shogi (Japanese chess style) Chess Event at the Đà Nẵng-Mikazuki Japanese Spa and Resort on June 4-5. — VNS