Islander builds house from recycled plastic bottles, sets up homestay

Islander Nguyen Loi, 29, has built his first house from 6,000 recycled plastic bottles on An Binh Islet, three miles from Ly Son Island of the central province Da Nang to promote waste reduction and recycling on tourism islands.
Plastic bottle house promotes environment protection in Hanoi
Architect students turn plastic bottles into toys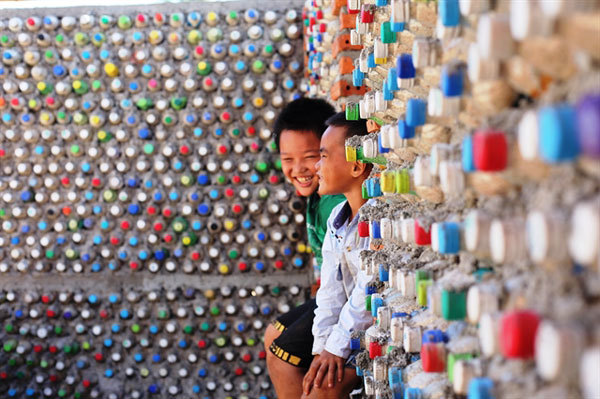 A house built from 6,000 plastic bottles in An Binh Islet of Ly Son Island. — VNS Photos Thai Hau
Loi, who studied at HCM City's Technology College, returned to his hometown to make a living from tourism services.
About two months ago, he decided to build the house with the aim of creating a unique home-stay service for tourists and encouraging locals and tourists to save natural resources and water.
"Plastic bottles are commonly used by local islanders because the islet often faces water shortages in summer. I was able to find plastic bottles everywhere on the islet, including dustbins, beaches, rocks and household trash," Loi said.
"I want to send a message to everyone that we need to recycle water and plastic bottles and plastic ware instead of disposing of waste in the environment and sea," he said.
He spent about (VND40 million, or US$1,700) to build the house on 15sq.m, which was twice the amount spent to build a brick house.
He explained that small plastic bottles (500ml) were sorted out for wall making, while the bigger (1.5l) bottles were used to create vegetable pots, fences or gates.
"I had to fill up plastic bottles with dried sand to make the so-called 'bricks'. Mortar helps the bottles stick to walls and beams. I opt for the thatched roof option in order to help cool the house in summer," he added.
Loi hopes tourists will stay at the house and help spread the message of environmental protection and keep the ocean free of plastic waste.
The house will open for tourists next month. The homestay will be part of a zero-waste campaign among local residents and visitors to the islet.
Lợi also uses a battery-operated car to transport tourists traveling on the islet.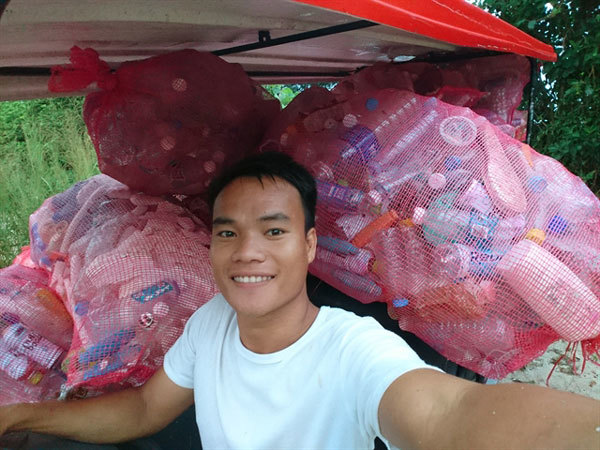 Islander Nguyen Loi, 29, has been building his first house from 6,000 recycled plastic bottles on An Binh islet – 3 miles from Ly Son Island, aiming to promote awareness of the need to reduce and recycle waste on the tourism-heavy islands.
Last year, the International Union for Conservation of Nature (IUCN) launched a communications campaign to promote the non-use of plastic bags as a prelude to its sea turtle conservation programme on Ly Son Island.
In 2017, IUCN, in co-operation with the US Fish and Wildlife Service, also started a marine environmental protection communications programme for sea turtle conservation on An Binh Islet.
Paintings of ocean life and species on the walls of households in An Binh Islet call on local islanders and tourists to join hands to protect the marine environment and sea turtles.
IUCN's research found that the sea turtle population in central coastal areas had seriously declined in recent years.
In the 1980s, Quang Ngai beaches and Ly Son Island often saw about 200 sea turtles approach beaches to lay their eggs.
But the figure dropped by 90 per cent between 1980 and 2000 due to rapid urbanisation, over-fishing and the construction of buildings and concrete dykes.
An initiative called "Refill, Not Landfill", also started by IUCN, encouraged hotel owners and tour operators to provide free drinking water for tourists on Ly Son Island.
The programme also spread the message "Down One bottle, Save the Future", to reduce the use of single-use plastic bags and free the ocean from plastic waste pollution.
Ly Son Island, 30km off the coast of central Quang Ngai Province, is a favourite eco-tour site with more than 200,000 tourists visiting each year.
The island has 109 hotels and guesthouses and 56 home-stays with a total of 650 rooms. They can provide accommodations for more than 1,000 tourists a day.
Ly Son Island, as well as a vast coastal area in the districts of Binh Son, Tra Bong, Ba To, Sa Huynh and Nghia Hanh, and Quang Ngai City covering 2,000sq.km, are being considered for a designation as a Global Geo-Park by UNESCO.
Ly Son Island, known as the "Kingdom of Garlic", has around 21,000 residents, 73 per cent of whom make their living from farming garlic and spring onions, and fishing.
VNS