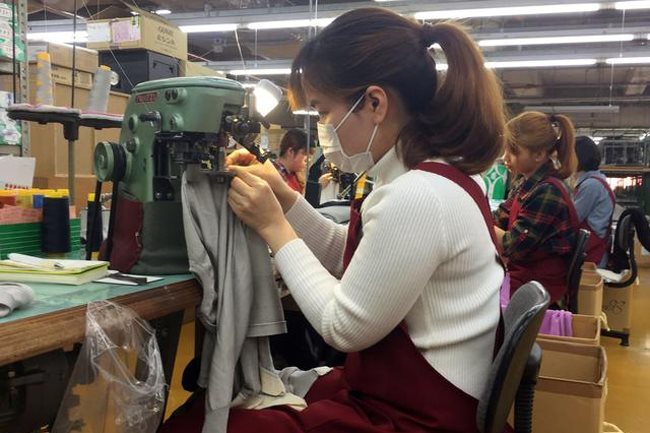 Technical trainees from Vietnam work at a knitwear factory in Mitsuke, Japan, on February 26, 2019. Japan has surpassed Taiwan as the most attractive destination for Vietnamese guest workers 
Data from the department revealed that more than 13,400 domestic laborers went overseas for work under employment contracts in October this year, equivalent to 92.2% compared with the figure of the year-ago period at over 14,500.
Japan took the lead in attracting Vietnamese guest workers, at more than 8,300 people, while Taiwan came in second with over 4,200, followed by South Korea with roughly 650.
Other labor markets with fewer than 100 new Vietnamese workers last month included the United Arab Emirates and Saudi Arabia, both in the Middle East.
As such, the number of Vietnamese guest workers between January and October this year amounted to 118,030 people, equal to 98% of the 2019 target of sending 120,000 local people for work overseas.
Overall, Japan was still the most preferred destination among Vietnamese guest workers, with more than 61,900 people arriving for work in the 10-month period, far surpassing that of Taiwan at 45,390.
The department ascribed the surge in guest workers to Japan, especially since July this year, to the development of science and technology and associated skills, as well as attractive salaries.
Recently, the Japanese government introduced a new status of residence, called "Specified Skills Workers," which was aimed at addressing the serious labor shortage in the Northeast Asian nation by accepting experienced foreign workers with specific expertise and skills.
The status of residence is applicable to foreigners who work in jobs that require considerable knowledge of or experience in specific industry fields, such as construction, shipbuilding and the ship machinery industry, automobile repair and maintenance and aviation.
The workers' stay is limited to five years, with the option of visa renewals. They will not be permitted to bring their family members to Japan.
Therefore, the number of Vietnamese workers is forecast to surge in the foreseeable future. SGT