Journey to restore crowns of Nguyen emperors
Before being handed over to the Museum of Vietnamese History, four of the Nguyen emperors' crowns have been fully restored to their original state by the hands of gifted craftsman Vu Kim Loc.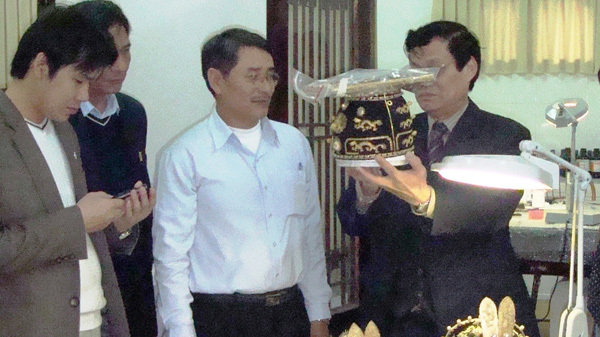 Mr Vu Kim Loc and other experts besides the fully restored headwear.
A familiar face in the circle of antique enthusiasts, Loc, currently living in Ho Chi Minh City, has devoted all of his passion and painstaking effort to mending the headwear of the Nguyen emperors, the last imperial dynasty in Vietnam.
Before getting into the restoration work, Loc was a jeweller, which gave him frequent contact with antique collectors as well as ancient pieces of jewellery. 
Destiny of life
"Research into antique objects has become my life. What I am most interested in are ancient statues, especially the headdresses on such statues. As soon as I hear about an old statue somewhere, I will go there and ask for permission to view and take photographs of it. I also search for materials, pictures and history books to serve my research work", said Loc.
Over the years, his headwear collection became larger and larger, including many crowns from the Nguyen Dynasty. Then, more than 10 years ago, he met his destiny of being involved in the restoration work.
"A friend gave me a broken crown of a Cham king and asked me if I could restore it. After thinking for a while, I agreed", said Loc. In the subsequent months, he threw himself into how to make the frame, forgoing sleep and meals.
There were times when he thought he would have to give up, but with genuine passion, Loc managed to successfully restore the headwear to the astonishment of other researchers.
After that the Museum of Vietnamese History asked Loc to restore four seriously damaged and deformed crowns of Nguyen emperors.
Loc recalled when he received a bag containing four crowns from Dr Pham Quoc Quan, then Director of the Museum of Vietnamese History, he felt extremely emotional despite having heard of them before. "With tremendous admiration for history, I strongly believe that I can do it. I decided to accept the offer." 
A new path for restoration
In order to have more materials for the restoration work, Loc travelled to Hue and contacted heritage management agencies so that he could enter mausoleums and palaces. After many trips and with the support of experts and researchers, he began the most important part: restoration.
After working continually for 11 months, the four broken Nguyen crowns were finally restored with many traditional technical and aesthetic characteristics. On one crown, worn during the most important ceremonies, was 31 golden dragons, 31 jade-enamelled square flowers, and 140 diamond and pearl beads.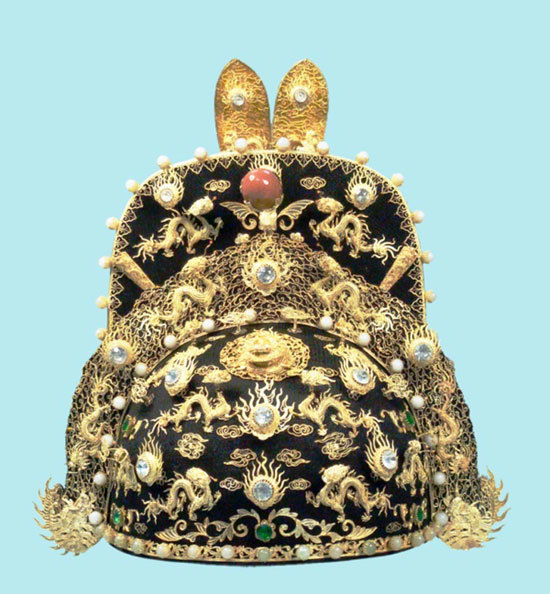 A restored crown of the Nguyen Dynasty.
Dr Quan said he highly admired the talent and hard work of the craftsman when looking at the four successfully restored crowns. According to him, headwear is an important object when exhibiting costumes of the Nguyen Dynasty. If the crown is not present, then the collection is incomplete. The restoration of the four crowns has helped us have an idea of imperial costumes in different occasions. They both are tangible objects of heritage that reflect the talent of craftspeople during the Nguyen Dynasty.
What makes Dr Quan even more astonished is that although Loc is not trained in the field of museum, but with strong passions for the job, Loc conducted research and did the restoration work in complete compliance with scientific principles. His restoration journey also opened a new path in conserving the imperial costumes of the Nguyen Dynasty.
With his research and restoration experience, Loc is hoping to tell his own story through a book entitled "Nguyen Dynasty Crowns", which is scheduled to be published in late 2021. Previously, he co-authored a book on the restoration of the four crowns with Dr Quan. 
Nhan Dan 
Royal hats dating back to the Nguyen Dynasty (1802-1945) that were ravaged by the passing of time have been restored to their original splendour thanks to artisan Vu Kim Loc in HCM City.