VietNamNet Bridge - Japan and South Korea are tightening control over illegal residential workers, while Vietnam plans to export 105,000 workers.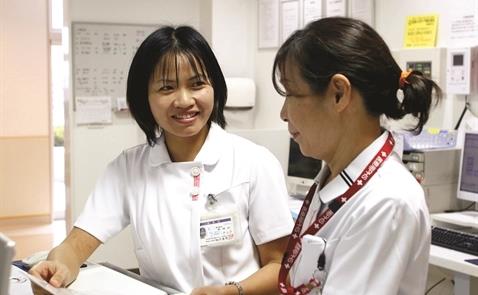 A report from the Vietnam Association of Manpower Supply (VAMAS) says that 126,296 Vietnamese are working abroad. The number of workers sent to Japan and South Korea, the two key markets, were 39,938 and 8,442, respectively.
The quality of Vietnam's manpower
A GSO (General Statistics Office) survey found that 65 percent of foreign invested enterprises (FIEs) and 35 percent of Vietnamese-owned enterprises think the skills and knowledge workers receive at schools cannot satisfy their requirements.
According to the Institute of Labor Science and Social Affairs (ILSSA), the country's workforce was 54.4 million people in 2016, with 53.3 million employed and more than 1.1 million redundant. The highest unemployment rate was seen in the group of workers finishing junior colleges (3-year training), 8.1 percent, while the lowest unemployment rate was seen in the group of untrained workers, 1.8 percent.
The figures, according to ILSSA's Luu Quang Tuan, show that Vietnam mostly uses untrained workers, and that the training quality still cannot satisfy the market's requirements.
More than 1 million people aged 15 and above migrated from their communes to look for better jobs and 78.6 percent of them joined the labor force. However, 9.3 percent of immigrants in 2016 stayed redundant.
A lack of workers is a common problem for developed countries in East Asian countries, but is a great opportunity for Vietnamese workers.
A report from the South Korean Electronics Association showed that in the second half of 2016, companies had to employ an additional 5,078 workers to cover the worker shortage in the computer hardware and telecommunication sector.
The whole sector could employ 46,429 workers out of 53,457 new jobs created, while the number of unfilled jobs had increased by 10.1 percent compared with the same period in 2015, to 7,028 positions.
The labor shortage in Japan is even more serious.
However, both South Korea and Japan have been cautious in receiving workers from overseas.
A report by the Ministry of Foreign Affairs of Japan showed that crime rate among Vietnamese citizens was the highest among foreign workers' communities in Japan and it rose from 500-600 in 2010-2012 to 1,100-1,400 in the 2014-2015 period. The high number of illegal Vietnamese residents in the country is also a heady problem for both Japan and Vietnam.
Among the deported illegal residents, there was a high number of young men who registered to study in Japan, but failed the exams to Japanese schools, stayed in Japan and became illegal residents.
MOLISA (Ministry of Labor, War Invalids and Social Affairs) has asked labor export companies to send officers to Japan to implement strict measures to control Vietnamese workers overseas.
RELATED NEWS
Vietnam to export skilled labor
Vietnam's economy less dependent on cheap labor force
Kim Chi