Landfill regulations found wanting

Associate Professor Dr Phung Chi Sy, Director of the Environmental Technology Centre (ENTEC), speaks to the newspaper Nhân Dân (People) on the need to have good criteria for sanitation in all Vietnamese landfills.
Vietnam warned of technological landfill risk
Islands in Vietnam struggle to deal with 'mountains' of waste
Da Nang residents continue fighting against landfill for pollution
'Waste crisis' affects many urban areas in Vietnam
Environment Ministry works on pollution caused by Quang Ngai solid waste treatment plant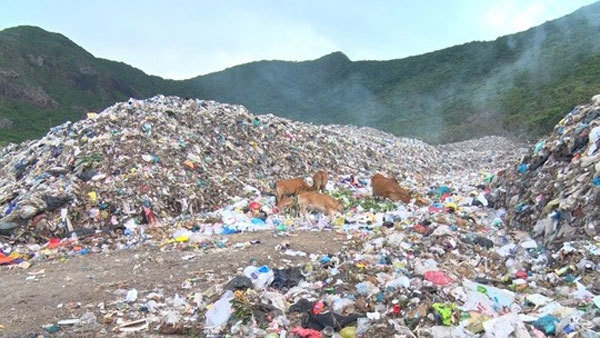 Illustrative image -- File photo
It is reported that between 85-90 per cent of landfills in Hanoi have not met criteria for sanitation. How do you respond to this report?
We have visited and conducted research on many landfills and solid waste treatment plants in many provinces and cities nationwide. There are two urgent conclusions we have come up with - landfills have been overloaded and have become a source of contamination for the surrounding areas.
Some big landfills with capacity of up to several thousand tonnes of solid waste per day have become a big source of contamination to surrounding areas. And their bad odour can be detected some 10km away. More seriously, the leakage from these landfills has become a big source of contamination for people living in surrounding areas, including surface and underground water sources.
What are the main causes leading to such serious environmental problems?
As I have mentioned above, there are quite a few causes, including the high level of contamination in the landfills themselves as well as at the waste treatment plants, including the issues in planning, management, waste treatment technology, finance and others. Last but not least, is the low awareness of people in general.
Poor technology is also one of several reasons – but not the most important one. A question we need to answer is how to solve the problem of contaminated landfills. What's urgent is to look for the technology which is most appropriate for Vietnam, particularly in terms of the financial issue.
I'm sorry to say the price unit in waste treatment in Vietnam is too low – a key reason making many investors shun waste treatment activities.
Which agencies have been appointed to take care of solid waste treatment in Vietnam?
The Government has assigned the Ministry of Natural Resources and Environment to act as a State management agency in charge of the management of hazardous waste. However, at present, the handling of solid hazardous waste has been assigned to several ministries and agencies. Yet, there is no specific mechanism on co-operation between these agencies, particularly co-ordination between the Ministry of Natural Resources and Environment and concerned public agencies. This is something all concerned agencies should sit down together and discuss how they should co-operate to solve the problem right now, particularly in Hanoi and the central City of Da Nang.
What should we do to solve the urgent environmental issues in many localities?
In the January Cabinet meeting, the Government issued Decree No.09/NQ-CP and assigned the Ministry of Natural Resources and Environment to be the focal point in handling the issue of solid waste. Of course, in implementing its assignment, the Ministry of Natural Resources and Environment will seek co-operation with concerned ministries, including the Ministry of Justice and other agencies.
Solving the issue of waste treatment and environmental pollution have become urgent and it needs strong co-operation from both private and public agencies nationwide.
VNS