Lands of riches

Many local property developers are looking to investment opportunities overseas to expand and grow.
The BIM Land Joint Stock Company, the real estate development arm of the BIM Group, announced in September it had successfully secured an $87.5 million financing package from the International Finance Corporation (IFC), a member of the World Bank Group.
The package for BIM Land and its subsidiaries consists of a loan of up to $50 million from IFC's own account and a trust loan of up to $37.5 million from multiple investors in the Managed Co-Lending Portfolio Program (MCPP) managed by the IFC. Notably, BIM Land's project in the Lao capital of Vientiane is to receive at least $10 million from the package.
Other Vietnamese developers have also invested in real estate markets overseas after carving out a position and reputation in the domestic market, including the Hoang Ang Gia Lai Group (HAGL) and the T&T Group.
"Expanding assets and seeking investment opportunities overseas is a perfectly reasonable step for developers to take," Ms. Hoang Nguyet Minh, Associate Director of Investment at Savills Hanoi, told VET. "Overseas investment may not achieve the high rate of return seen in Vietnam, but many markets nonetheless ensure a stable return, especially developing countries."
Heading overseas
BIM Land invested in the Royal Square project in Vientiane, the first five-star hotel complex in a prime location in the Lao capital. With a total land area of nearly 100,000 sq m, Royal Square consists of a five-star hotel, a shopping center, Grade A office space, and apartments for rent. 
The first international five-star hotel in the capital, Crowne Plaza Vientiane, opened its doors in 2017 and is a harmonious blend of modern, luxurious design and traditional Lao architecture. It provides some 200 premium hotel rooms together with modern services and amenities, such as eight conference rooms, multicultural restaurants, a lounge bar, pools, and a gym. "Laos is the group's first key market for offshore investments," said Mr. Doan Quoc Huy, CEO of BIM.
"This project represents the BIM Group's initial investment in the country and highlights the progress made in the development of the strategic economic relationship between Vietnam and Laos." The BIM Group also signed a strategic partnership agreement with Vietnamese co-working space operator Toong in 2018 to jointly launch a premium co-working space in Royal Square. 
Meanwhile, the HAGL Group marked its international investment with the Myanmar Center complex in Yangon, consisting of two phases with total investment of up to $440 million. Phase 1, including a shopping center, office blocks, and the five-star Melia Yangon hotel, has already been put into operation.
A representative from HAGL confirmed with VET that its real estate business was sold to the Truong Hai Auto Corporation (Thaco), after a strategic deal was signed last year. Though Thaco was not available for comment when contacted by VET
, within the framework of a visit by Deputy Prime Minister Vuong Dinh Hue to Myanmar in June, HAGL said the Myanmar Plaza shopping center has a total leasing area of over 32,000 sq m and 98 per cent of this has been leased by leading brands in cosmetics, fashion, dining, and shopping.
The two 27-story office blocks, with a total leasing area of over 80,000 sq m, have seen many companies sign leases, while the 430-room hotel is being managed by the Melia Group. 
The T&T Group expanded its real estate business by establishing subsidiaries in the US in 2015. In particular, two projects in California have investment of nearly $10 million. Mr. Do Quang Vinh, General Director of T&T in the US, told local media that profits from these two projects are quite good. These two projects will, however, be sold.
Opportunities to invest
Total overseas investment by Vietnamese enterprises reached $411.9 million in the first ten months of this year, according to a report from the Foreign Investment Agency (FIA) at the Ministry of Planning and Investment (MPI) released in October. Real estate investment totaled $57.9 million, or 14.1 per cent.
The report noted that, over the years, the government has issued policies to support and promote businesses investing abroad to expand investment and business activities, improve competitiveness, and bolster international integration.
This is also partly due to a standardization of investment procedures and improvements to legal procedures, creating openness and helping State management agencies strengthen management effectiveness in overseas projects.
Local developers have also recognized the appeal of overseas markets for diversifying their investment portfolios. An announcement from the BIM Group noted that both Vietnam and Laos possess significant potential for further tourism growth.
Compared to Thailand, which receives 38 million foreign visitors annually, in 2018 Vietnam and Laos welcomed just 15.5 million and 4.2 million, respectively. Lower standards of tourism infrastructure have been found to be the main reason for the difference.
Meanwhile, the HAGL representative said a company survey revealed that Yangon's real estate market is seeing strong growth due to demand being high but supply being limited.
"Rental costs for office space and serviced apartments and hotel tariffs have been skyrocketing and supply is still short of demand," the representative said. This represents an investment opportunity for HAGL.
Mr. Vinh also said the real estate market in the US is more stable than Vietnam's and most information is easy to research. "Investment in residential real estate in the US had great potential many years ago, but the leasing market is now better," he explained.
According to Ms. Minh, most developers investing overseas have posted handsome results in Vietnam, so ensuring a stable source of overseas capital helps them manage their portfolio and promotes Vietnam's image on the global investment map.
"For Vietnamese developers wanting to expand their reputation in the international market, owning real estate assets is an effective channel," she added.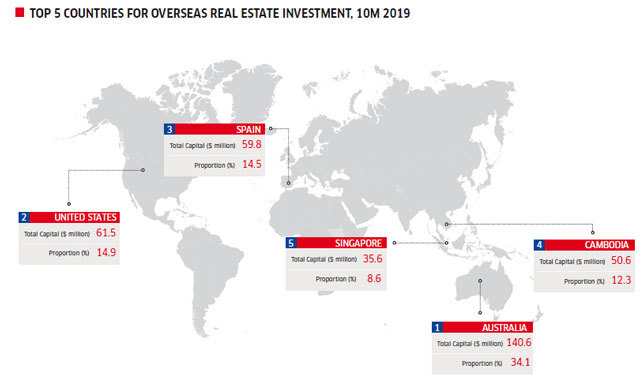 Lands of riches
Obstacles to overcome
Offshore investment can bring many opportunities for local real estate developers, but it also comes with many risks. Ms. Minh said that when focusing on emerging markets in the region, the risk from legal systems and market trends can easily lead to failure if investors do not ensure long-term capital sources and have proper planning.
In terms of capital, she explained that with a commercial project, controlling long-term cash flows for seven to ten years makes it easier for investors to choose a reasonable time to divest, increase their investment if they wish, and minimize risks.
HAGL has been facing challenges regarding policies in Myanmar, which have put pressure on the operations of property developers in the country. For example, Myanmar introduced new tax regulations on real estate transactions in 2016.
Transactions valued at under $22,000 incur a 15 per cent tax rate, from $22,000 to $73,000 20 per cent, and more than $73,000 30 per cent. The new rates are five times higher than in 2015, and led to HAGL selling the Myanmar Center. The Group has reported profit of over VND306 billion ($13.1 million) since the sale, according to HAGL's consolidated business report for the third quarter of 2019. 
Meanwhile, Mr. Vinh told local media that planning rules in the US are detailed and clear and all real estate transactions are conducted through a designated intermediary company called Escrow. 
Competition with local developers is also a major challenge for those looking overseas. According to Ms. Minh, projects of Vietnamese developers should target the low-end segment, whose scale is not too large but sales are guaranteed. VN Economic Times
Ngoc Lan

Law on Housing 2014 has brought huge opportunities for foreigners to buy houses in Vietnam, as numerous real estate projects quickly filling up their quotas.
es

Nineteen real estate companies have been selected for renovating and rebuilding 30 old apartment buildings in Hanoi.