The General Statistics Office (GSO) last week reported that Vietnam's consumer price index for the whole of 2022 increased 3.15 per cent on-year, lower than the level of about 4 per cent on-year earlier set by the National Assembly (NA) and government.
This reflected the government's big efforts in controlling inflation amid strong fluctuations and uncertainties in the global market, the GSO said.
A number of international organisations, which earlier predicted higher inflation rates, have highly valued Vietnam's efforts to rein in inflation.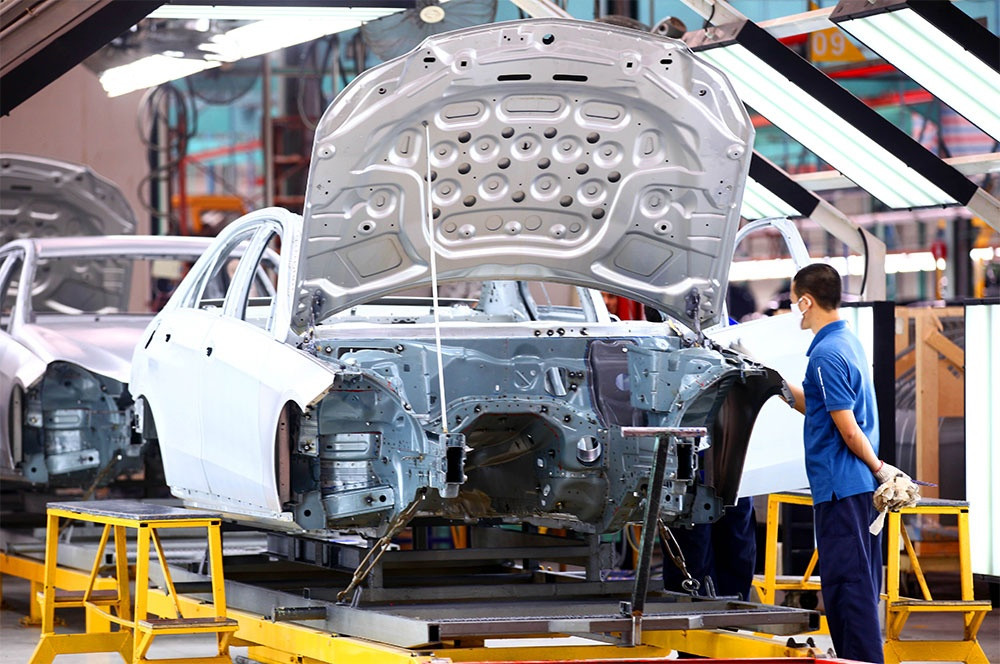 Limited inflation pressures underpin positive projections, illustration photo/ Le Toan
"The State Bank of Vietnam has successfully maintained an accommodative but flexible monetary policy to facilitate low-cost financing to help support the economic recovery while containing inflation," said the Asian Development Bank (ADB). "Vietnam's prudent monetary policy and effective price controls of petrol, electricity, food, healthcare, and education should keep inflation in check at 3.8 per cent in 2022 and 4 per cent in 2023."
The ADB said that increasing investment, controlled inflation, and accommodative monetary and fiscal conditions are expected to drive domestic consumption, boosting the ongoing economic recovery.
The ADB also underlined that risks to Vietnam's economic outlook remain elevated. "The global economic slowdown could weigh more heavily on exports than forecast, which would worsen the current account balance. Although aggressive interest hikes by the central banks of major economies have helped dampen global price pressures, an intensification of global geopolitical uncertainties could push up commodity prices, worsening inflation in Vietnam."
The International Monetary Fund (IMF) also forecast Vietnam's inflation rate to be 3.8 per cent in 2022.
According to the IMF, Vietnam's inflation pressure has been mostly limited to some goods like fuels and related services like transport. Consumers are largely insulated from the global surge in food prices because of ample domestic supplies, pork prices declining from last year's peak, and a preference for rice, which remains cheaper than other grains like wheat. Further, price gains for services such as health and education have also been very mild.
Era Dabla-Norris, mission chief to Vietnam and division chief for the IMF in Asia-Pacific, said that Vietnam's inflation has stayed at a lower level than the majority of countries in the region.
She also underscored the nation's low interest rate and responsive monetary policies that have allowed businesses to return to operation, along with tax cuts to support labourers including income and environmental taxes to minimise the impacts of the global petrol price hike, and price freezes for some services, including power, healthcare, and education, which have contributed to keeping inflation under control.
Norris has also suggested that Vietnam maintain inflation at around 4 per cent in 2023.
In anticipation of risks, the NA has set a CPI growth target of about 4.5 per cent in 2023. "It is necessary to keep close watch over the developments of the domestic market, and the global and regional markets, prices, and inflation in order to timely detect risks and advance suitable measures," read the NA's Resolution on the Plan for Socioeconomic Development in 2023, adopted in November 2022.
"There must be synchronous and flexible in monitoring, with the close combination between the fiscal and monetary policies and other macro policies so as to control inflation, contributing to macroeconomic stability and supporting economic recovery," the resolution stated.
"It is also a must to strengthen financial and banking resilience and stability in all situations with a view to closely controlling inflation, while also taking the initiative in actively applying such tools as interest rate and exchange rate in a manner appropriate for the country's socioeconomic situation."
Analysts at the Economist Intelligence Unit also commented. "We forecast that consumer price inflation will accelerate to an annual average of 3.2 per cent in 2023 but will record a declining trend in the second half of the year to about 2 per cent by end-2023. The softening of consumer prices will be driven by a declining trend in global oil prices next year."
Source: VIR