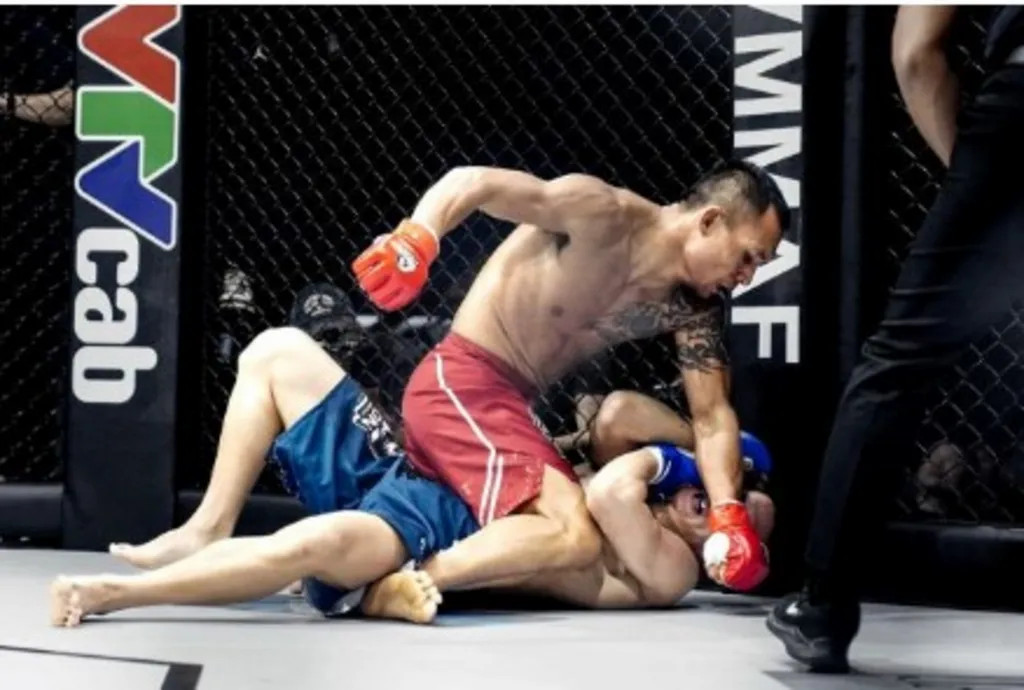 Trần Quang Lộc got his 70kg Lion Championship title defence off to an emphastic start, defeating China's Li Xiao Long by technical knockout in the first round on April 1. Photo courtesy of the VMMAF
Trần Quang Lộc, the reigning Lion Championship mixed martial arts (MMA) 70kg champion, put on a stunning display of skill and power as he defeated Li Xiao Long at the Tây Hồ Gymnasium on April 1.
The first-round technical knockout (TKO) was a clinic in timing, speed and power that sent a statement of intent to the entire 70kg division on the opening night of this year's Lion Championship.
Although Li, the 'Chinese Dragon', entered the cage with a record of 16 wins from 22 fights, Lộc looked calm and collected from the opening bell, fighting from the outside and allowing Li to control the centre of the cage.
The younger fighter tried to press the pace, perhaps hoping to overwhelm the man more than a decade his senior.
Lộc, the first Vietnamese fighter to win in the ONE championship, was unfazed, using his experience to throw quick feints and change the angle of attack while always circling out of range.
After a minute and a half, Lộc saw an opportunity and shot for a double-leg takedown, lifting Li up and dumping him onto his back.
Moving quickly into side control, the man from Liên Phong MMA kept his weight on top of the Chinese fighter, pinning his arms by his head.
Despite Li's best attempts to scramble away, he couldn't improve his position. Lộc unleashed a vicious ground-and-pound after securing his position, raining straight lefts and rights down on his trapped opponent.
The referee warned Li to defend himself before stepping in with 1 minute 25 seconds left on the clock for the first round.
The champion's first-round TKO sends the 70kg division a clear message that he will remain a dominant force in the coming year.
Meanwhile, the number one top contender of the 70kg class, Kamil Michal Nguyễn Văn of Vietnam Top Team, was also in action, taking on Nghiêm Tùng Lâm of Hà Đông Fighter Union.
After a cautious opening from both fighters, Tùng Lâm caught a low kick from Kamil, forcing the Polish-Vietnamese fighter onto his back.
Showing his experience, Kamil used his momentum to drag Lâm down to the mat with him and, after a brief scramble, found himself on top of the Hà Đông Fighter Union man.
Rising to his feet briefly, Kamil slipped an arm under Lâm's neck, securing a guillotine submission that led to Lâm tapping just 1 minute and 20 seconds into the fight.
After Trần Quang Lộc's dominant display and Kamil Michal Nguyễn Văn's impressive submission victory, the question now is whether we will see these two face each other in the cage again this year, in what would be a highly-anticipated repeat of last year's final and the pair's third fight.
With other top contenders waiting in the wings, it's clear the 70kg division is one of the most exciting weight classes in Vietnamese MMA right now. VNS