Adrien Bizouard, country manager of Robert Walters Vietnam, discussed the high demand for talent in technology, digitalisation, and manufacturing across the nation.
Continuing the trend from recently, there is still a high demand for talent in both the IT and manufacturing industries. What are the key findings from your company's latest survey?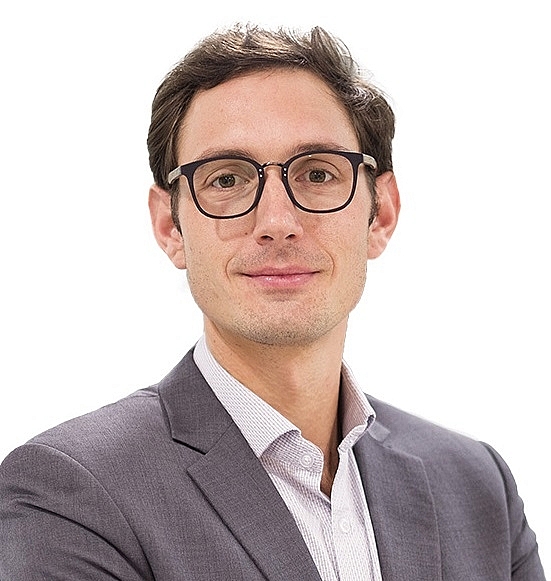 Adrien Bizouard, country manager of Robert Walters Vietnam
Statistics in the Robert Walters Salary Survey 2020 show that the region's economy next year will have a positive outlook and momentum, as it did in 2019 and 2018. Ongoing digitalisation, steady market expansion, and the development of the manufacturing sector are some of the factors that are driving hiring growth.
The 21st edition of the Salary Survey shows that hiring levels in Vietnam remained healthy in 2019 and there will be a greater need for business and investment analysts, regulation, and compliance professionals.
As digitalisation continues to accelerate in Vietnam, and companies start to leverage tech and data to drive business, the market will have a greater need for talented developers and UI/UX (user interface/user expericence) designers.
The strong growth of the manufacturing sector also spurred the demand for professionals across the entire value chain, from planning and procurement to production, exports, and sales and marketing.
In all sectors, professionals who equip themselves with the relevant digital skills will find themselves well-positioned in the market. Vietnamese with international experience and professionals with niche skill sets, particular in tech or digital roles, are also highly sought after.
The Salary Survey highlights a shortage of tech talent. As Vietnam is on a fast, competitive track to implementing digital transformation, what hiring advice and recommendations does Robert Walters have for companies?
We strongly believe that these trends will continue in 2020, and as such we have several recommendations. First, HR people should streamline interview processes and ensure a pleasant candidate experience. Good candidates are in high demand and if companies have multiple interviews and take too much time to make decisions, they may secure other roles halfway through your process.
Second, with such strong competition for tech talents in Vietnam, companies need to build up employer branding.
They will need to be proactive in doing this, strengthening awareness among tech jobseekers. Tech professionals will consider the following factors when choosing a potential employer: flexible working hours; insurance for their family and themselves; the option to work remotely; and subsidies for learning and development
Last but not least, employers should go the extra mile by looking at initiatives such as setting aside resources and time to allow tech professionals to innovate and create value for the business – allowing them to truly step into the role of a business driver – and launching various programmes to address employees' skills gap.
Candidates in the manufacturing sector are incredibly sought after. Which specific roles are in high demand?
In 2019, mid-level recruitment is in high demand within the machinery, chemical, agriculture, and electrical automation industries. Supporting industries are benefiting from the growth of manufacturing industries, and many companies are expanding their businesses, resulting in a greater need to recruit new talent.
We have seen exceptional demand for hiring within chemical solutions for industrial sectors such as paint and coating, with popular positions including account and sales managers. We also saw high activity within the electrical automation sector.
The majority of those roles are new, and the ones in demand include technical sales manager and business development manager positions. We expect these trends to continue in 2020 as manufacturing is still growing, and supporting industries will also follow.
Existing problems for employers in Vietnam include a lack of English and technical skills, widespread job hopping between organisations, and an exodus of employees to other nations. Can you share your opinion on these problems?
The issue of the brain drain is one we recognise and that is why Robert Walters Vietnam introduced the "Come Home Phở Good" programme. Many younger Vietnamese are interested in getting international exposure, and we believe it is a good thing to gain experience and technical skills overseas if they have the opportunity to do so.
However, we also believe that there are plenty of good opportunities in Vietnam, and we are hoping to be able to encourage Vietnamese who have previously moved overseas to return home to ease the skills shortages and contribute to the economy.
In terms of job hopping, it is important for employers to think about retention strategies in addition to talent attraction strategies.
Understanding what the modern workforce is looking for in a job and creating a positive, empowering environment that helps them fulfil their potential and purpose are some of the most vital things to consider when looking at how to solve this problem. VIR
Nguyen Huong

Tran Quynh Huong, CEO of the National Start-up Fund and head of Techfest 2019's international investment pavilion, talks about Techfest 2019's plans to attract foreign investment and the potentials for Vietnamese start-ups to head overseas.

While there is much more data than ever before and digital technologies are growing very fast, there is a huge shortage of human resources, experts have told a conference at the Hoa Sen University in Ho Chi Minh City.