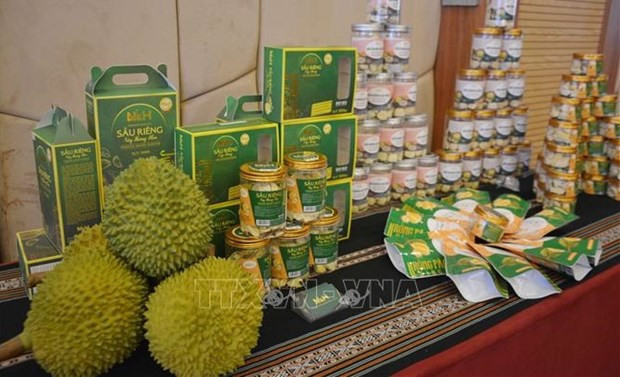 Durians from Ben Tre province (Photo: VNA)
Tran Giang Khue from the Ministry of Science and Technology's Intellectual Property Office said during 2018-2022, the Mekong Delta recorded over 9,800 intellectual property applications and issued more than 5,800 certificates for trademarks and certificates of origin.
Cities and provinces in the region have issued a number of documents related to the management of intellectual property assets, origin certificates, trademarks, support for registration of protection, and development of collective trademarks for several key products in the region such as Ben Tre green skin pomelo, Ben Tre green coconut, Cao Lanh mango (Dong Thap), Ca Mau lobster and crab, Phu Quoc fish sauce, Hong Dan red dust rice (Bac Lieu), Cau Duc bamboo shoot (Hau Giang), among others.
Director of the Ca Mau provincial Department of Science and Technology Phan Tan Thanh said during 2018-2022, Ca Mau built brand names for 26 specialty products through collective trademark certificates and certification of origin, such as U Minh Ha honey, U Minh dried bream, Rach Goc dried shrimp, Nam Can and Ca Mau crabs, Thoi Binh fish sauce, among others.
Khue urged the State management agencies to fine-tune legal regulations on the protection, management, and development of trademarks based on intellectual property rights for geographical indications used for local specialties.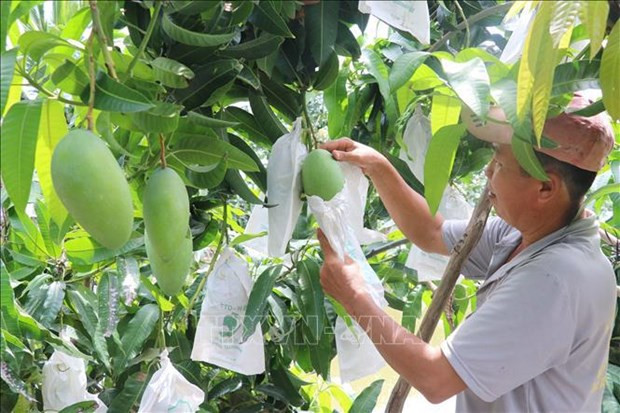 Harvesting mangos in Dong Thap (Photo: VNA)
Head of the One Commune, One Product (OCOP) Management Office under the Coordinating Office of the National New-style Rural Building Programme Dao Duc Huan suggested ministries and agencies work closely together to build training documents for owners of OCOP products, including instructing them on how to develop community trademarks and launch trade promotion programmes.
Vice Chairman of the Ben Tre provincial People's Committee Nguyen Truc Son said there should be closer links between businesses, collective economic organizations, and residents to develop value chains./. VNA