Metaverse Village set up, connecting startups in virtual reality
Metaverse Village made its debut and a symposium on Metaverse was held in the central city of Da Nang on June 15 within the framework of TECHFEST Vietnam 2022.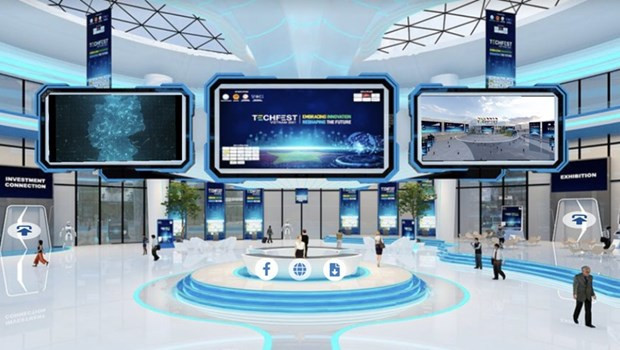 A metaverse is a network of 3D virtual worlds focused on social connection. In futurism and science fiction, the metaverse is a hypothetical iteration of the Internet as a single, universal and immersive virtual world that is facilitated by the use of virtual reality and augmented reality headsets.

Vo Duc Anh, Deputy Director of Da Nang's Innovation and Startup Support Centre and head of the Metaverse Village, said that the village is formed and oriented to become a national gateway for managers, researchers, experts, groups, investment funds, startup organisations, and individuals outside and inside Vietnam to support start-ups, thus contributing to promoting the building of digital economy, digital society and digital citizen, and turning Vietnam into a centre for innovation in the region.
The establishment of the village contributes to gradually bringing virtual reality technology to life, and aims to help Vietnamese startups gain access to the latest technology platforms, catch up with global trends and create new values in the field of virtual reality technology in Vietnam.

In 2022, the village sets targets of supporting 800 businesses in joining Metaverse platform sponsored by Bizverse World – a member of the village; organising activities to seek potential Metaverse projects; participating in the Metaverse Forum in the Republic of Korea; establishing a Metaverse Scholarship Fund to sponsor doctoral postgraduates in digital economy, blockchain, meta economy, smart city model on Metaverse.

The symposium themed "Decode and dialogue with the future" gathered representatives from over 10 investment funds, and over 250 delegates who are domestic and foreign managers, policymakers, and experts.

Vietnam's technology startups brought their latest products to introduce at the event./.
Source: VNA